Bernie Sanders Has A History Of Careful Dealings With Democrats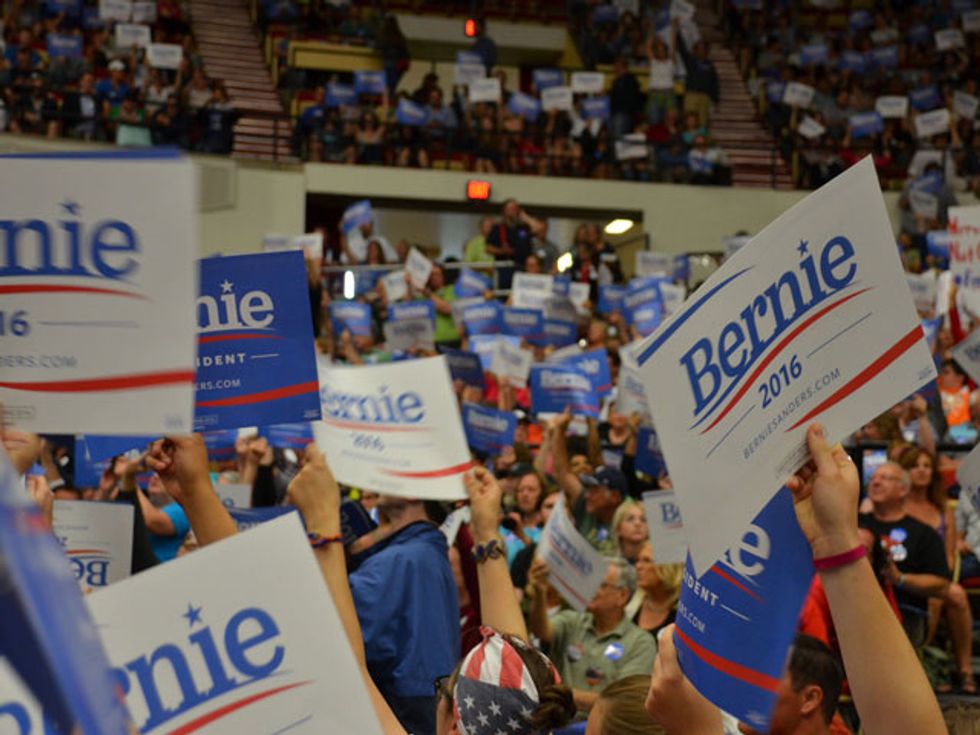 By Sasha Issenberg, Bloomberg News (TNS)
WASHINGTON — In the first week of May in 1990, the former mayor of Vermont's largest city met with some of the most liberal members of the U.S. House of Representatives, a body he hoped to join after that November's election. "I look forward to working with you on my issues come next January," he wrote to one, Colorado's Patricia Schroeder, a week later.
There was only one thing that separated Bernie Sanders from the legislators, whose views on the need for a new national health care system, environmental protection measures, and even Cold War policies were ones he shared. They were all proud Democrats, and he just as proudly wasn't.
But the famously socialist Sanders also knew the key to winning his three-way race for Congress was persuading Vermont Democrats that his hard-earned independence wouldn't cripple him once elected. Two years earlier, when Sanders attended a Democratic caucus in Burlington, a number of caucus-goers he recognized as "old-time Dems" stood and turned their backs as he gave a speech in support of presidential candidate Jesse Jackson. When Sanders returned to his seat afterward, a woman slapped him in the face.
"It was an exciting evening," Sanders recalled in his memoir, "Outsider in the House." "I participated in a formal Democratic Party function for the first and last time in my life."
Now Sanders aspires to participate in at least one more. He hopes to address the party's convention next summer as the party's nominee for president, even as he resolutely refuses to identify as a Democrat.
It's a balancing act Sanders has been practicing for at least 25 years. The meeting with Schroeder and other Democratic legislators was one of a series of crucial secret negotiations with Washington Democrats, extending over the summer of 1990, in which he worked to get members of a club he refused to join to nonetheless announce publicly that they were willing to have him as a member.
At the time, Sanders' entire career in Vermont had been defined in opposition to the party he accused of maintaining an unhealthy monopoly on left-of-center politics in the state. Like every Vermonter registered without party affiliation. He left no record of the party primaries for state or local office in which he chose to cast a ballot. He began his career on the anti-war Liberty Union Party's ticket, a perennial gadfly candidate for governor and senator. Sanders's eventual election as mayor in 1981 — by a tiny margin in a four-way race — inspired other leftists to seek election outside the two-party system, under the new banner of the Vermont Progressive Party.
When he first ran for the House of Representatives in 1988, Sanders started as the third man in a race against Democrat Paul Poirier and Republican Peter Smith, a former lieutenant governor who, like Sanders, had lost a campaign for governor in 1986. (That year, both had finished behind Democratic incumbent Madeleine Kunin.) But by November, he had moved into a close second place with 38 percent of the vote, twice the Democrat's tally and only four points shy of the winner's. "I would never again be called a spoiler," Sanders would write in his memoir.
What had stopped him from consolidating enough votes on the left, Sanders concluded afterward, were suggestions from supporters of Dolores Sandoval, a black educator who had been a convention delegate for Jesse Jackson but had never held office that if elected, Sanders' status as a man without a party would leave him (and the state) powerless in Congress. Perhaps an independent could govern a city — U.S. News and World Report had indeed ranked him one of the country's top 20 mayors — but he would be ineffectual in a body whose entire process was constructed around an adversarial two-party system. As Vermont's lone representative there, he would be no better than a bystander among legislators.
So, as Sanders plotted a rematch against Smith two years later, he emphatically declared that he would attempt to join the House Democratic Caucus even though he had no relationship to the party. Voters could reasonably doubt whether such a maneuver was even possible: no independent had been elected to the House in 40 years. Even as he dismissed the two parties as interchangeable — he had long called them "tweedle-dee" and "tweedle-dum" in speeches and op-eds — Sanders realized he would need to be able to tell voters he would have a home in one of them. "We would fully expect the issue to be raised again this year," he wrote in a private letter in May 1990.
This time, the Democratic nominee looked to be the spoiler. Sanders described the election as "basically a two-person contest, since there is no strong Democrat in the race," dismissing Sandoval. Largely unknown to voters, the Democratic candidate was barely breaking 1 percent when the three-way race was polled. Sandoval's party effectively abandoned her: Gubernatorial nominee Peter Welch endorsed Sanders over Sandoval, while Kunin and Sen. Patrick Leahy sat out the race.
Sanders had always conspicuously refused to kowtow to elected Democrats in Vermont, but he approached those in Congress as an eager supplicant. With second-term Oregon Rep. Peter DeFazio as his guide to official Washington, Sanders met with other liberal members to win their backing. DeFazio was ready to offer an endorsement, but he convinced Sanders he should use his introduction to his congressional colleagues to ask for something else.
"It would be very helpful to show that I could work within the Democratic caucus, and particularly, with progressive Democrats like you," Sanders wrote to Schroeder, the Colorado congresswoman who in 1988 had undertaken a two-month dalliance with a presidential campaign. "Not an endorsement, but simply a statement that if I were elected, you would be glad to have me join the Democratic caucus."
In requesting what he called a "favor," Sanders emphasized that he had backed the Democratic nominees for president in 1984 and 1988, and Leahy for Senate in 1986. (Sanders did not mention that he had run against Leahy in 1974.) Sanders did not offer anything of his own in the spirit of goodwill — such as, for example, a pledge to back a Democrat as speaker of the House — and tried to minimize it as an act of political courage. "The plan is simply to send out a press release about these letters, to be able to neutralize any attack on the 'effectiveness' issue," wrote Sanders. "We wouldn't present these letters as any kind of endorsement, but simply as statements that if I'm elected, I'll be able to work within the Democratic caucus."
Ultimately the race was not even close. Sanders won a clear majority, beating Smith by 16 points. Sandoval, the Democrat, finished with only 3 percent of the vote. Summertime entreaties to congressional Democrats had yielded mixed returns for Sanders. Beyond DeFazio, he won one other endorsement, from Barney Frank; the representative from neighboring Massachusetts would in subsequent years come to Vermont to campaign alongside Sanders. Schroeder, however, dismissed Sanders's request for a public embrace. "Considering that a Democrat is in the field, I would rather abstain from making any statements," she informed him.
Even after Sanders decamped to Washington to set up his office, not every Democrat was eager to increase the party's majority by welcoming a new legislator who wouldn't fully join their club. Texan Charlie Stenholm, who led the conservative Blue Dog faction, tried to keep Sanders out of the House Democratic Caucus, circulating to members a compendium of news clippings highlighting his years of disparaging their party. ("He was of the opinion that having a socialist in the caucus would not sit well with folks back home," Sanders said of Stenholm's motives.)
Speaker Tom Foley and Majority Leader Dick Gephardt struck a compromise with Sanders. He would not join their caucus, but for the purposes of seniority and committee assignments they would count him as one of their own. Democratic leaders would, however, levy one penalty on Sanders for remaining an outsider: he would be treated, in perpetuity, as the most junior member of the class of 1990.
After that, Sanders quickly began to build his own political home. That year, he and DeFazio invited colleagues to join them in establishing an identity-neutral counterpart to the black, Latino, and women's caucuses that served as an umbrella for much of the work undertaken by liberal lawmakers.
The Congressional Progressive Caucus launched in 1991 with five members. Its first chairman was Bernie Sanders. He ran unopposed.
Photo: Jen Wegmann-Gabb via Flicker