House Republicans Resorting To Budget Blackmail Yet Again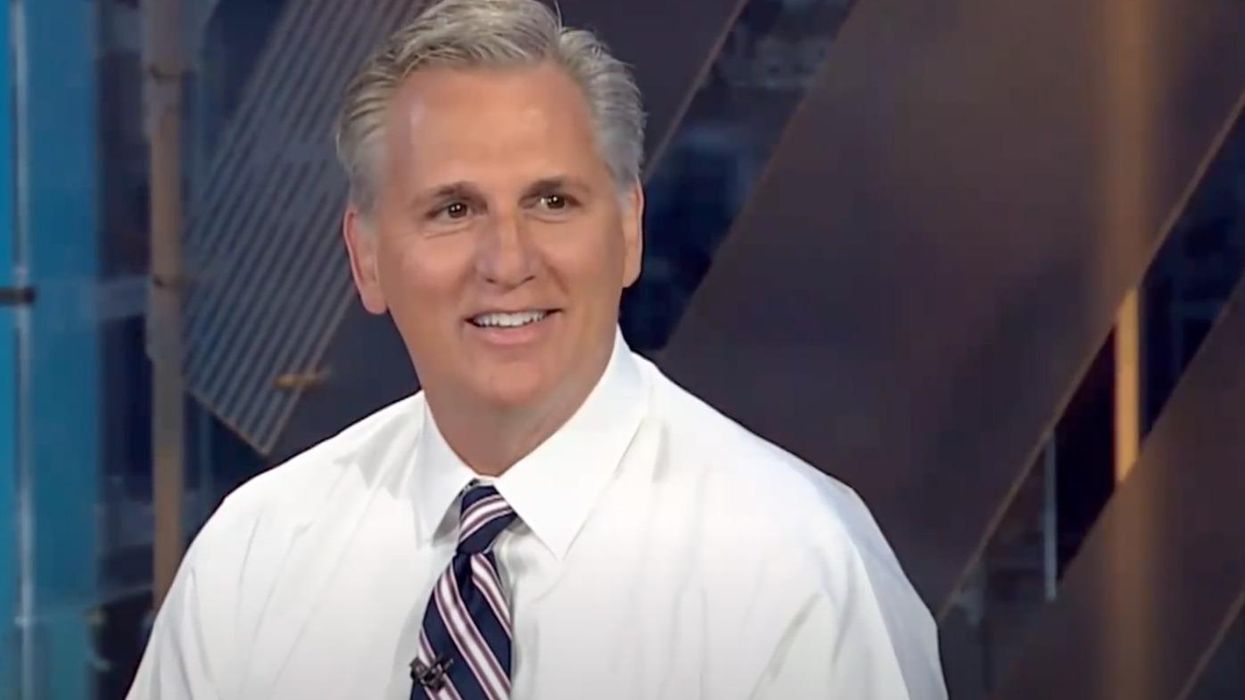 House Republicans have threatened to shut down the government and impeach President Joe Biden, two moves that are unpopular with voters and could hurt the party in the 2024 elections.
A group of Republican lawmakers held a news conference on Capitol Hill on Tuesday at which they said they would shut down the government if they don't get the draconian spending cuts they are demanding, including billions in cuts to food stamps . Republicans are also pushing to include federal restrictions on abortion access and transgender health care in the spending bills. Congress must fund the government by Sept. 30 or it will be forced to shut down.
"We should not fear a government shutdown. Most of what we do up here is bad anyway. Most of what we do up here hurts the American people," Rep. Bob Good (R-VA) said in a video shared by journalist Aaron Rupar.
Government shutdowns lead to suspended services that can cost the economy billions of dollars, according to the Congressional Budget Office.
"There are government services that are not being provided," David Wessel, the director of the Hutchins Center on Fiscal and Monetary Policy at the Brookings Institution, said in 2019. "You can't sell an airplane, for instance. You can't get a question answered at the Internal Revenue Service. There are all sorts of services that people can't get. The economists who add this up say it works out to about $2 billion a week in lost output to the economy every day the shutdown persists."
Later on Tuesday, House Speaker Kevin McCarthy held a news conference at the Capitol in which he said he's moving toward opening an impeachment inquiry into Biden. On Tuesday night, McCarthy appeared on Sean Hannity's Fox News program and said that bribery allegations against Biden are "rising to the level of impeachment inquiry." Republicans, however, are basing their allegations on a secondhand source who is currently under federal indictment on charges of being an unregistered agent for China, violating U.S. sanctions against Iran, and lying to federal investigators.
Neither shutting down the government nor impeaching Biden is popular with voters, according to public opinion polls.
Polling from 2019, the last time the government shut down, showed that 74 percent of American adults thought the shutdown was "embarrassing." What's more, polls taken during past shutdowns also show that Republicans often bear the brunt of the blame .
Meanwhile, a Morning Consult poll from June found that only 30 percent of voters think Republicans should prioritize impeaching Biden.
Democratic lawmakers say they will use Republicans' efforts to further build the narrative that the Republican Party is too extreme.
"Apparently, the extreme MAGA Republican wing of the House Republican caucus would like to impeach every single federal official if they could, and I think the American people would far prefer that the Congress focus on real priorities and real issues that are impacting their daily lives," Rep. Joe Neguse (D-CO) said Wednesday at a news conference on Capitol Hill with other Democratic leaders. "Certainly, we will continue to do that. It would be the prudent course for the House Republicans to do the same."
"They have no interest in anything else except the culture wars and attacking the Biden administration," Rep. Suzan DelBene (D-WA) told NBC News. DelBene, who chairs the Democratic Congressional Campaign Committee, which is working to win back the House majority for Democrats, said: "Our focus is on the American people and doing the work that helps our communities. And unfortunately, they don't seem to have any interest in doing that."
Already, polling has shown that voters disapprove of the job House Republicans are doing. In a CNN survey conducted in January, 73% of U.S. adults said House Republican leaders "haven't paid enough attention to the country's most important problems."
Some Republicans have tried to downplay their own party's extreme agenda ahead of the 2024 elections.
"No one is seriously talking about impeachment right now," Rep. Richard Hudson (R-NC), who chairs the National Republican Congressional Committee, told NBC News. "We're going to follow the facts wherever they go. So if we get to the point where we think that's in the cards, I think at that point, we have to bring the American people along with us. But right now we're just trying to get facts."
Reprinted with permission from American Independent .