Bill Barr's Vote Suppression Follows An Old Script
@alexvhenderson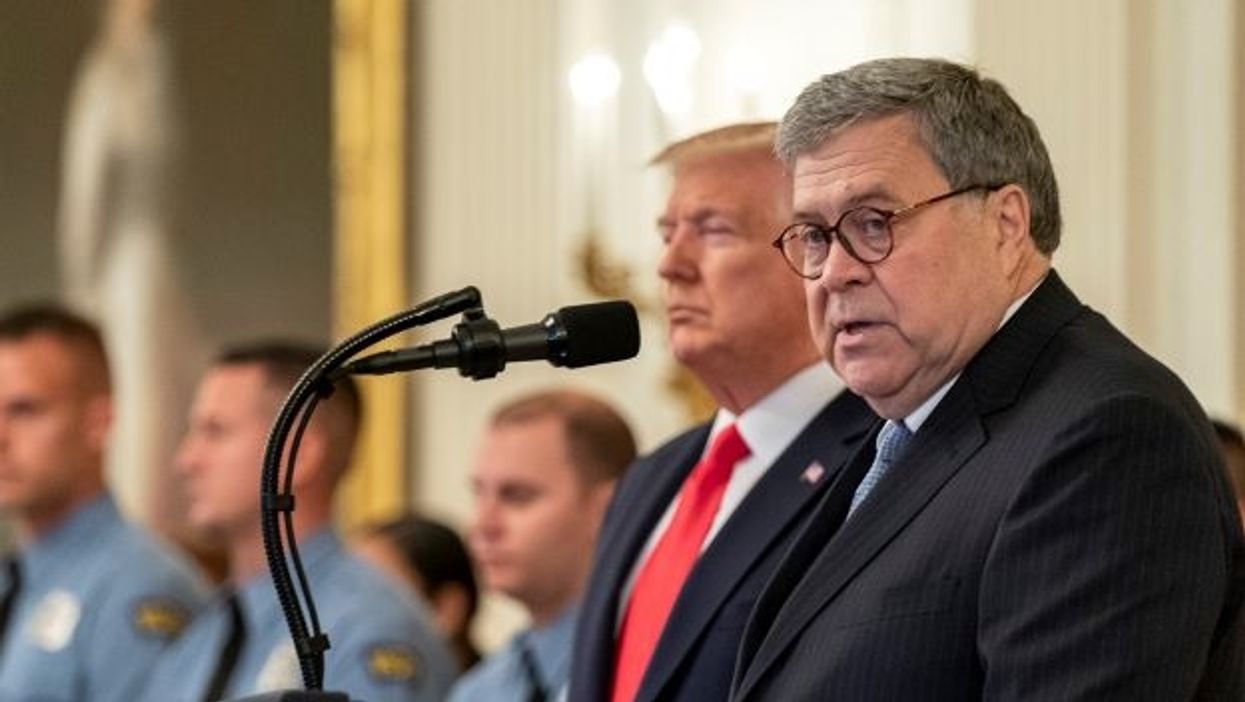 Official White House Photo by Shealah Craighea
Reprinted with permission from Alternet
With one national poll after another showing President Donald Trump losing to former Vice President Joe Biden in November, the president and Attorney General William Barr continue to obsess over "voter fraud." They baselessly claim the crime is promoted by mail-in voting, despite its history as a reliable practice. Journalist Pema Levy pointed out that Barr's actions are part of a long a seedy history in an article published in Mother Jones, describing them as thinly veiled attempts at voter suppression.
"A pattern has emerged in recent years that's easy to spot," Levy explains. "Right before an election, Republican officials in battleground states announce voter fraud investigations. The goal is obvious: suppressing turnout. But what's new this year is that this underhanded tactic is being employed by the president and the Justice Department."
---
Levy cites Georgia Gov. Brian Kemp as an example of a Republican who has used bogus voter fraud claims to suppress turnout, recalling that only two days before the 2018 midterms, Kemp — who was Georgia's secretary of state before becoming governor — "came out with an explosive announcement: he was investigating the state Democratic Party for attempting to hack into the state's voter registration system."
"At the time, Kemp was both the state's top election official and the Republican nominee for governor in a dead-heat race against Democrat Stacey Abrams," Levy notes. "Kemp had a history of bogus voter fraud allegations against his political opponents, and many recognized the brazen tactic this time. Election law expert Rick Hasen called it 'perhaps the most outrageous example of election administration partisanship in the modern era' and 'banana republic stuff.'"
But in May 2020, Levy adds, Georgia's Republican attorney general "confirmed what was suspected all along: there was no evidence of any crime." Republicans, Levy stresses, "have a long history of making false allegations of voter fraud, only to see their accusations fall apart once scrutinized. But airing such charges right before an election threatens to destabilize and delegitimize it."
This year, according to Levy, one is seeing "an increase in fraud allegations from the Justice Department itself — and it appears to be part of Barr's ongoing effort to transform the (DOJ) into an arm of the Trump campaign, ready to engage in a longstanding GOP voter suppression tactic."
Barr, Levy warns, is showing that he is ready to "possibly aid the Trump campaign's legal efforts to get ballots tossed during the vote-counting process."
When the U.S. Senate confirmed Barr as U.S. attorney general in 2019, Levy recalls, he was hailed as "by-the-book institutionalist" — only to show how much of a Trump loyalist he was when he "misrepresented" the findings of former Special Counsel Robert Mueller's Russia investigation and "interfered" in the DOJ's investigation of long-time Trump ally Roger Stone. And during this year's presidential election, Levy predicts, Barr will to do whatever he can to help Trump win reelection.
"Since Barr has torched his credibility," Levy writes, "any allegations of fraud emanating from the Justice Department in the coming weeks should be viewed skeptically. Barr is using an old playbook. You've been warned."