Boehner Doubles Down On Sequester In Hopes Of Avoiding Shutdown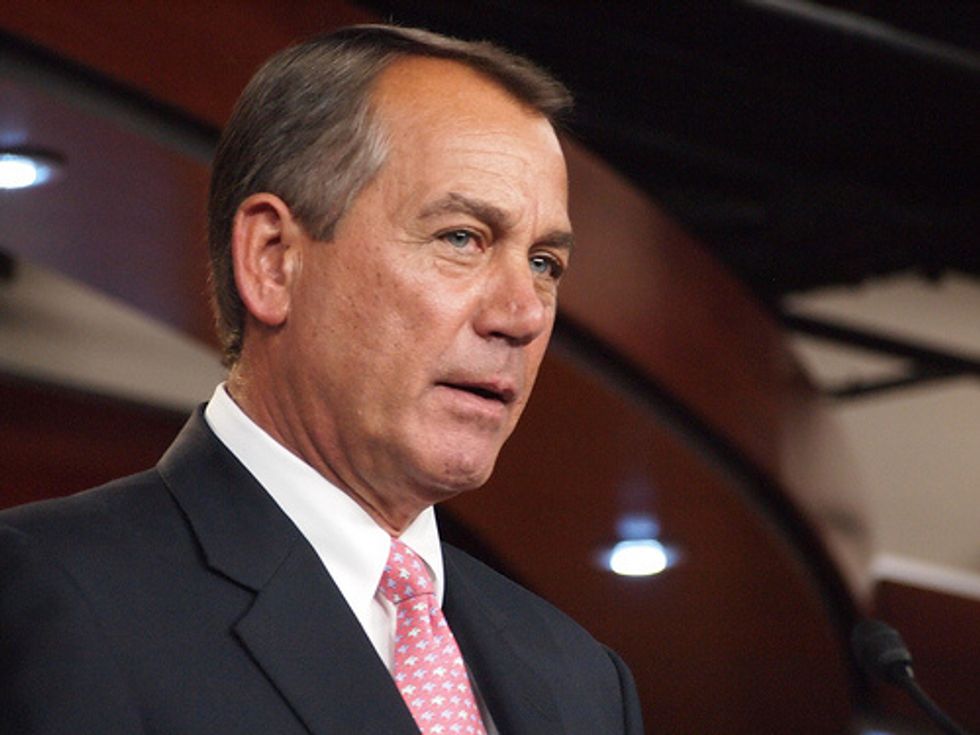 House Speaker John Boehner (R-OH) reportedly pitched his caucus on a plan to lock in sequester cuts, in a move that reveals how the Speaker hopes to avoid a politically calamitous government shutdown in the fall.
During a Thursday night a conference call with House Republicans, Boehner laid out his plan to pass "a short-term continuing resolution that keeps the government running and maintains current sequester spending levels."
"The president is desperate to get rid of the sequester… so desperate that he says he'll shut down the government if Congress follows the law and funds the government at the levels his sequester mandates," Boehner said, according to a Roll Call report. "The president's threat to shut down the government if we implement his sequester is not a defensible position. The American people won't stand for it, and we're not going to be swayed by it."
"Our message will remain clear," Boehner added. "Until the president agrees to better cuts and reforms that help grow the economy and put us on path to a balanced budget, his sequester — the sequester he himself proposed, insisted on and signed into law — stays in place."
Putting aside the factual inaccuracies in Boehner's statement — budget sequestration was clearly not a unilateral decision by the White House, and the president has repeatedly offered deficit reduction plans to end the harsh automatic spending cuts — Boehner's statement sheds some light on how he hopes to navigate the budget battle that will consume Congress when it returns from recess.
By signaling his intention to pass a continuing resolution to keep the government running under sequester levels, Boehner is tacitly rebuking the Republican plan to shut down the government unless Obamacare is completely defunded. Instead, Boehner said "We will also continue to implement the plan to stop Obamacare that I outlined last month" — which focuses on delaying Obamacare's implementation, rather than trying to totally destroy the law. Evidently, the Speaker agrees with the bipartisan multitude of pundits who believe that a government shutdown would be a political disaster for House Republicans.
Even if House Republicans back down from their government shutdown plan, there is still a chance that they could revisit their attempt to defund Obamacare in late October or early November, when Congress must raise the debt limit to avoid defaulting on the nation's debt. Indeed, House Majority Leader Eric Cantor suggested just such a move this week. Given that President Obama has repeatedly insisted that he won't negotiate over the debt limit again — and that Speaker Boehner has admitted that failing to raise the debt ceiling would cause a global economic disaster — it seems unlikely that Republicans can gain any leverage from threatening default, however. Despite their best efforts, Obamacare will remain — as Boehner himself put it — the "law of the land."
Meanwhile, as Speaker Boehner urges his caucus to "focus on the victory of the sequester," the steep cuts continue to have a devastating effect around the country.
Photo: Medill DC via Flickr.com