"The Exclusive": A One-Act Play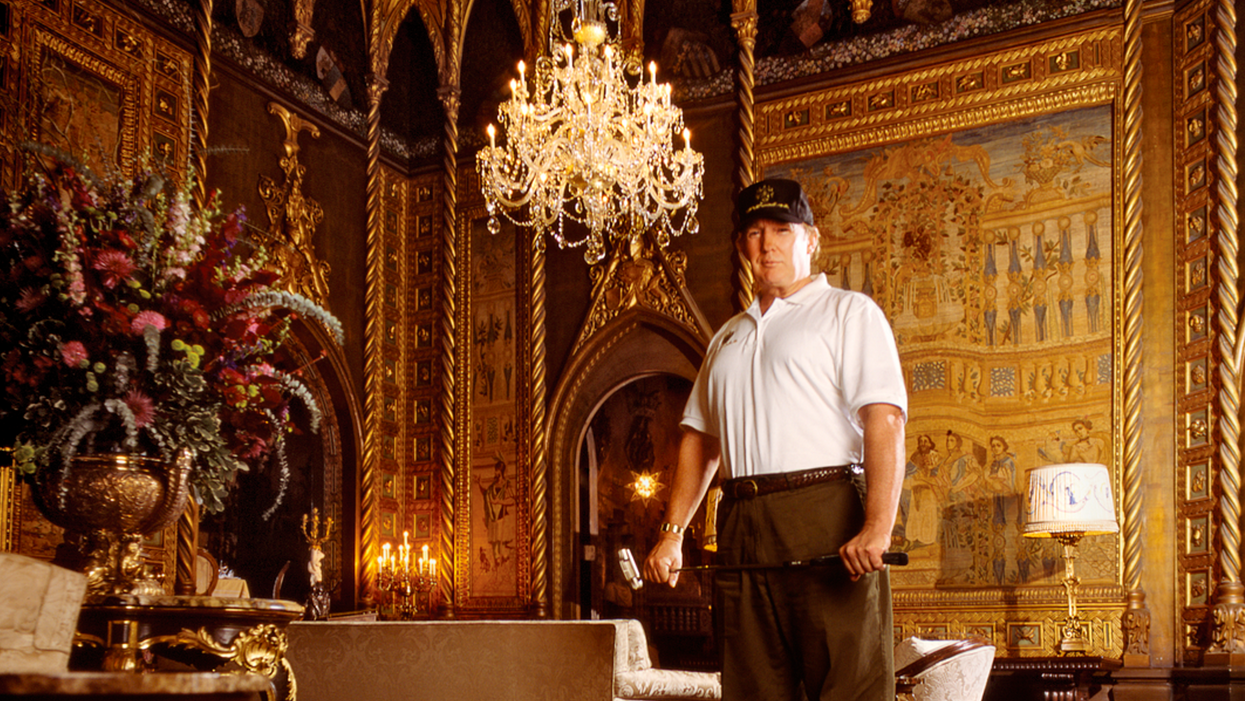 "Trump set to do at least 12 book interviews in the coming weeks"
--- Politico, March 17, 2021
Seated on a couch in the ornate Great Room at Mar-a-Lago, designed in the style of a Venetian palace, draped with frescoes and spangled with gold leaf, is the 45th President of the United States. His aide, Jason Miller, approaches, with a bald-headed, bespectacled visitor.
MILLER: Michael Wolff, Mr. President. (Miller exits)
TRUMP: The great Michael Wolff! The mentally deranged author! Fake news! Glad you could come. (Signals for Wolff to sit next to him on the couch)
WOLFF: I really appreciate you agreeing to see me for my book.
TRUMP: An exclusive, Michael. Gave you an interview for the first one, too, and that one was not so nice, but I got to hand it to you, big, big bestseller. How much did you make, ten million, twenty? Do a book about me, sells a million copies. The next one will be your biggest. The first title was great. Fire and Fury. Perfect. I said that. Sold like hotcakes.
WOLFF: It was a good title.
TRUMP: Next one, Siege, not so good. Did I ever say, "Siege?" I don't think so. I bet that didn't sell as well. Am I right?
WOLFF: Not quite as well...
TRUMP: So, what's the next title?
WOLFF: "Landslide."
TRUMP: If it means I won the election, that's the truth. Otherwise, terrible title. Do you want to sell this book? You have to have a title that quotes me. We've done the experiment. First book, quotes me, big, big bestseller. Second book, doesn't quote me, not so much.
WOLFF: What do you suggest?
TRUMP: Call it "The Hoaxes and the Lies."
WOLFF: You want me to call it "The Hoaxes and the Lies?" Are you sure?
TRUMP: It's what I said at my January 6th speech at the rally. "The hoaxes and the lies"—they were using them to steal the vote. Great title. Your other title, I have to be honest, it stinks. Think about it, Michael.
WOLFF: About the election…
(A Mar-a-Lago member walks up to the seated Trump to shake his hand)
MEMBER #1: Mr. President, so good to see you!
TRUMP: I want you to meet the great Michael Wolff. He came to interview me for a book.
MEMBER #1: Nice to meet you.
TRUMP: He doesn't have a title yet. Good to see you, Eli. Enjoy your meal. Order the steak. I always have it well done.
(Member #1 exits)
TRUMP: Gave him a pardon. A regular junior Madoff, running a Ponzi scheme with nursing homes. But, you know what, I'm a kind and merciful kind of guy. Dershowitz was his lawyer. Want to know how merciful I am? Dershowitz wouldn't represent me at the second impeachment and I gave his client a pardon anyway. You think Lincoln would have done that? And how did he end up?
WOLFF: Rudy…
TRUMP: Rudy—you've known Rudy forever—am I right?
WOLFF: I just did a podcast series on Rudy.
TRUMP: He deserves it. I said he had "guts" at my rally. But his girlfriend submitted a bill to me.
WOLFF: Sidney Powell? The lawyer?
TRUMP: Bill Barr, my own attorney general, my lawyer, supposed to be my Roy Cohn, you and everyone else called him that—not Roy. You want an exclusive? Barr said he resigned, fired him. Walked the plank. Roy, very, very good, better than good. In the beginning and middle, very good. In the end, not the same Roy. So maybe Bill Barr was my Roy Cohn—very good, very good, then very bad, much, much worse than Roy at the end when I needed him, when it was showtime. And he didn't have AIDS as an excuse.
WOLFF: The courts…
TRUMP: Brett Kavanaugh, stuck a knife in my back. Another rat. If it hadn't been for me, he'd have been overboard to the sharks. He'd be selling hats today. You remember that hat store on 42nd Street next to the Grand Hyatt, my first big project. Not a bad hat store, if you like hats, not that I ever wear a hat, except the MAGA cap, at the rallies, which is not a hat. Kavanaugh, he needs to be impeached. And I may tell you later in the interview how that's going to happen. By the way, slam dunk, he's gone. Deserves it. Let's see how the rest of the interview goes.
WOLFF: The Proud Boys, the Oath Keepers…
TRUMP: Let me ask you something, Michael. Can you recommend to me a good lawyer?
WOLFF: I know several. In New York? Atlanta? Washington?
TRUMP: One that doesn't require a retainer in advance.
(Jason Miller walks up accompanying a new visitor)
TRUMP: (Shouts) Maggie!
MILLER: You next appointment showed up a little early, but I thought you'd like to greet her.
(Another member of Mar a Lago suddenly approaches)
MEMBER #2: Mr. President, sorry to interrupt, but I just wanted to say how good it is to see you.
TRUMP: Jimmy, a pleasure. Let me introduce you to the great Michael Wolff and the great Maggie Haberman. A twofer!
MEMBER #2: You're our president.
TRUMP: God bless you, Jimmy. You give to the PAC?
MEMBER #2: Big time.
TRUMP: Order the steak. Get it well done.
(Member #2 exits)
TRUMP: Jimmy, great guy, a tiny, tiny tax issue. Clemency. Great guy.
WOLFF: Our interview…
TRUMP: Michael, take just a little break while I talk to Maggie. Get yourself some lunch, sit by the pool, stick around, have dinner with me and Melania tonight, what do you say to that? And think about what I asked you.
(Miller leads Wolff off)
HABERMAN: Mr. President, I appreciate that you've agreed to an interview for my book.
TRUMP: What's the title? Not "Landslide?"
HABERMAN: Untitled.
TRUMP: Not much of a title. How about "The Hoaxes and the Lies?"
HABERMAN: Really?
TRUMP: I said that. That's how they stole it. That's a bestseller. I read a report about your book. "Definitive." "Instant classic." It says you will "draw on a unique and extensive network of sources." Maggie, you know there's only one unique source. That's why they use the word "unique."
HABERMAN: That's why I came.
TRUMP: I have an exclusive for you. You ready? Bill Barr. But first I have a question. Can you recommend to me a good lawyer?
The End
Sidney Blumenthal, former senior adviser to President Bill Clinton and Hillary Clinton, has published three books of a projected five-volume political life of Abraham Lincoln:A Self-Made Man,Wrestling With His AngelandAll the Powers of Earth. His play This Town, about a scandalous White House dog, was produced in 1995 by LA TheatreWorks. This is the fifh in his "Trump Cycle" series of one-act plays published in The National Memo, including The Pardon, Epstein's Ghost, Ivanka's Choice, and Sunset Boulevard.