California Representative Loretta Sanchez In Hot Water Over Indian War Whoop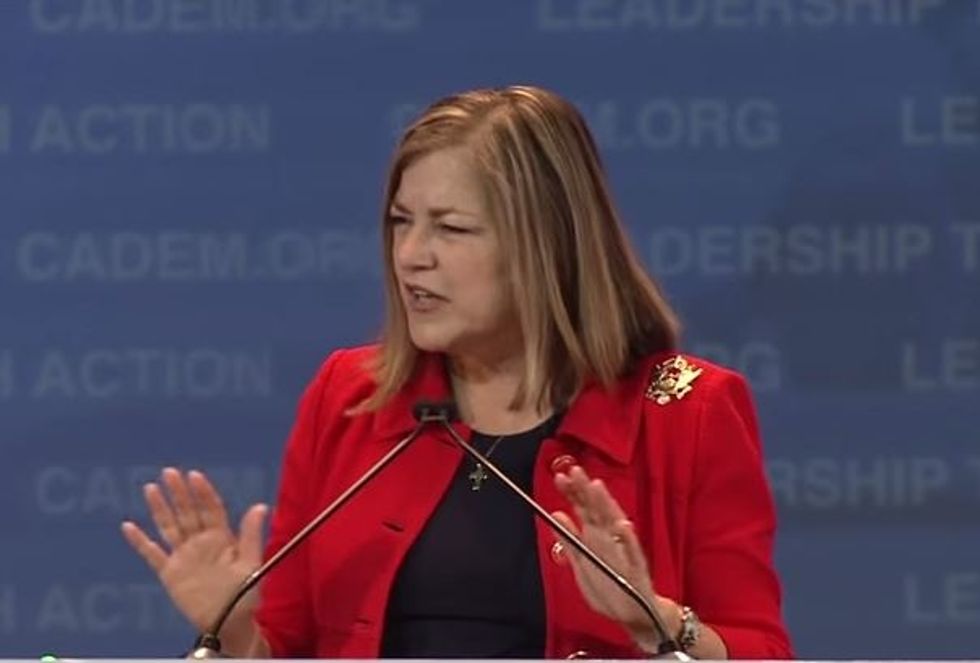 Soon after Representative Loretta Sanchez (D-CA) announced her run for Senate, she opened her mouth a little too far.
A video surfaced Sunday evening showing her trying to differentiate between Native Americans and Indians by mimicking a war cry by putting her hand to her mouth. Her comments were made at a luncheon for Indian-American Democrats.
Her chief rival, Attorney General Kamala Harris, is of Indian descent — her mother is from the Asian country — and condemned Sanchez's comment. "It is shocking and there is no place for that in our public discourse," she said.
Sanchez is a 10-term congresswoman known for her flamboyance, with some political watchers wondering if this gaffe will impact fundraising for her campaign. Yet supporters say her style, while unorthodox, is a genuine reflection of her personality.
"Loretta Sanchez is the crazy aunt of the Democratic Party," said Democratic strategist Steve Maviglio. "She's been known to say crazy things. But what you see is what you get."
Sanchez herself said Sunday, in a possible dig at her opponent, that she doesn't "hid[e] behind the handlers," referring to strategists and managers who often tightly script candidates' remarks.
In her apology, she said that "like so many Mexican-Americans, I am proudly Native American on my mother's side," and added, "It's hard to put yourself out there and to do what leaders need to do day in and day out. And yes, sooner or later we make mistakes because you know what, we are all humans. But that is the only way we truly connect with people. You cannot change the world from behind a desk."
Both women are running for the seat being vacated by retiring Sen. Barbara Boxer.
Video courtesy of John G/YouTube:
Screenshot: Loretta Sanchez at California Democrats Convention 2015. Courtesy cademorg/YouTube