Canadian Police Confirm Single Gunman Carried Out Ottawa Attack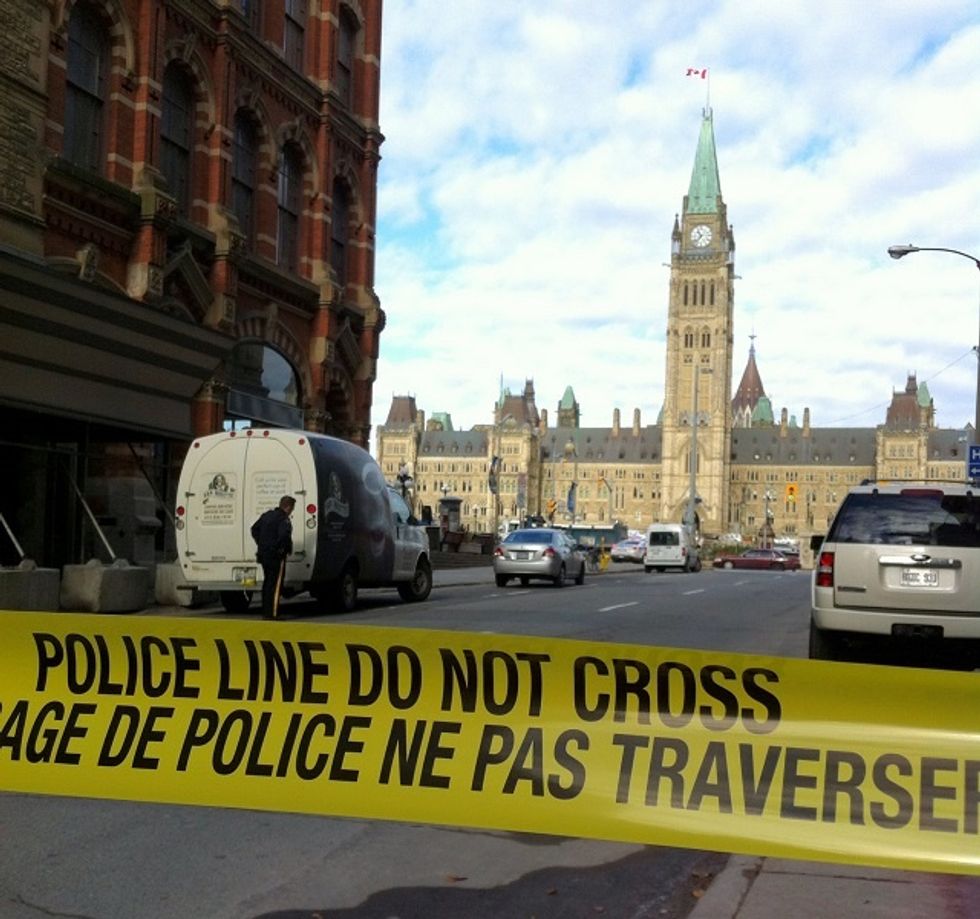 By W.J. Hennigan, Los Angeles Times (MCT)
OTTAWA, Canada — Canadian police confirmed Thursday that a single gunman was involved in a shooting rampage at the Canadian Parliament and a nearby war memorial that left one soldier dead and parts of the city under lockdown for hours.
Ottawa Police Chief Charles Bordeleau told reporters that authorities are satisfied that the gunman, now officially identified as Michael Zehaf-Bibeau, was the only perpetrator in Wednesday's attacks, despite initial reports that as many as two other shooters might have been involved.
After fatally shooting Cpl. Nathan Cirillo, who was standing guard at Ottawa's war memorial shortly before 10 a.m., Zehaf-Bibeau stormed the Parliament building in a hail of gunfire but was shot and killed by the ceremonial sergeant-at-arms, police said.
"There is no longer a threat to public safety," Bordeleau told the Canadian Broadcasting Corp.
In a brief interview with the Associated Press, the suspect's mother, Susan Bibeau, offered a tearful apology.
"Can you ever explain something like this?" she said. "We are sorry."
All city services returned to normal and the House of Commons was set to reopen with a stepped-up police presence.
But while parliamentarians and staffers returned to work, much of Parliament Hill in downtown Ottawa remained closed to the public as a crime scene. A police perimeter surrounded the war memorial while mourners left flowers and notes nearby.
Parliamentarians were meeting at the memorial in the morning before their workday began, an impromptu gathering that drew crowds of journalists and onlookers.
The office of Andrew Scheer, the House of Commons speaker, issued a statement that said the House would begin with an expected address by Prime Minister Stephen Harper at 10 a.m., about 24 hours after Cirillo was killed while standing guard at the memorial and the Tomb of the Unknown Soldier.
"This sends a clear message of Canada's resolve to maintain its free and democratic way of life," the speaker's office said.
During the morning, an unidentified man was detained by police not far from where Harper was laying a wreath at the war memorial. Police wrestled him to the ground and put him in a police car.
A police officer who asked not to be identified because he was not authorized to speak to the media said the man was wearing a white scarf like Zehaf-Bibeau had done and was running toward Harper before he was tackled.
The Ottawa shooting was the second fatal attack on a member of the Canadian armed forces this week, raising fears that the country was facing a terrorist assault. Canada announced this month that it was joining the United States in the battle against Islamic State militants, who have taken over large parts of Iraq and Syria.
"Terror In The Capitol" was the headline on the front-page of local newspaper the Ottawa Citizen.
Security has been heightened at military bases and government buildings nationwide. Canadian soldiers in the Ottawa area were ordered not to wear their uniforms in public, unless on duty, according to the Globe and Mail newspaper.
But many wanted to get back to business as usual in Ottawa, a city where residents are known to practice yoga or play ultimate-Frisbee on the House of Commons grounds. Local news stations were using the phrases "Ottawa Strong" and "Canada Strong" in their broadcasts, an homage to the expression used in Boston following last year's Boston Marathon bombings.
In a prime-time speech to the nation Wednesday night, Harper said the federal government would "take all necessary steps to identify and counter threats and keep Canada safe."
"Let there be no misunderstanding. We will not be intimidated," Harper said. "Canada will never be intimidated."
Photo: Police block off access to Parliament Hill after shots were fired on Wednesday Oct. 22, 2014 in Ottawa, Canada. (Matt Usherwood/QMI Agency/ZUMA Wire/MCT)