How Mike Pence Fanned The Flames Of The Capitol Riot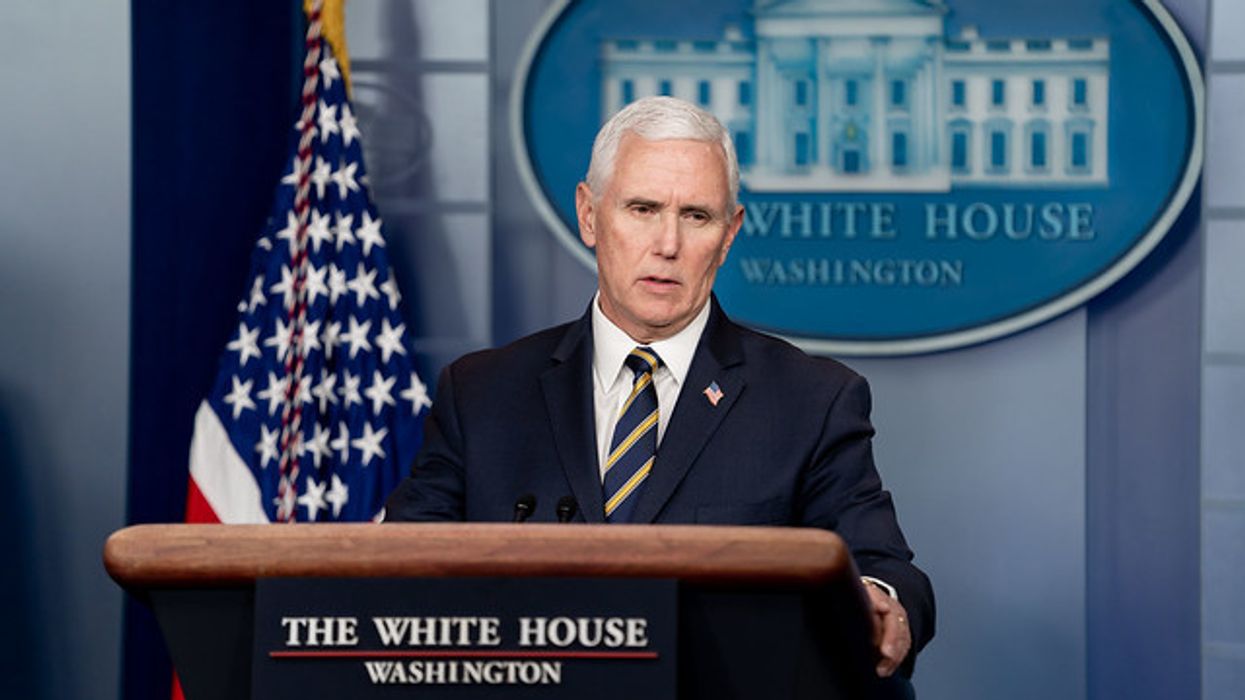 The third hearing by the House Select Committee to Investigate the January 6 Attack on the U.S. Capitol celebrated Vice President Mike Pence for his refusal to buckle to weeks of private and public bullying by Donald Trump, who pushed Pence to abuse his power as the presiding officer at Congress's ratification of 2020's Electoral College vote on January 6 -- and turn Trump's defeat into a second term.
Before installing Pence into the pantheon of constitutional heroes or naming him the exemplar of conservatives who defeated Trump's coup (which is the Wall Street Journal editorial board's take, because Republicans, not Democrats, "foiled" the seditious president), let's recall what Pence said at a Georgia rally two days before January 6.
"I know we all, we all got our doubts about the last election," Pence said, speaking in Milner, Georgia, before two U.S. Senate runoff elections the next day. "And I want to assure you I share the concerns of millions of Americans about voting irregularities. And I promise you, come this Wednesday, we'll have our day in Congress. We'll hear the objections. We'll hear the evidence. But tomorrow is Georgia's day!"
Pence, unlike the stream of Republicans now speaking truth to the January 6 committee because they are not in power, did not say what he apparently knew at that time. He knew, as the hearings showed, that Trump's claims about the 2020 election being stolen were a big lie. Yet Pence led Trump supporters on, suggesting there were irregularities that led to Joe Biden's victory, and, that he would somehow be addressing those problems when Congress convened on January 6.
"This [speech] contributed to the expectations of Trump supporters that something could be done at the January 6 joint session, and thus helped set the stage for the "'wild' chaos" that Trump and his supporters, including apparently some of his team's lawyers, wanted to foment," wrote Ned Foley, an Ohio State University professor specializing in election law and the transfer of presidential power, on ElectionLawblog.org, where he is a contributing editor.
Foley wasn't the only observer to note that Pence's comments, or, rather, his failure to speak the truth from the beginning, is troubling. Pence is still avoiding a public confrontation over Trump's lies. As Tim Miller wrote on Thursday in The Bulwark, an anti-Trump Republican news and opinion website, "Now don't get me wrong, the former vice president does deserve recognition for his actions on January 6… [but] what reason is there for his absence [at the hearings]—besides rank politics?"
"Shouldn't the man of the hour have been in the building?" Miller said. "Shouldn't he testify, under oath, about the events of January 6? Don't we deserve to hear from Pence what his conversations with Trump were like in the lead-up to that day? Shouldn't he tell us the ways in which the president abdicated his responsibility to help protect the Capitol and everyone within it as the mob descended? Shouldn't he be asked whether the president was on the side of America and the Constitution or the insurrectionists who were trying to tear it down?"
Perhaps the answer to these questions is that politics, like life, is complicated. Pence may have faced bullying and degrading treatment from Trump for not playing a unique role in seizing a second term for Trump (and himself). But, as Foley said, Pence fanned false expectations that something could be done on January 6.
Worse, Foley said that Pence's remarks at the January 4 rally in Georgia were misleading, because, neither the U.S. Constitution nor the Electoral Count Act of 1887 gave Pence any leeway to alter the 2020 Electoral College vote count.
"Those expectations were altogether inappropriate because under the Twelfth Amendment and the Electoral Count Act, the only role for the joint session of Congress is to accept as 'conclusive' electoral votes from states that comply with the conditions set forth in 3 U.S.C. 5," Foley continued. "Any claims of 'irregularities' – there was no procedure for 'evidence' to be presented in the joint session – would have been contrary to this congressional obligation, and thus it was wrong for Pence on January 4 to say that the January 6 joint session was entitled to 'hear' such claims."
While Pence deserves credit for not pushing the country into an unprecedented constitutional abyss, the testimony of another conservative to the committee on Thursday, retired federal appeals court judge J. Michael Luttig, highlighted the need to clarify the ambiguities in federal law that Trump sought to exploit.
"Our democracy has never been tested like it was on that day and it will never be tested again as it was then if we learn the lessons of that fateful day," said Luttig in prepared remarks submitted to the committee. "On the other hand, if we fail to learn the lessons that are there to be learned, or worse, deny even that there are lessons there to be learned, we will consign ourselves to another January 6 in the not-too-distant future, and another after that, and another after that."
Yes, Pence played a historic and ultimately courageous role on January 6. He did his duty in the face of real danger. But two days before, he fanned the flames that erupted on January 6, even though he knew, as his staff repeatedly told the committee, the limits of his legal authority. Historic, yes. But heroic?
Steven Rosenfeld is the editor and chief correspondent of Voting Booth.He has reported for National Public Radio, Marketplace, and Christian Science Monitor Radio, as well as a wide range of progressive publications including Salon, AlterNet, The American Prospect, and many others.
This article was produced by Voting Booth, a project of the Independent Media Institute.