Chattanooga Shooting Suspect's Mideast Travel Being Probed
@reuters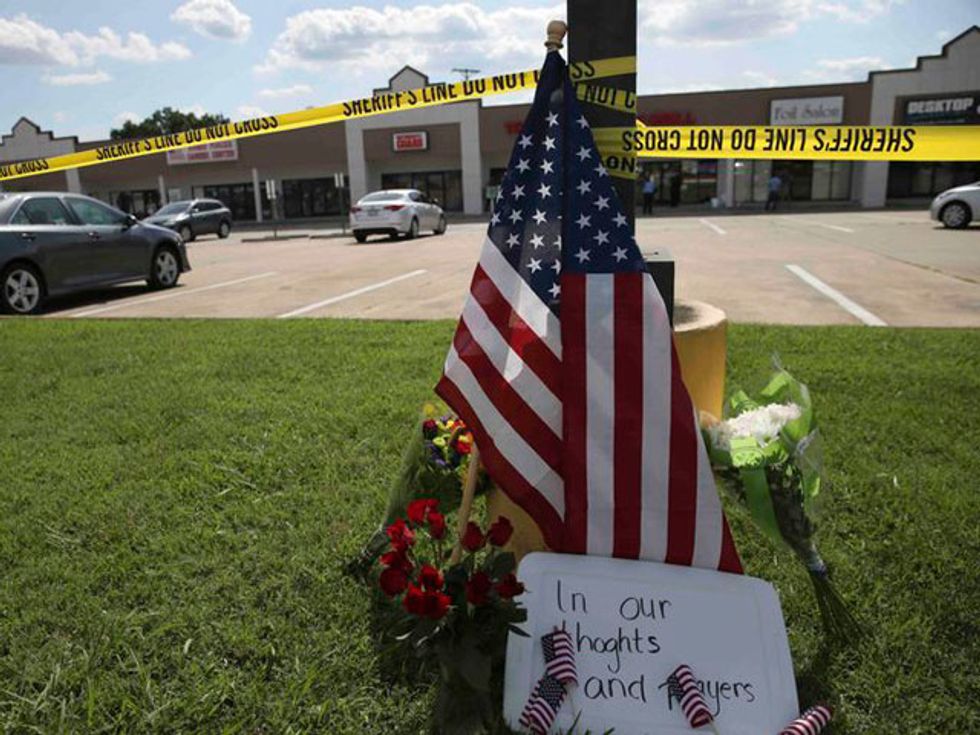 By Rich McKay
CHATTANOOGA, Tennessee (Reuters) – U.S. authorities are investigating trips that the suspect in the fatal shootings of four Marines in Tennessee took to the Middle East, including at least one to Jordan and a possible visit to Yemen, a source close to the probe said on Friday.
Mohammod Youssuf Abdulazeez, 24, identified as the shooter by the FBI, was shot to death in a rampage on Thursday at two military facilities in Chattanooga.
The suspect, seen driving an open-top Ford Mustang, first went to a joint military recruiting center in a strip mall and sprayed it with gunfire, riddling the glass facade with bullet holes. The gunman then drove off to a Naval Reserve Center about 6 miles (10 km) away, fatally shooting the four Marines before being shot and killed in a firefight with police.
The attack, which comes at a time when U.S. military and law enforcement authorities are increasingly concerned about the threat 'lone wolves' pose to domestic targets, also injured three people, including a sailor who was critically wounded.
Investigators are trying to determine whether the suspect had any contact with militants or militant groups, but at this point have no evidence that he did, the source told Reuters.
U.S. law enforcement officials said they were investigating whether he was inspired by Islamic State or a similar group.
Islamic State had threatened to step up violence in the holy fasting month of Ramadan, which ends on Friday evening.
The extremist group, also known as ISIS and ISIL, claimed responsibility when a gunman in Tunisia opened fire at a popular tourist hotel and killed 37 people in June. On the same day, there was an attack in France and a suicide bombing in Kuwait.
At a news conference late Thursday, Edward Reinhold, special agent in charge of the FBI's Knoxville, Tennessee, division, said investigators had found nothing that tied the suspect to an international terrorist organization.
The SITE Intelligence Group, which tracks extremist groups, said that Abdulazeez blogged on Monday that "life is short and bitter" and Muslims should not miss an opportunity to "submit to Allah." Reuters could not independently verify the blog postings.
The New York Times, citing unnamed law enforcement officials, reported that his father had been under investigation several years ago over possible ties to a foreign terrorist organization. His name was later removed from a terror watch list.
According to a resume believed to have been posted online by Abdulazeez, he attended high school in a Chattanooga suburb and graduated from the University of Tennessee with an engineering degree.
(Reporting by Suzannah Gonzales in Chicago, Eric Johnson in Seattle, Brendan O'Brien in Milwaukee, David Bailey in Minneapolis, Frank McGurty and Katie Reiley in New York, Emily Stephenson, Julia Edwards, Lindsay Dunsmuir, Doina Chiacu and David Alexander in Washington, Dan Whitcomb and Victoria Cavaliere in Los Angeles; Writing by Frank McGurty; Editing by James Dalgleish)
Photo: Police tape and a makeshift memorial sit on the lawn in front of an Armed Forces Career Center in this handout photo provided by the U.S. Navy, where earlier in the day a gunman opened fire, injuring one U.S. Marine in Chattanooga, Tennessee, July 16, 2015, (REUTERS/Damon J. Moritz/U.S. Navy/Handout via Reuters)