Child Killed, 30 Hurt In Gaza City Strike During Lull
@AFP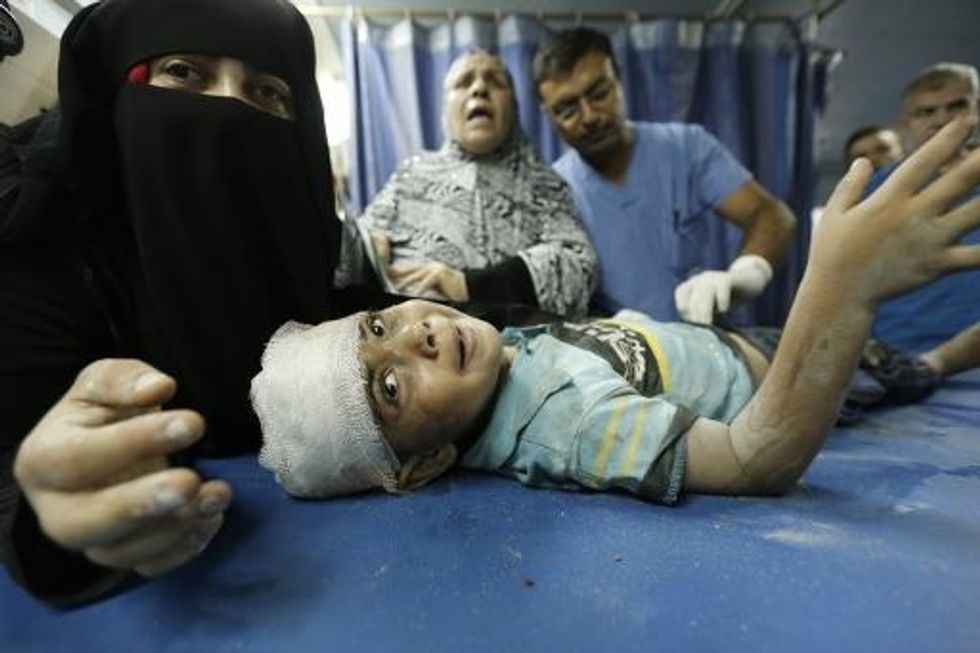 Gaza City (Palestinian Territories) (AFP) – A child was killed and 30 people wounded in a strike on a refugee camp in Gaza City on Monday just minutes into an Israeli-declared truce, medics said.
Witnesses and several AFP correspondents based at a nearby hotel, reported hearing the whistle of a missile fired from an F16 warplane before it crashed into a three-story house wedged between two tall buildings inside the beachfront Shati refugee camp.
The strike killed an eight-year-old girl, emergency services spokesman Ashraf al-Qudra told AFP.
An AFP correspondent said the strike hit at 0706 GMT – just six minutes into the ceasefire.
The Israeli army said it was looking into the incident, but gave no further comment.
With only a narrow alley leading to the house, it was not possible to get rescue equipment to the scene, with a long line of people passing out chunks of rubble by hand, an AFP correspondent said.
Young men joined rescuers in the human chain, shouting at onlookers to leave the place and not complicate the search for survivors.
"Just after 10am, an F16 fired at the houses. There is no truce. How could there be a truce, they are liars, they don't even respect their own commitments," raged Ayman Mahmud, who lives in the neighborhood.
The strike cause the house to pancake, leaving only a very narrow gap for rescuers to get inside, some of whom were bloodying themselves in the effort, he said.
At the scene was a huge pile of rubble, strewn with twisted metal rods, broken glass and every-day items like saucepans and even a child's plastic tricycle, the correspondent said.
After about half an hour, they managed to pull the body of a young girl wearing pajamas out of the rubble.
Her spine appeared to be broken in several places, with rescuers struggling to get her onto a stretcher, he said.
"They say there were fighters hiding here, but we are all civilians," railed a neighbor whose house was badly damaged by the attack.
Earlier on Monday, the Israeli army announced a unilateral seven-hour halt to firing, to begin at 0700 GMT.
Hamas said it would not be observing the truce, and warned people to exercise extreme caution when venturing out onto the streets after earlier temporary ceasefire arrangements collapsed into a frenzy of bloodshed.
AFP Photo/Mohammed Abed