Christie Runs New Jersey By Remote Control While Seeking New Job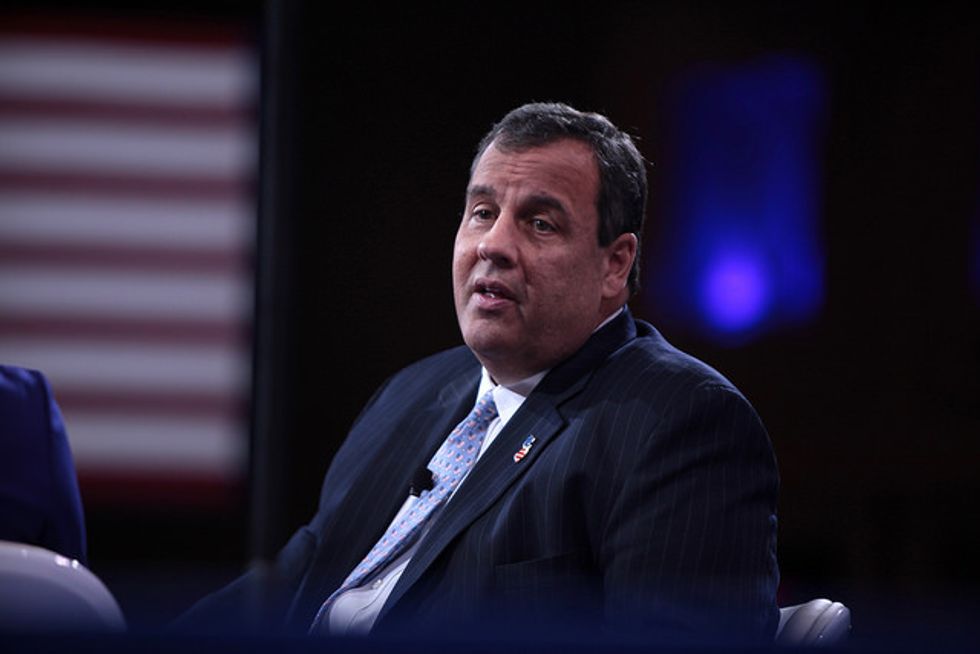 By Terrence Dopp, Bloomberg News (TNS)
TRENTON, N.J. — He's the chief executive officer of an operation with $33 billion in annual revenue that's responsible for the health, wealth and safety of 8.9 million people. In the past six weeks, he's been out of the office about two-thirds of the time, trying to secure his next job.
And yet Chris Christie, New Jersey's governor, says he's got it all under control. Thanks to technology like smartphones and Skype, he says he's able to remain in touch at all times with his staff back home.
"I can walk and chew gum at the same time," he likes to say.
Since Christie entered the presidential race on June 30, the two-term Republican has spent 26 of 43 days out of state, according to a review of schedules and dates on which control was transferred to the lieutenant governor. His absence has fueled criticism from Democrats who say he should resign. In a recent poll, a majority of New Jersey voters agreed.
Last year, when Christie spent 100 days campaigning for other candidates across the U.S. as chairman of the Republican Governors Association, he said he remained in constant contact with his chief of staff and counsel by telephone and e-mail.
Brian Murray, a spokesman for Christie's administration, declined to say who is briefing the governor and how often, citing executive privilege.
Christie, 52, is in regular contact with Chief Counsel Thomas Scrivo, said one person with knowledge of the governor's moves. He also can draw on a "reliable network" of home-state advisers, including Chief of Staff Regina Egea, said the person, who asked not to be identified without authorization to speak for the administration.
The governor also has called Cabinet members directly while traveling, said another person with knowledge of the process who wasn't authorized to speak for the administration.
Murray declined to make administration officials available for interviews about Christie's on-the-road communications.
Christie isn't alone in pulling double-duty as candidate and governor. Four of the 17 Republicans seeking the party's nomination are sitting governors: Louisiana's Bobby Jindal; Scott Walker of Wisconsin and Ohio's John Kasich.
New Jersey pays the cost of its governor's security detail, which Christie's administration has fought in court to keep secret, saying disclosure could put him at risk. Louisiana also foots the bill. Lt. Gov., Jay Dardenne, who is running for governor, has called on Jindal to repay taxpayers for more than $2 million spent on his police protection.
"Governor Jindal is the Chief Executive of Louisiana at all times," Mike Reed, a spokesman for the governor's office, said in an e-mail. "An increased travel schedule won't have an impact on day-to-day operations, since technology allows staff to stay in touch with the governor even when he is not sitting in his office in Baton Rouge."
Walker's campaign is paying for the costs associated with state patrol officers who travel with the governor for security, said Kirsten Kukowski, a spokeswoman.
In Ohio, the Columbus Dispatch said in a July 18 article that it appears the state is paying for Kasich's security- related costs because, in response to a public-records request, officials said they had no documents showing billings sent to or payments made by his campaign committee.
"For the safety of the governor, his family and those with him, we simply never discuss security procedures or resources," Kasich spokesman Rob Nichols said in an e-mail statement.
In New Jersey, residents are growing disillusioned with Christie as they cope with lagging job growth, a broke roadwork fund and increasing delays on an aging mass-transit system.
Thirty-six percent of New Jersey residents approved of Christie's job performance in a Monmouth University poll released July 2. Seventy-one percent think he can't run for president and govern the state effectively at the same time, while 82 percent said his campaign should pay for his security detail when he's out of state.
Democratic state senators Ray Lesniak, who plans to run for governor in 2017, and Loretta Weinberg introduced legislation on Aug. 10 that would require governors who run for president to resign. The bill has little chance of becoming law, as it would need Christie's signature.
"The bill prevents this State from having to endure a governor whose frequent absences from the state in pursuit of higher office makes the governor inattentive to state issues," according to the measure.
Murray, the governor's spokesman, called the bill "silly nonsense."
"The governor has been clear that he is never disconnected from doing his job as governor," he said in an e-mail.
Lesniak said he's concerned that Christie is making decisions to help his campaign, not for the good of New Jersey. As an example, he cited the administration's pollution settlement with Exxon Mobil Corp., an RGA donor, for a fraction of the original damage estimate.
"He's absolutely and totally checked out, and that's why he should get out," Lesniak said.
Peter Cammarano, who was chief of staff to Democrat Richard Codey during his 14 months as governor, said the issue of travel arose when Codey took a week-long vacation to Italy.
With a six-hour time difference, Cammarano said he and Codey would speak at least once a day. If needed, they could remain in constant contact.
"It was really the same as if he was in North Jersey and I was in the statehouse in Trenton," Cammarano said. "With technology, you're always governor."
(John McCormick in Chicago and Mark Niquette in Columbus contributed.)
(c)2015 Bloomberg News. Distributed by Tribune Content Agency, LLC.
Photo: Governor Chris Christie of New Jersey speaking at the 2015 Conservative Political Action Conference (CPAC) in National Harbor, Maryland. (Gage Skidmore via Flickr)