As Clinton Touts Record, Critics Dig For Achilles Heel
@AFP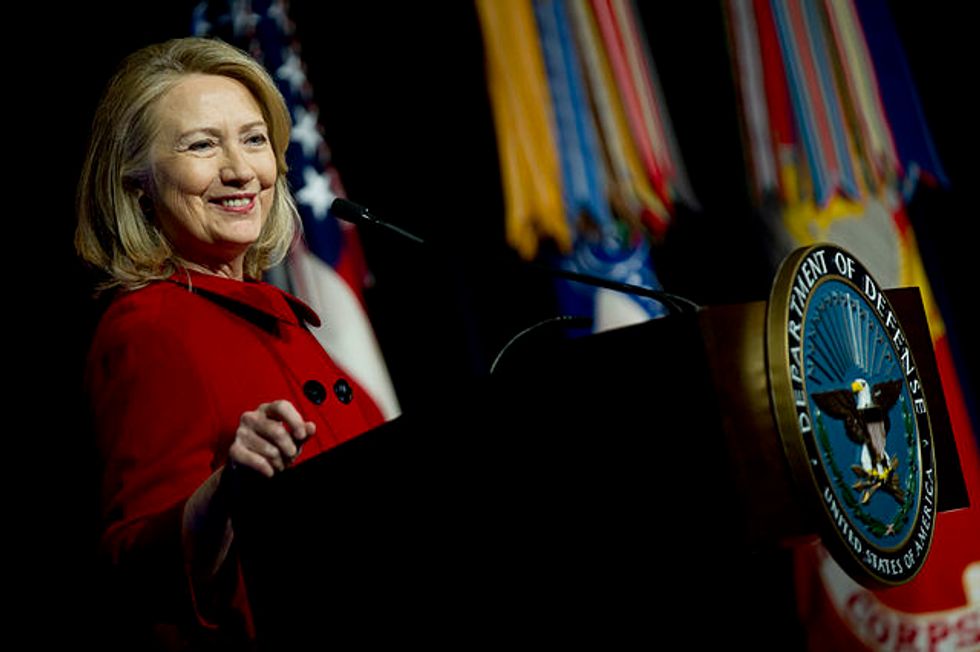 Washington (AFP) – She sounds increasingly like a presidential contender, but as Hillary Clinton mulls a run, Republicans are taking aim at her record in a bid to smother the momentum building around her prospective campaign.
With critics dragging her into the political fray before she has announced 2016 plans, Team Clinton is pushing back against Republican storylines that she may not be fit for another gruelling White House race, and that she was an ineffectual secretary of state crafting her own political future instead of advancing U.S. interests.
Hillary, hawking a new memoir, insisted she adeptly handled an "endless set of tough calls" as the top U.S. diplomat, prodding Iran into nuclear talks and nudging the Mideast peace process forward.
Republicans see it differently.
"History will judge" her record, Senator Bob Corker, top Republican on the Senate Foreign Relations Committee, told AFP.
Below are issues that could be Clinton's Achilles' heels, and the defense she is building against them.
Clinton would be 69 should she win in 2016, younger only than president Ronald Reagan when he first took office.
Republicans tiptoed around the subject — until strategist Karl Rove attacked Clinton's health head on last week, suggesting she suffered traumatic brain injury from a 2012 fall.
Her husband, former president Bill Clinton, insisted she works out regularly and is in "better shape" than him. And while he said there was nothing to Rove's charge, the ex-president acknowledged a candidate's health is fair game in national campaigns.
The terrorist attack in Libya that killed four Americans on September 11, 2012 occurred on Clinton's watch.
While she has deemed it her darkest hour and taken responsibility, Republicans latched on like pit bulls, stressing that President Barack Obama's administration bungled consular security and misled Americans about what triggered the attack.
"What difference does it make?" Clinton told lawmakers when pressed about whether the assault was planned or spontaneous.
Vowing to get to the "truth," the GOP set up a select committee on Benghazi, expecting Clinton to be the chief witness.

"Should we as a country have a commander-in-chief who didn't provide adequate security in Libya, didn't send reinforcements and then gave us nothing but spin?" asked Senator Rand Paul, himself a likely 2016 contender.
Clinton devoted an entire chapter to the tragedy in her forthcoming book, and her husband insisted "Hillary did what she should have done" on Benghazi.
Clinton said Wednesday she "worked, cajoled and implored" Israeli Prime Minister Benjamin Netanyahu and Palestinian president Mahmud Abbas into face-to-face negotiations over a two-state solution.
Republicans counter that the Middle East peace process collapsed, Syria is plagued by civil war and Egypt seethes with unrest.
And poignant criticism came from the Democratic camp, with former president Jimmy Carter saying Clinton "took very little action to bring about peace."
On Iran, Clinton boasts co-authoring Obama's strategy of threatening tough economic sanctions while urging negotiations on Tehran's nuclear program, culminating in a November preliminary accord.
In 2009 Clinton declared a "reset" with Moscow, but President Vladimir Putin snubbed his nose at Washington and annexed parts of Ukraine.
Republican Senator Marco Rubio, another possible presidential candidate, gave Clinton an "F" on foreign policy, saying her diplomacy "has failed everywhere in the world."
The kidnapping of more than 200 Nigerian schoolgirls by Islamist extremists Boko Haram is Clinton's newest political headache.
While she stands with nations worldwide in efforts to "bring back our girls," Republicans point to her failure to brand the group a foreign terrorist organization, leaving it to successor John Kerry.
"Had she done so, it would have made it easier to go after them years ago and could have perhaps prevented them from carrying out despicable acts," Republican National Committee co-chair Sharon Day said Friday.
Clinton would be the presumptive Democratic frontrunner, but with president George W. Bush's brother Jeb considering a campaign, the prospect of another Bush-Clinton matchup is stomach-churning for many.
Hillary's candidacy could also dredge up an unsavory scandal from her days as first lady: Bill Clinton's affair with Monica Lewinsky, who recently broke her silence with a tell-all account in Vanity Fair.
But Clinton pointed to her husband's successes, saying the 1990s enjoyed "a balanced budget that resulted in surpluses as far as the eye could see."
Photo via Wikimedia Commons