Clinton's Greatest Moments — And More — From The Benghazi Hearing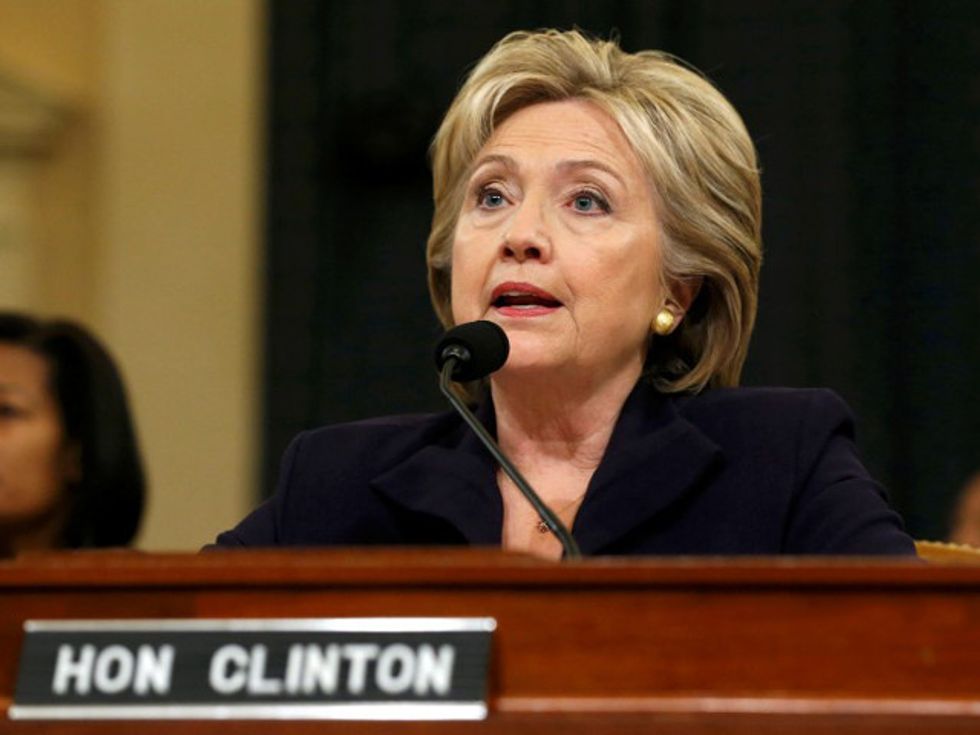 Thursday will undoubtedly go down as one of the single most important days of Hillary Clinton's political career — when she faced off against the House Select Committee on Benghazi for a staggering 11 hours.
And in the course of it, Clinton may have put to bed nearly several setbacks dogging her campaign so far, such as lingering doubts about Benghazi or her handling of the email controversy. But something far more important happened than that: By going through a gauntlet of partisan attacks face to face, and maintaining her composure throughout — even wearing down the Republican inquisitors who seemed to get angrier and angrier when they couldn't corner her — she may likely win over a whole new group of sincere supporters who hadn't been on board with her before.
Clinton got a chance to show a side that voters haven't often seen — emotional and resolute.
During the final hour of the seemingly endless hearing, Clinton may have reached her apex in responding to Committee Chairman Trey Gowdy (R-SC) and other committee Republicans' frequent criticisms of the original Accountability Review Board that was formed after the 2012 attack in Benghazi. When Gowdy impugned one of its members, former Chairman of the Joints Chiefs of Staff Adm. Mike Mullen, for having interfered (Gowdy claimed) with a later congressional investigation, Hillary then found her true "Have you left no sense, of decency, sir?" moment.
"Mr Chairman, I really don't care what you all say about me — it doesn't bother me a bit. I do care a lot about what you're implying about Admiral Mullen, and I will not sit here and hear that," Clinton said. "Admiral Mullen served this country with great distinction. He served the State Department with great distinction in being the co-chair of the Accountability Review Board, and I think his work speaks for itself. And I"m sorry that the important work that was done by that board is held in such low regard by members of this committee, and I deeply regret it."
From the very start, Gowdy was reeling from Majority Leader Kevin McCarthy's (R-CA) proud boast that the committee had been created in order to bring down Clinton's poll numbers. In response, Gowdy repeatedly insisted that the committee wasn't really about her — only to be countered by the lead Democrat on the committee, Elijah Cummings of Maryland, who pointed to all the previous investigations into Benghazi that have been done, and the fact that the present committee had been created with "no rules, no deadlines."
Meanwhile, the relentless political arguments continued — with Gowdy intently focusing on the many emails that Hillary has gotten from longtime Clinton associate Sidney Blumenthal, and Republicans contending that he was a top adviser of hers on Libya. (And both she and Democrats would respond he was not.)
And despite Gowdy's insistence that this was not a prosecution, the Republican members sure sounded like they were out to convict Hillary — not just Gowdy himself, but also Reps. Jim Jordan (R-OH), Peter Roskam (R-IL), and others.
Here is one of her exchanges with Jordan:
Roskam also wasn't doing any favors for Republicans trying to dispel the notion that the committee was assembled to injure Clinton's presidential campaign — as he railed against the "Clinton Doctrine," and, by extension, any effort on Clinton's part to use foreign policy to build up her political career.
Along with Cummings, and Clinton herself, another key Democratic voice was Rep. Adam Schiff (D-CA), who in a somber tone bemoaned the hearings as a partisan abuse of power — and worried about the formation of more such committees in the future by either party.
Democratic presidential candidate Hillary Clinton testifies before the House Select Committee on Benghazi, on Capitol Hill in Washington October 22, 2015. REUTERS/Jonathan Ernst