#EndorseThis: Colbert Solves The Mystery Behind Comey Firing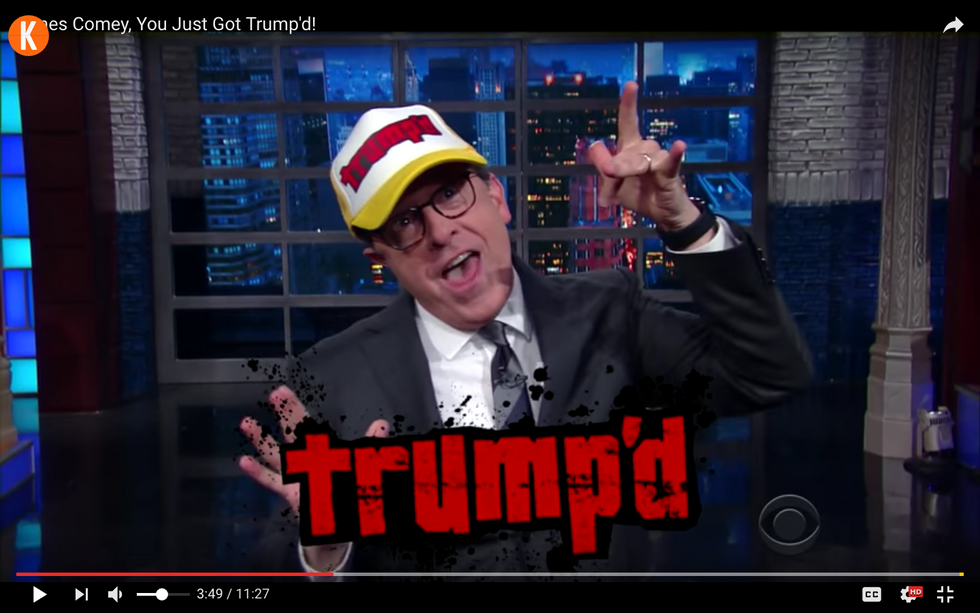 In the wake of the James Comey firing, Stephen Colbert is beyond fed up with arguments over the mystery behind Trump's decision.
"It looks like Trump did it to stop the Russia investigation," he says impatiently, mimicking the Washington press corps' dither. "That is why! One thing we've learned from the last two years about Donald Trump is that what he seems to be doing is exactly what he's doing! There's no grand strategy! He's not some puppet master, he's not some wizard playing three dimensional chess…He's playing Hungry Hungry Hippos! He's just slapping until he gets all the marbles, mine-mine-mine-mine-mine-mine-mine!"
Still, for the truly gullible among us, the White House brought forth that letter on the Comey firing from Deputy Attorney General Rod Rosenstein — prompting Colbert to snark that the Department of Justice has been renamed "the Department of Justification."
Nor does the snark end there, as Colbert offers pungent takes on the latest sightings of Kellyanne Conway and Sean Spicer, plus a bonus Nixon impression.
You must click.