Colin Powell Calls Trump 'National Disgrace' In Leaked Emails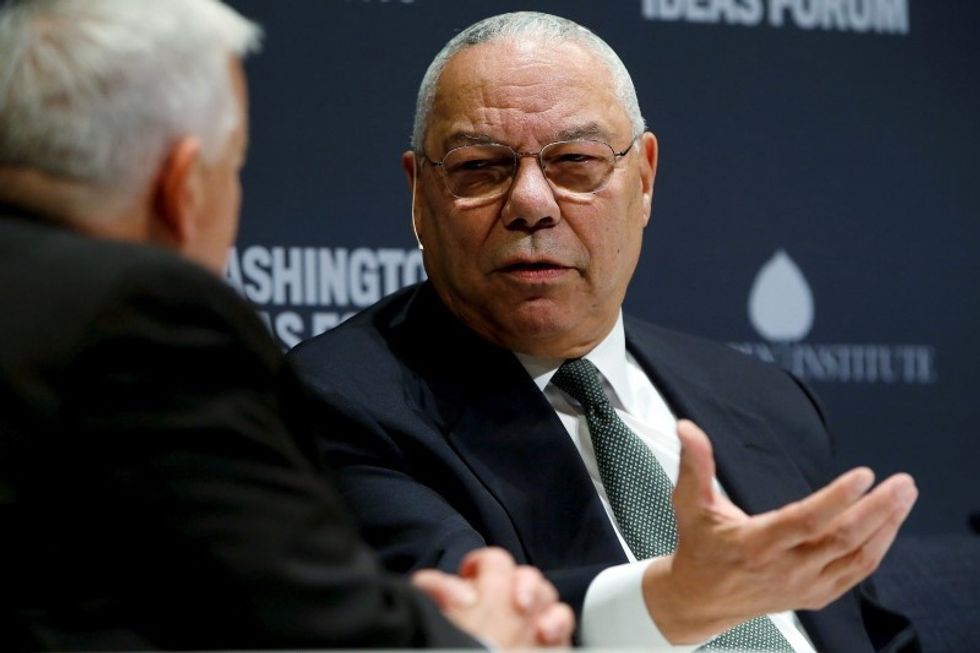 Former Secretary of State Colin Powell called Donald Trump a "national disgrace" and an "international pariah" in emails that were leaked online this week.
The emails were obtained by the website DCLeaks.com and were first reported by BuzzFeed News. Initially, Powell said that he had "no further comment" but was that he was not "denying it." Later, however, Powell confirmed to NBC News that the emails were real and mentioned "the hackers have a lot more."
DCLeaks is suspected of having ties to Russian intelligence services, but those links have not yet been confirmed. The FBI previously stated they believed Russia was behind the internal email hack of the Democratic National Committee.
The email in question was dated June 17 and was from Powell to his former aide and current journalist, Emily Miller. He also said Trump "is in the process of destroying himself" so there is "no need for Dems to attack him."
In another email from Powell to Miller, dated August 21, he discussed that Trump's birther movement was "racist."
"That's what the 99% believe," Powell wrote. "When Trump couldn't keep that up he said he also wanted to see if the certificate noted that he was a Muslim."
"As I have said before, 'What if he was?' Muslims are born as Americans everyday," Powell continued.
In an email from December of last year to CNN anchor Fareed Zakaria, Powell blasted the press for their Trump coverage: "You guys are playing his game, you are his oxygen. He outraged us again today with his comments on Paris no-go for police districts. I will watch and pick the timing, not respond to the latest outrage."
He followed that up with another email along the same lines, stating that desired not to give Trump any more media attention: "To go on and call him an idiot just emboldens him."
Photo: Former U.S. Secretary of State Colin Powell (R) takes part in an onstage interview with Aspen Institute President and CEO Walter Isaacson (L) at the Washington Ideas Forum in Washington, September 30, 2015. REUTERS/Jonathan Ernst/File Photo