Conservative Phyllis Schlafly: GOP Should Ignore Hispanics, Keep Women In Line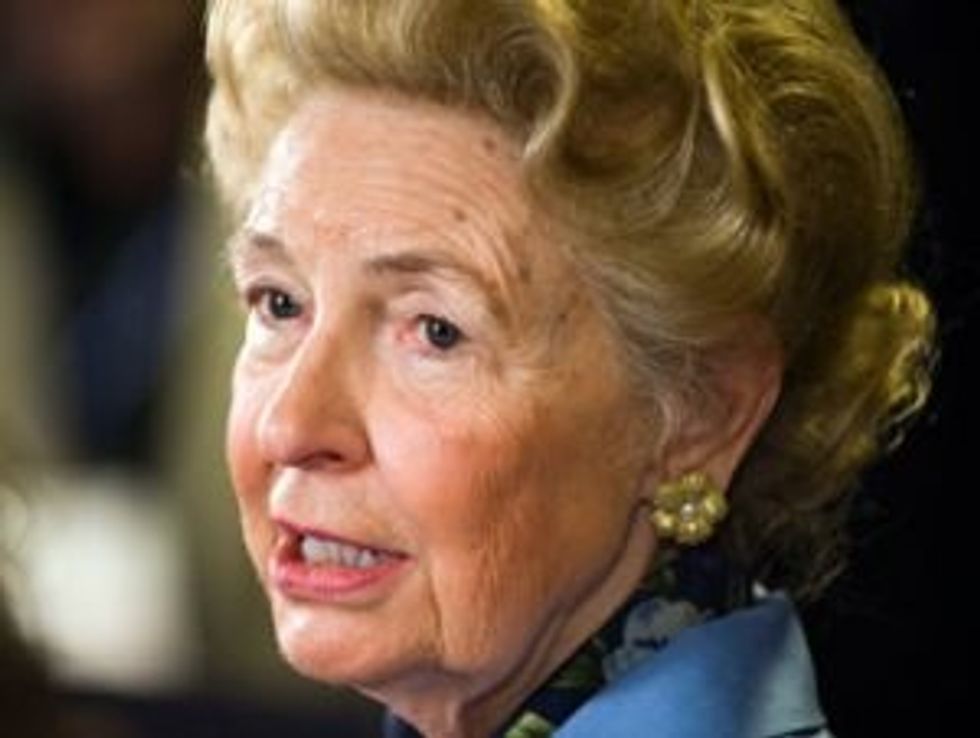 The GOP "outreach" effort appears to be continuing in full force, with everyone's favorite conservative matriarch, Phyllis Schlafly, doing her part with a few words of advice for the party: Stop wasting time and effort on Hispanics, and reach out to white people. Oh, and keep a leash on the womenfolk, will ya?
Schlafly has been making the rounds lately, presumably to prime the pump for her upcoming book, Who Killed the American Family? (The answer to that is anyone's guess, as she has routinely targeted feminists, gays and immigrants.)
According to RightWingWatch, she blamed Mitt Romney's 2012 election loss on a "'tremendous' drop-off in white voters, even though according to exit poll data white voter turnout was about the same as the last presidential election and Romney outperformed John McCain among white voters." Schlafly firmly believes that the GOP should focus on doing what it does best… alienating ethnic minorities, gays and non-subservient women. There is no shame in being The Party of Old White Folks, so stop courting people who will never vote for you. Especially those dirty Hispanics.
Hispanics, she says, "do not share American values… They have no experience or knowledge of the whole idea of limited government and keeping government out of our private lives."
She further demonstrates her complete ignorance of the people she hates by explaining that "they come from a country where the government has to decide everything. I don't know where you get the idea that the Mexicans coming in resonate with Republican values." Like most white supremacists, Schlafly thinks "Mexican" and "Hispanic" are interchangeable, and that all Hispanics come from one country. Mexico.
Schlafly's new book is sure to be a hoot, especially considering the recent right-wing attacks on women who support families. Feminists have always been a particular pet peeve of hers ("The feminist movement is the most destructive element in our society. It has done nothing but damage. It has not done anything good for women, whatsoever"), and she is in complete agreement with the neanderthals over at Fox "News" who insist that breadwinning moms are in large part responsible for the breakdown of society. "Nobody's hungry in the United States," she sniffs. "I think we need to build more self-reliance. We need to build the nuclear family, in which the father is the provider and the mother is a mother."
Republicans continue to believe that where they're going wrong is not that they hate everyone who isn't straight, white and Christian, but that they can't figure out how to be more effective at snowing those they hate. "Look, we really have to start telling better, more convincing lies to the people we hate, or they'll never vote for us!" is not fooling anyone. However, the longer it takes them to accept this reality, the better it is for Democrats.
AP Photo