Construction Resumes On Dakota Pipeline Despite Tribe's Challenge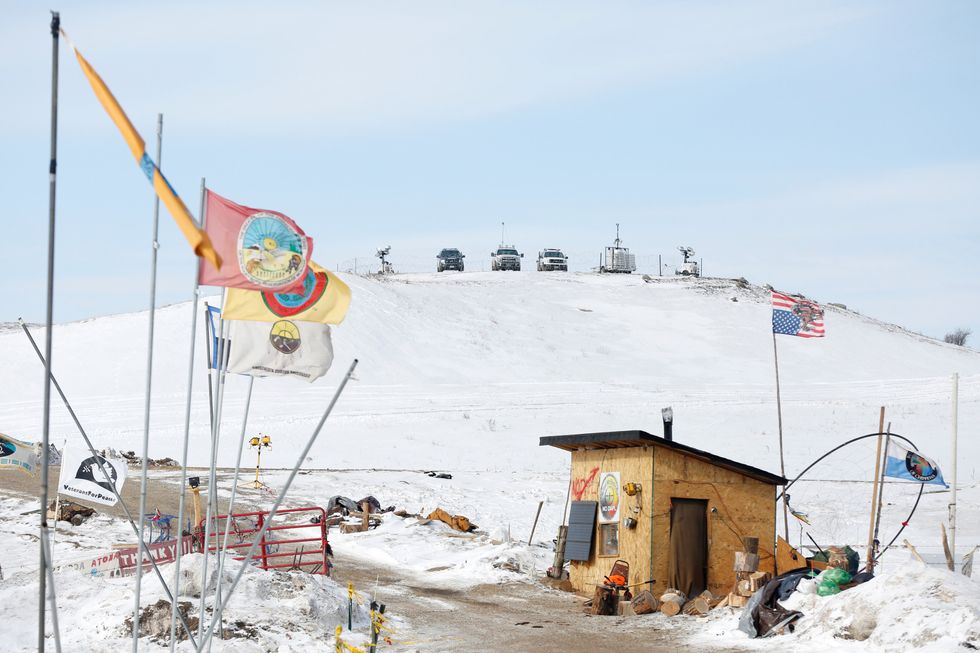 CANNON BALL, N.D./HOUSTON (Reuters) – The company building an oil pipeline that has fueled sustained public protests said on Thursday it has started drilling under a North Dakota lake despite a last-ditch legal challenge from a Native American tribe leading the opposition.
Energy Transfer Partners LP is building the $3.8 billion Dakota Access Pipeline (DAPL) to move crude from the Northern Plains to the Midwest and then on to the Gulf of Mexico, now saying it could be operational by early May.
The project had been put on hold under the administration of former Democratic President Barack Obama, but new President Donald Trump, a Republican, helped put it back on track.
The federal government this week cleared way for the project to resume, leading the Standing Rock Sioux Tribe to file a court challenge on Thursday seeking a temporary restraining order to halt construction and drilling for the pipeline.
The court set oral arguments on the legal challenge for Monday.
Legal experts say the tribe faces long odds in convincing any court to halt construction,
Energy Transfer Partners needs only to cross beneath Lake Oahe, part of the Missouri River system, to connect a final 1,100-foot (335 meter) gap in the 1,170-mile (1,885 km) pipeline, which will move oil from the Bakken shale formation to a terminus in Patoka, Illinois.
From there the oil would flow to another pipeline connecting south-central Illinois to the Gulf of Mexico and that region's numerous oil refineries.
Native American tribes and climate activists have vowed to fight the pipeline, fearing it will desecrate sacred sites and endanger a source of the country's largest drinking water reservoir.
"This administration (Trump's) has expressed utter and complete disregard for not only our treaty and water rights, but the environment as a whole," the Standing Rock Sioux Tribe said on Thursday in a statement on its website.
Supporters say the pipeline will be safer than transporting oil by rail or road, and industry leaders have praised the project for creating high-paying jobs
With work on the final tranche now under way, Energy Transfer Partners expects the Dakota Access Pipeline to begin operations in approximately 83 days, according to a company spokeswoman.
"We have started to drill to go beneath Lake Oahe and expect to be completed in 60 days with another 23 days to fill the line to Patoka," spokeswoman Vicki Granado said in an email.
She declined to specify when drilling began except that it was after the company received federal permission on Wednesday.
Public opposition drew thousands of people to the North Dakota plains last year including high-profile political and celebrity supporters. Large protest camps popped up near the site, leading to several violent clashes and some 700 arrests.
A few hardy protesters have remained camped out near the lake, braving sub-freezing temperatures.
Among them is Frank Archambault, 45, who has lived in the camp since August when he left his home on the Standing Rock reservation.
"It angers me. It angers me because people are pushing other people around, breaking laws," Archambault said. "They're trying to kill us off by contaminating the water. We've had enough."
Ptery Light, 55, of Portland, Oregon, who has lived in the main camp since Oct. 31, said he was not giving up hope.
"I just pray that there's no oil spill," Light said. "This is purely about greed."
For now, their hopes are pinned on the Standing Rock Sioux Tribe winning a legal victory.
To obtain the temporary restraining order, the tribe must convince the judge there will be immediate harm suffered and prove it has a strong overall case should its lawsuit to halt the project result in a full trial.
The U.S. district judge in the case, James Boasberg, previously rejected the tribe's request to block the project, ruling in September that the Army Corps of Engineers likely complied with the law in permitting the pipeline to go forward.
(Additional reporting by Daniel Wallis in New York)
IMAGE: Police vehicles idle on the outskirts of the opposition camp against the Dakota Access oil pipeline near Cannon Ball, North Dakota. REUTERS/Terray Sylvester