Far-Right Groups Using Social Media To Plan And Promote US Trucker Convoy
@claramartinyy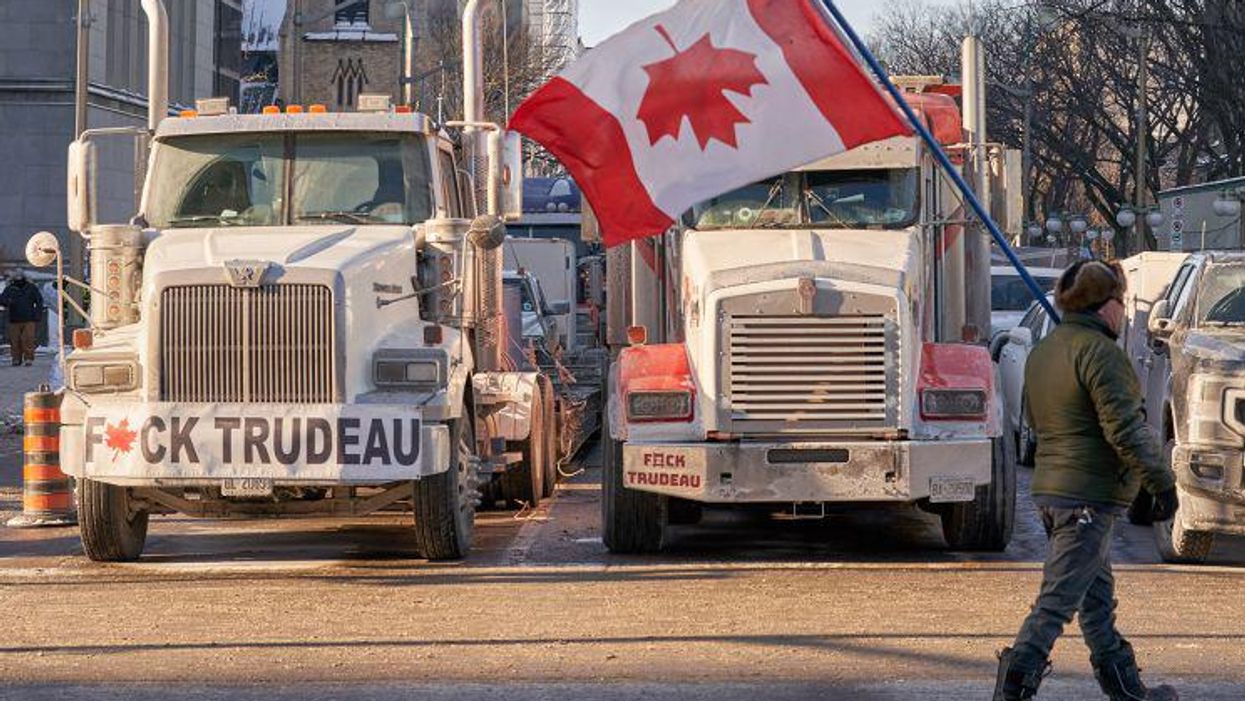 Image via YouTube
As Canada's capital Ottawa declares a state of emergency in the second week of disruptive protests by trucker drivers opposing the country's vaccine requirements, American truckers — with the assistance of right-wing media and far-right figures — are planning similar protests for Washington, D.C. to protest COVID-19 vaccine mandates. Organizers of the convoy are promoting it across social media, including Facebook groups, Telegram channels, and TikTok accounts, and some have appeared on Fox News and Newsmax to promote "the People's Convoy."
The convoy in the U.S. has been planned entirely online, and participants are expected to start from California and head toward D.C. on March 5. This convoy comes amid some Americans' involvement -- including participation, funding, and organization -- with the Canadian "Freedom Convoy," as truckers and their supporters have protested at the Canada-U.S. border in Michigan and Montana, shutting down highways and bridges between the two countries.
As the Canadian convoy garnered attention from right-wing media, including on Fox News, American truckers and right-wing figures started organizing similar convoys, mainly on Facebook and Telegram. Facebook user Brian Von D changed the name of his existing group "Save the Flag 2020" to "CONVOY TO DC 2022," gathering American truckers on social media, including Jeremy Johnson, Mike Landis, and Brian Brase, who have become the "faces" of the convoy. While this group was removed by Facebook for "repeatedly violating our policies around QAnon" and Von D claims he is no longer affiliated with the convoy, the group's other organizers and spokespeople had gained a sufficiently large following and recognition by then to merge with other similar groups and relaunch across social media platforms as "The People's Convoy."
The figures are now organizing on Facebook and TikTok, both of which have been choice platforms for anti-vaccine mandate organizing (despite their COVID-19 and vaccine misinformation policies). They are also using Telegram, which has become a home for right-wing extremists and misinformers. Far-right figures such as Gab CEO Andrew Torba, Stop the Steal organizer Ali Alexander, and a local chapter of the far-right gang Proud Boys have also promoted efforts to organize the convoy.
Fox News Hosted The Organizers Four Times To Promote Their Convoy
In addition to their favorable coverage of the Canadian convoy, right-wing media, especially Fox News, have have amplified efforts to organize the U.S. convoy. Fox has hosted Johnson, Landis, and Brase, with Brase being featured as a guest four times on these Fox News' shows: Hannity, Fox & Friends, and Tucker Carlson Tonight.
Organizers Are Using Facebook To Gain Support For The Convoy

On January 27, the Facebook group "Save the Flag 2020" changed its name to "CONVOY TO DC 2022" and exploded in membership, garnering over 130,000 members before the group was shut down on February 1. According to Facebook, it removed the page "for repeatedly violating our policies around QAnon." But Johnson, Brase, and Landis appeared on Fox and laughed off the suggestion that the group's suspension had something to do with QAnon discussion.
Although Facebook removed the "CONVOY TO DC 2022" group, Media Matters found another 20 groups about the convoy with over 200,000 total members. One of these groups, with almost 24,000 members, is run by Von D, even though he's claimed he is no longer a part of the convoy.
Organizers Are Using Telegram and TikTok To Promote "The People's Convoy"
Two main organizers, Brase and Kam Johnston Tonn, have merged their efforts to launch the newly rebranded "The People's Convoy." Brase is a trucker with a following on TikTok who, among others, was supposedly brought on to be one of "the faces of the movement" because they are "well-known [in] the trucking industry," and Tonn has created her own convoy Facebook page and associated Telegram group under the same "The People's Convoy" brand.
Brase has also used his TikTok account, which has over 25,000 followers, to promote the convoy. This has prompted other users to further disseminate the information about it— adding to the many TikToks in support of the Canadian convoy and Ottawa protests already on the platform.
Telegram, a popular messaging platform notorious for its minimal content moderation policies, has quickly become another venue for organizing the convoy groups. Media Matters found at least 15 Telegram groups and channels promoting American convoys to the capital with a combined 250,000 members, with the largest group containing over 80,000 members.
"The People's Convoy" follows a similar playbook of organizing on Telegram as used by far-right campaigns over the past year. The group has a centralized national channel and has also promoted state-specific groups chats in an attempt to encourage local organizing and calls to action. This tactic is reminiscent of QAnon influencer-led campaigns to coordinate election "audits" and canvasses, anti-mandate lawsuits and school board protests.
Far-right Fiigures Are Promoting "The People's Convoy"
The group's use of Telegram resulted in a variety of far-right users quickly joining the convoy channels due to easy cross-promotion on the platform. Media Matters research has found that several white nationalists, QAnon followers, members of Proud Boys and Three Percenters, and other self-identified militia members have joined many of the popular Telegram convoy group chats.
Sample of Three Percenter, QAnon, Proud Boy, militia, and white supremacist members of Telegram convoy groups
Far-right influencers outside of Facebook and Telegram have likewise promoted the convoy effort. Conspiracy theorists ranging from Stop the Steal leader Ali Alexander, Arizona state Sen. Wendy Rogers, Students for Trump founder Ryan Fournier, and far-right podcaster Stew Peters have all endorsed the convoy. Real America's Voice commentator Drew Hernandez directed followers to join a specific Telegram group and far-right influencer Jack Posobiec amplified it by retweeting it to his 1.6 million followers. Gab CEO Andrew Torba, known for his antisemitic remarks and embrace of QAnon users and white nationalists, actively encouraged users to join Gab specific convoy groups on his own fringe social media platform. Posts on QAnon forum GreatAwakening.win and right-wing Twitter alternative GETTR have likewise directed users to specific convoy groups.
Even former President Donald Trump attempted to capitalize on the Facebook group's initial suspension to advertise his yet-unreleased social media app, Truth Social, in a statement praising "American Truckers." But the app will not even be available prior to the convoy dates in March due to recent launch delays.
Reprinted with permission from Media Matters