The Cultural Case for Brexit Deserves Respect
@FromaHarrop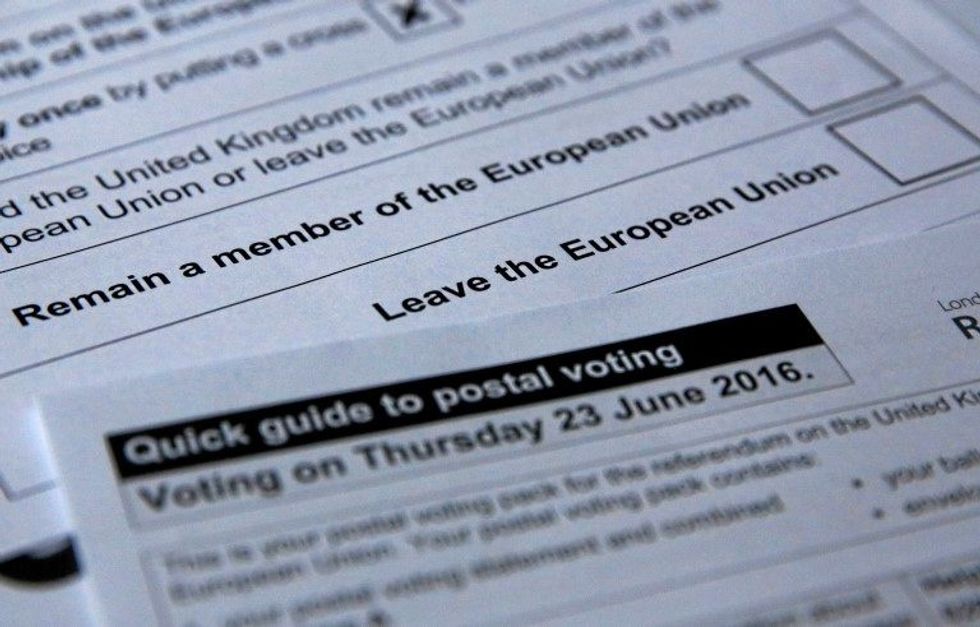 It's not all about money. The economic arguments for Britain to stay in the European Union may be compelling, but the noneconomic ones demand respect. Preserving a way of life is a valid desire — and one widely shared.
Throw all the innuendo you want at those vowing to vote in Thursday's referendum to leave the EU. Say their talk of "Englishness" verges on racism, that it's anti-immigrant. That they pine for a past long gone. Be utterly unfair and tie the "leave" advocates to the neo-Nazi head case who is charged with the murder of a Labour member of Parliament.
Some supporting Brexit — Britain's exit from the EU — may harbor prejudices that good people abhor. But wanting control over how many and which foreigners enter one's country is not unreasonable. Mass migration is part of the globalization process remaking the world many grew up in. Change is inevitable, but those wanting to slow its pace are not without reason.
Today any citizen of the 28 EU countries may move to and work in a member country. A strong economy has made Britain a magnet for huge numbers of EU immigrants, in addition to immigrants from elsewhere. Note that about half the entrants come from countries outside the EU, something under the government's control.
"It's fine to be concerned about immigration. … This doesn't mean to say (such people) are racist or xenophobic." Interestingly, those were the words of Jo Cox, the assassinated MP, who was urging her constituents to reject Brexit.
Cox listed as "legitimate" worries over how large-scale migration has stressed the National Health Service, how it has heightened competition for jobs and, notably, "how once familiar town centers are changing." That last item was a roundabout way of saying that traditional English downtowns have been filling with brown people, many from Muslim countries.
It is instructive that Scotland and Northern Ireland, the two parts of Britain most supportive of staying in the EU, are the places with the fewest immigrants.
Realists in the Brexit camp understand that Britain needs immigrants to fill out its workforce. The numbers are what most startle them.
Last year, net migration into Britain (foreigners coming in minus Brits leaving) totaled 336,000. Before an election in 2011, Prime Minister David Cameron promised to lower the net migration number to 100,000.
Sociologist Frank Furedi is a rare British academic making the cultural case for Brexit. Furedi accuses the "remain" establishment of "trying to displace wider political and cultural concerns with a focus on economics." In doing so, he writes, it evades "fundamental questions relating to values, cultural differences, insecurities and, above all, the issue of national sovereignty."
Advocates for staying in the EU say there's no point retelling the tales of comical waste and tragic dysfunction created by Brussels' famously bloated bureaucracy. Everyone agrees on that.
They argue that the Brexit cure would be worse than the disease. A vote to break away would unleash economic chaos and embolden far-right nationalists across Europe to pursue their xenophobic campaigns.
They give short shrift to the serious economists and businesspeople who predict a departure would probably hurt Britain's economy short term but hardly sink it. And they ignore the possibility that establishing better control over migration into the country could defuse the issue.
New polls suggest that public sentiment is moving toward a rejection of Brexit. The blizzard of economic warnings is undoubtedly playing a part.
Many supporters of leaving the EU concede that a slowdown could follow, but for most of them, that's not the point. It's not all about money. Whatever happens Thursday, their cultural concerns need a more thorough addressing.
Follow Froma Harrop on Twitter @FromaHarrop. She can be reached at fharrop@gmail.com.
Photo: Illustration picture of postal ballot papers June 1, 2016 in London ahead of the June 23 BREXIT referendum when voters will decide whether Britain will remain in the European Union.   REUTERS/Russell Boyce