Dead Gerrymander Expert Haunts North Carolina GOP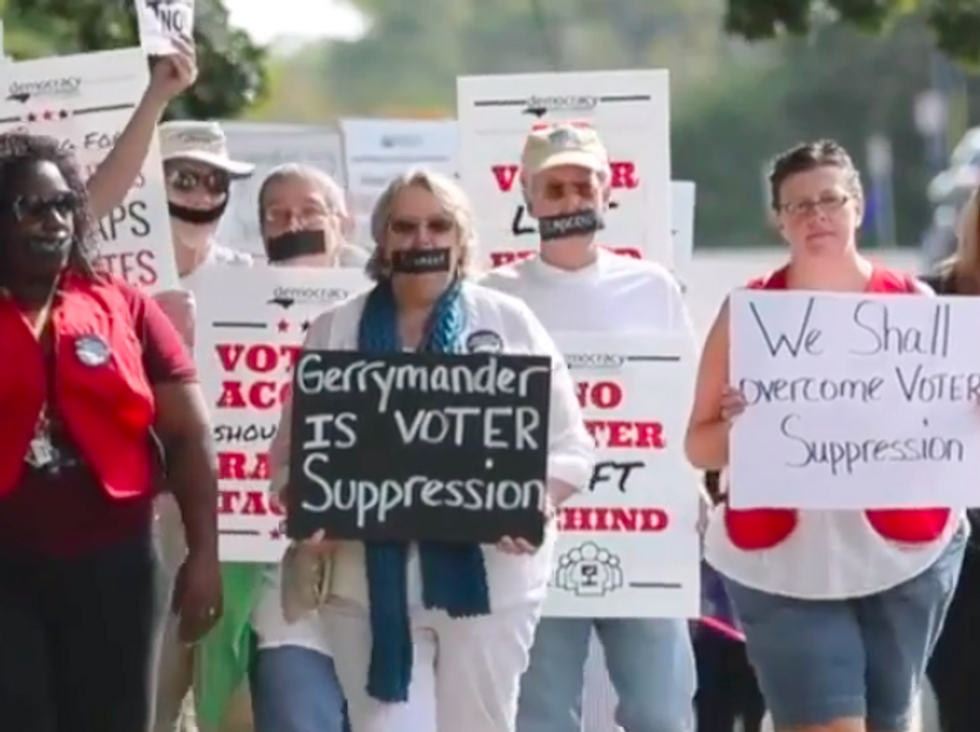 North Carolina Republicans lied to a federal judge about how they rigged state elections, according to new court documents.
Common Cause, a voting rights group, is suing the state's Republican lawmakers for creating gerrymandered legislative maps, made by contorting district lines to favor their party. The group previously sued the lawmakers for the same reason for maps drawn in 2011, and they won, but now they're contending that the newly drawn lines are also gerrymandered. The case is set to go to trial on July 15.
The gerrymandered district lines, both from 2011 and the most recent, were drawn by Thomas Hofeller, a recently deceased, formerly prolific GOP election rigger, who also helped Trump's efforts to rig the U.S. census. In a new filing Thursday, it was revealed that Hofeller helped shape more than 90 percent of the state's newly gerrymandered maps by June 2017. That matters because Republicans told the court in July 2017 that no new maps had been created by that time, a clear lie.
And that wasn't the GOP's only lie to the court.
Hofeller apparently used data on voters' racial demographics when creating the new lines, something North Carolina Republicans were forbidden to do by the court. Using that type of data, districts can be gerrymandered to diminish the representation and voting power of minority groups.
"Whether it's rigging the census for partisan gain or manipulating voting maps for the same, that's wrong and destructive to our democracy," Bob Phillips, executive director of Common Cause North Carolina, said in a statement.
North Carolina Republicans seem pretty desperate to do everything they can to rig district lines, even if it means lying and breaking the law. But other attempts by Republicans to gerrymander haven't held up well in courts. In 2018, the Pennsylvania Supreme Court struck down that state's partisan congressional gerrymander that was favored, and drawn, by Republicans. In the following November election, the party lost three of its 12 seats. Ohio's Republican-drawn congressional map was also recently struck down.
Published with permission of The American Independent.
IMAGE: North Carolina voters protest state district gerrymander by Republican legislative leaders in 2018.