Democrats' Best 2018 Fundraiser? It's Trump
@alexvhenderson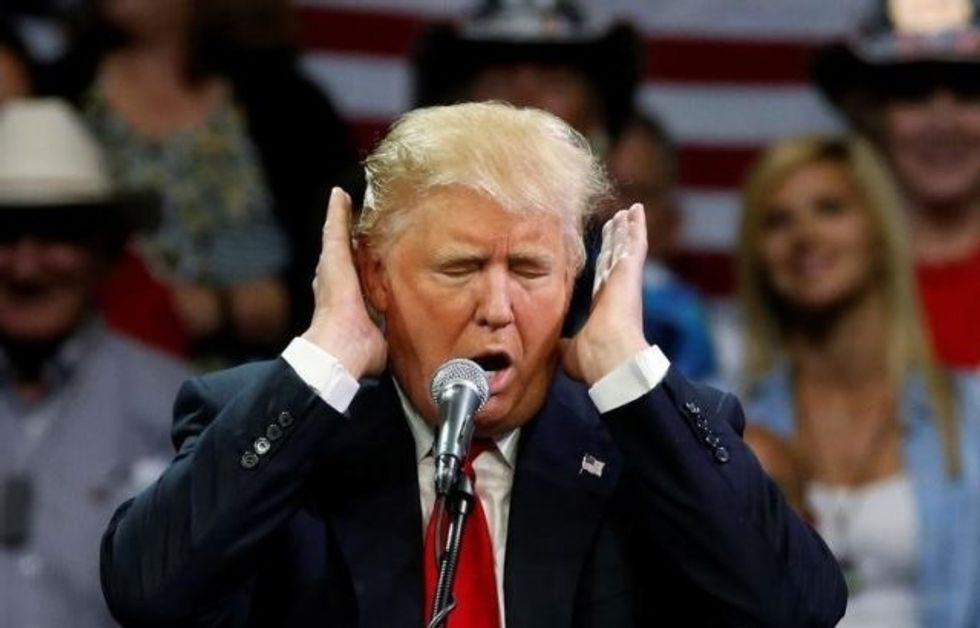 Reprinted with permission from AlterNet.
Although it's not intentional, President Donald Trump is proving to be a very effective fundraiser for the Democratic Party this year. The more Trump says and does outrageous things, the better it is for Democratic fundraising efforts—and according to Politico, 56 incumbent Republicans in the U.S. House of Representatives raised less money than their Democratic challengers during 2018's second quarter.
Of course, great fundraising doesn't guarantee a victory in a political race. Bernie Sanders ally Alexandria Ocasio-Cortez, achieving the Democratic Party's most shocking upset so far this year, enjoyed a landslide victory over Rep. Joe Crowley in a congressional primary in Queens and the Bronx despite being seriously outspent by the high-ranking veteran congressman. What Ocasio-Cortez' primary campaign lacked in party fundraising it more than made up for with passion and determination. But there is plenty of passion on the anti-Trump side, and in many districts, disdain for Trump is resulting in generous contributions to Democrats.
In April, Politico listed 16 incumbent House Republicans who were lagging behind Democrats in fundraising—and they ranged from Dana Rohrabacher, Tom McClintock and Duncan Hunter in California to Ted Budd and Robert Pittenger in North Carolina to Keith Rothfus in Pennsylvania. In Iowa, far-right Rep. Steve King—according to Politico—only had $76,034 on hand compared to $271,098 for Democratic challenger J.D. Scholten. Although King is an eight-term congressman, Scholten has been receiving over three times as much in campaign contributions.
In Florida, incumbent Dan Webster had only $64,069 on hand compared to $694,967 for Democrat Samuel Allen, a 30-year-old telecommunications specialist. Allen has been campaigning on, among other things, saving the Affordable Care Act of 2010, a.k.a. Obamacare—which Webster voted to overturn in 2017. And even with all that fundraising, Allen has his work cut out for him: Webster is seeking reelection in a heavily Republican district.
Meanwhile, in U.S. Senate races, Democrats have a fundraising advantage—according to the nonpartisan Center for Responsive Politics—in nine battleground states: Florida, Nevada, Arizona, Indiana, Montana, Missouri, North Dakota, West Virginia and Tennessee. Nonetheless, winning back the Senate could be a tougher uphill climb for Democrats than reclaiming the House.
Democrats will need to flip 24 seats in order to retake the House in the November midterms, which is doable because all 435 House seats are up for grabs. But in the Senate, Democrats would need to hold on to every seat they currently hold and take two seats Republicans presently hold—for example, Sen. Dean Heller's seat in Nevada, where he is being challenged by Democrat Jacky Rosen.
According to recent polls, the Nevada Senate race is shaping up to be a nail-biter: so far, Heller and Rosen have been polling pretty much neck and neck. Republicans are defending ten Senate seats in states that Trump won in 2016, but Heller is the only Republican who is defending a Senate seat in a state that Democrat Hillary Clinton won two years ago—and he is considered the GOP's most vulnerable Senate incumbent.
Democrats, this year, have a fundraising advantage in both large donations and smaller donations, and the Center for Responsive Politics has noted that disdain for Trump is a key factor in all the small donations that have been coming in for Democrats. Sheila Krumholz, the Center's executive director, told the New York Times, "A good share of Democratic small donor enthusiasm is a response to Trump. Another aspect is the enthusiasm around this crop of candidates, especially since they're younger, bringing in younger donors."
In the long run, Democrats will need to do a lot more than criticize Trump: they will need to have a vision and articulate the things they are for instead of simply articulating what they are against. One of the reasons why the independent Sen. Bernie Sanders and some of the Democrats he has been campaigning for—including Ocasio-Cortez in New York City and Braddock, PA Mayor John Fetterman in his bid for lieutenant governor of Pennsylvania—inspire so much passion is the fact that they have a vision. Sanders, Ocasio-Cortez and Fetterman aren't just anti-Republican: they have a clear vision for where they think the Democratic Party needs to go in 2018.
But Trump is great at getting his detractors riled up. And whatever happens in November—whether Democrats retake both the House and the Senate, retake the House but not the Senate or don't retake either—the president's outrageous actions and behavior will likely continue to be an effective fundraising tool for the Democratic Party.
Alex Henderson is a news writer at AlterNet and veteran political journalist. His work has also appeared in Salon, Raw Story, Truthdig, National Memo, Philadelphia Weekly, Democratic Underground, L.A. Weekly, MintPress News and many other publications. Follow him on Twitter @alexvhenderson.