As DeSantis Campaign Stalls, Expectations Are Plunging
@kerryeleveld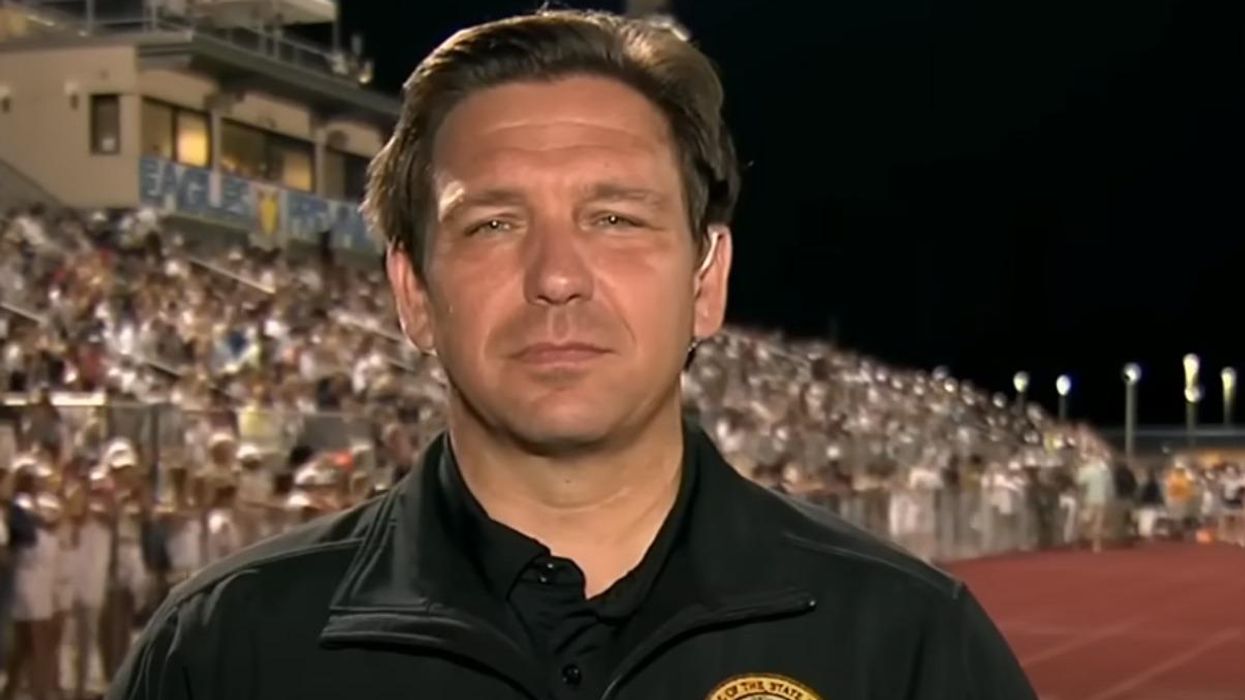 When it comes to the 2024 presidential bid of Florida Gov. Ron DeSantis, everyone agrees on one thing: It's not going well.
But how to fix it? That's a different story with a plethora of answers, none of which pass the smell test.
Some pundits and Republican strategists are advocating a strategy that the DeSantis camp itself has already embraced: run to the right of Trump—it's the only way.
The hateful yet weirdly homoerotic anti-LGBTQ video shared by Team DeSantis last week on Twitter epitomized the entire strategy. Pick an already disenfranchised group—in this case transgender Americans, whom MAGA cultists freakishly believe are ruining their lives—and then unleash a heinous attack on them to prove you don't possess a shred of human decency. Bonus points for courting deeply disturbed misanthropes such as incels in the process.
As governor, DeSantis has deployed his fascist savagery on every disenfranchised minority he can locate, duping vulnerable migrants into being flown to Martha's Vineyard, outlawing any mention of gay or transgender individuals in K-12 educational settings, and empowering books bans in school libraries on any material any parent finds objectionable (e.g., books covering Black, brown, and LGBTQ+ people and sexual themes, among others).
DeSantis also moved to the right of his chief rival Donald Trump—whom he continues to trail in national polls by some 30 points—on abortion. In evangelical-laden Iowa, DeSantis is playing up his anti-abortion bona fides after signing a near-total six-week abortion ban (despite the fact that he buried it in the dead of night). Trump may have packed the high court that overturned Roe v. Wade with anti-abortion zealots, but he has specifically avoided pledging to sign a national abortion ban.
The main problem with the end-run-around-Trump strategy is that it entirely reinforces the sociopathic inhumanity that DeSantis comes by so naturally. If the Florida governor is trying to prove he's an irredeemable cretin devoid of empathy because Team DeSantis has concluded cruelty is the singular criteria for winning over the MAGA cult, then mission accomplished. At 35% favorable, 56% unfavorable in Civiqs tracking, DeSantis has been successfully shedding a little over 3 points per month in likability for the past seven months.
So in the process of trying to endear himself to the cruelty lovers, DeSantis is entirely killing his electability argument. His favorables with independents are even slightly worse at 33% favorable, 55% unfavorable.
As Focus Group podcast host Sarah Longwell told The New York Times, "He is alienating college-educated, suburban voters who want to move past Trump."
On Twitter, Longwell added that the consultants advising DeSantis to outflank Trump on the right "should be sacked."
In response to his sinking palatability, Team DeSantis has deployed his camera-fluent wife and former TV anchor, Casey DeSantis, in order to "humanize" him. It's not the first presidential campaign to try the ploy and it certainly won't be the last. But just how much of a makeover can a wife give a man who was advised before a 2018 debate to write "LIKABLE" in all caps at the top of his notepad as a reminder to be, well, human?
The DeSantis camp is also spinning the notion that the first GOP debate in August will be the moment when their candidate turns this whole thing around.
"That's when people are really going to start paying attention to the primary," DeSantis recently told The Messenger. "I think up to this point, a lot of [Trump's advantage] has been about some of these legal cases," he added unironically of his opponent's criminal indictments.
A big debate turnaround for DeSantis smacks of sheer fantasy. If Trump shows up for the debate, he will outperform his understudy because Trump is an actual entertainer. However repulsive Trump is to over half the country, he sure knows how to work a crowd of MAGA misfits. Baffling as it is, Trump's cultists actually enjoy his rallies as a cultural experience. DeSantis, in contrast, is a joyless purveyor of misery.
But if Trump no-shows at the debate then Chris Christie will pummel DeSantis, assuming he's able to make the stage. Christie offered a preview of that smackdown several weeks ago on CNN, skewering a clip of DeSantis campaigning in New Hampshire. It was brutal.
Still, a spokesperson for the pro-DeSantis super PAC Never Back Down also sounded a positive note about the upcoming debate.
"I am convinced that Governor DeSantis will outperform expectations and inform large audiences about his amazing life, political record, and winning agenda for the presidency," Steve Cortes said.
Seems like the phrase "outperform expectations" is doing a lot of work there. Cortes issued that statement in response to reporter inquiries following a recent interview in which he described DeSantis as "way behind" and facing an "uphill battle" against Trump, who is the "runaway frontrunner."
Cortes also offered a more candid take on the debate dynamics in the interview.
"Is Ron the debater that Trump is?" he posited. "No, no he isn't. Absolutely Donald Trump is the maestro of it right, no doubt about it."
Let's just say expectations are low and falling fast.
Reprinted with permission from Daily Kos.