DeSantis 'Reboot' Launches With A Sunburst Of Neo-Fascism
@kerryeleveld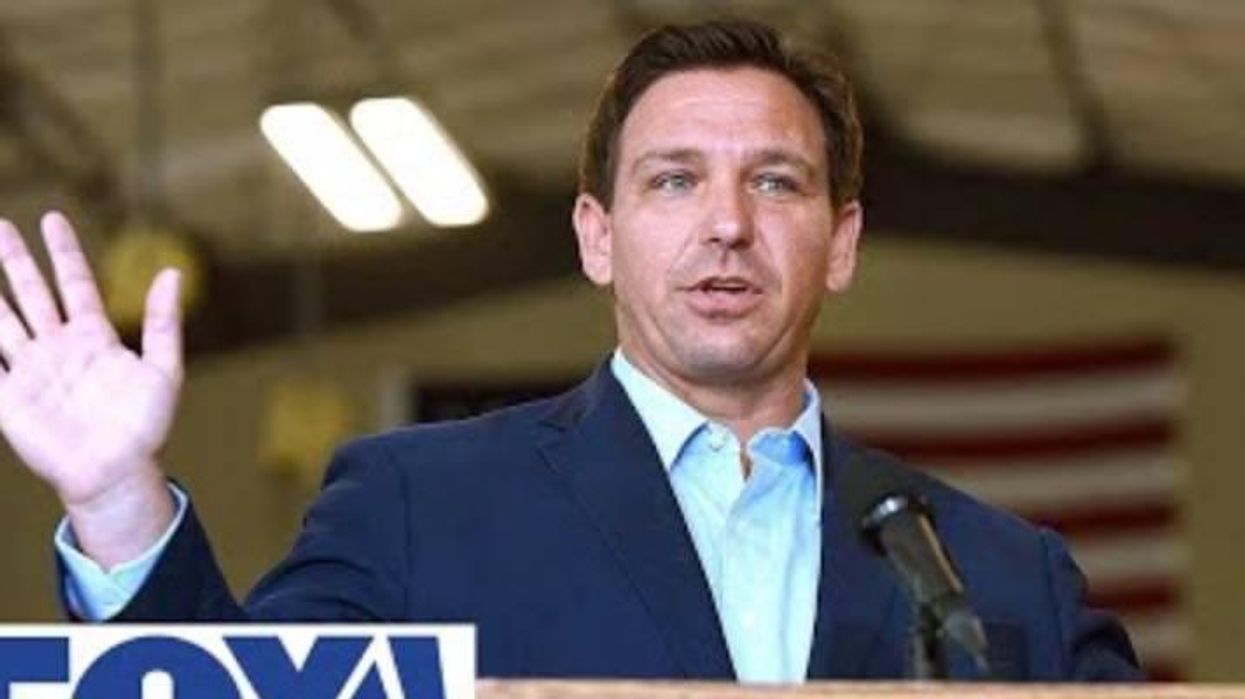 Florida Gov. Ron DeSantis' presidential campaign reboot has started with a bang.
Team DeSantis plans to "let Ron be Ron," so they can "expose" voters to more DeSantis (their wording, not mine).
Great. Let the exposing begin—this time with double the fascism! First, The New York Times revealed Sunday that the weirdly homoerotic anti-LGBTQ+ video tweeted out earlier this month by the DeSantis campaign was actually made in-house by a DeSantis aide. The campaign then enlisted an outside supporter (who later deleted the original tweet) to send it out on Twitter.
Also Sunday, a DeSantis staffer retweeted an anti-Trump, pro-DeSantis video that literally morphed the Florida State flag into a Nazi emblem with DeSantis' head superimposed on it.
The new Nazi video is strangely reminiscent of the now infamous anti-LGBTQ+ ad.
Thematically, the video similarly features Trump's political failures on the right—even using some of the same images of Trump holding up a Pride flag. In terms of pacing, the video also utilizes quick cuts, interspersing images of DeSantis into a series of bizarre sequences, just like the anti-LGBTQ+ video did. Yet in the final eight seconds, the ad nearly grinds to a halt as the center seal of Florida's state flag transforms into a "sunwheel"—an ancient European symbol appropriated by the Nazis and now embraced by white supremacists—while troops march toward the Nazi symbol centered on the screen. DeSantis appears on the wheel for several seconds before fading away.
Drink that in for a second: Troops marching toward the sun, depicted as Nazi memorabilia with DeSantis' mug in the middle of it all. It's a lot to consider.
The final similarity is the video has now been pulled down from the original account after it was retweeted by a member of Team DeSantis.
In mid-July, I documented the GOP donor migration away from DeSantis, starting with a closing of wallets in the spring and escalating to sheer panic among the Republican donor class as they tried to locate a legitimate Trump alternative amid the DeSantis collapse. Originally, the donors began questioning his appeal in a general election; then they began questioning his ability to even get the job done in the primary.
Many of those donors started eyeing Sen. Tim Scott, who just made a $40 million ad buy in Iowa, New Hampshire, and his home state of South Carolina.
What is emerging is a worst-case scenario for both DeSantis and anti-Trump Republicans: DeSantis failed to consolidate the anti-Trump and alternative-curious conservatives into a formidable coalition, giving life to several other 2024 hopefuls who are all but ensuring Trump's nomination.
And who can blame them? DeSantis has proven to be a spectacularly bad candidate. In Iowa, for instance, Scott has broken into double-digit support at 11%, trailing DeSantis by just a handful of points, according to the latest Fox Business poll. Trump led the survey at 46%.
In South Carolina, the same outfit put former U.N. Ambassador and Palmetto State Gov. Nikki Haley one point ahead of DeSantis, 14% to 13% with Scott breathing down his neck at 10%. Trump led the poll at 48%.
And in New Hampshire, DeSantis is maxing out at roughly 15% or below in three of the four July polls in the FiveThirtyEight aggregate, while Trump is either near or above 40% in each poll.
If the theoretical main challenger to Trump doesn't win any one of the first several states in the GOP's winner-takes-all primary, when exactly does he plan to start challenging the frontrunner?
Nationally, Civiqs tracking tells the same story of DeSantis' flailing campaign. Another week, another 1-point drop to 33% favorable, 56% unfavorable among registered voters. What's fascinating is that DeSantis isn't just sagging with independents (32% - 55%), he's also losing altitude with Republican voters. Since early July, DeSantis' favorability rate among Republicans has dropped from 74% to 70%. Solid.
The DeSantis campaign was correct in its assertion that without a shakeup, it was headed for disaster. But instead of recalibrating to address donor fears that DeSantis had tacked so far right he wouldn't be competitive in a general election, they doubled down and went full fascist.
In the two months since DeSantis announced his presidential bid, he's gone from being 'Trump without the baggage' to 'Not Trump, with the baggage' to 'Not Trump, double the baggage.' It's an impressive evolution from a 2024 candidacy full of hope to simply nope.
Only a campaign demonstrating that type of aptitude could devise a shakeup that landed on, "Ya know what the voters really need? More Ron."
Reprinted with permission from Daily Kos.