Billionaire Betsy DeVos Can't Buy Her Way Into The Education Department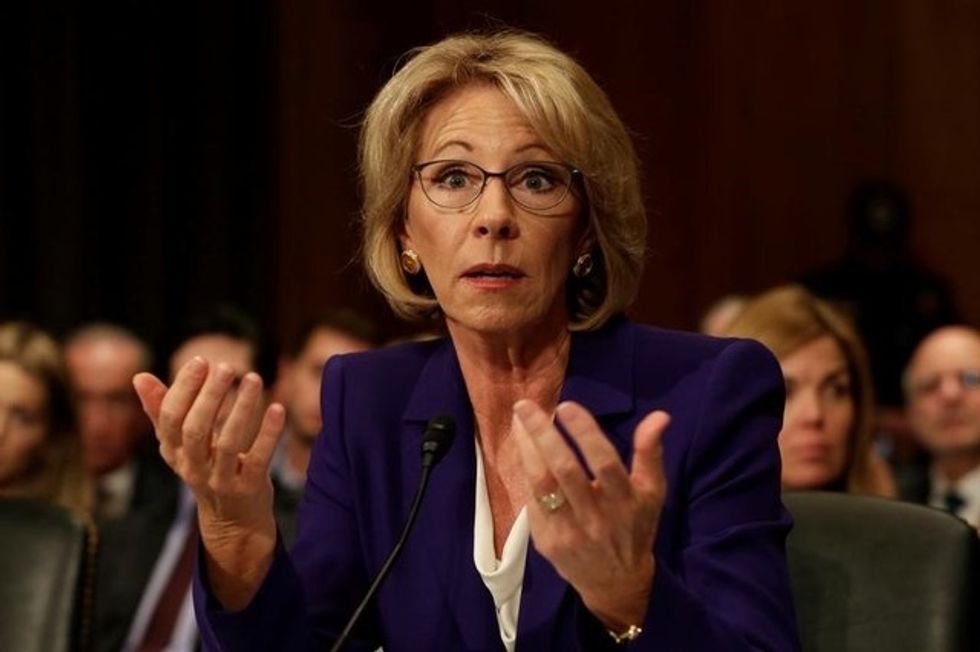 Reprinted with permission from AlterNet.
The defection of two Republican senators has imperiled President Trump's nomination of Michigan billionaire Betsy DeVos to serve as Secretary of Education. Senators Susan Collins of Maine and Lisa Murkowski of Alaska announced Tuesday they would not vote for DeVos, whose wobbly performance in her confirmation hearings and lack of public school experience have encouraged Senate Democrats seeking to defeat her nomination.
"I will not, I cannot vote to confirm her as our nation's next secretary of education," Collins said on the Senate floor.
DeVos has contributed $5,000 to Collins' campaigns. But Murkowski's no-vote was perhaps an even bigger surprise. DeVos' family businesses have contributed $33,400 to Murkowski's political campaigns since 1989, according to OpenSecrets.
With all 48 Democratic senators expected to vote against DeVos, Democrats need only one more vote to kill her nomination. Attention has turned to two of the most moderate Republican senators, Pat Toomey of Pennsylvania and Jeff Flake of Arizona.
Protests organized by public education advocates in Alaska may have made the difference. More than 200 demonstrators thronged Murkowski's office in Anchorage on Monday, according to Alaska Dispatch News. Her staff estimated the senator's office received an unprecedented 30,000 phone calls about DeVos.
Of all of Trump's nominees, DeVos has attracted the most opposition, even from her fellow alumni of Calvin College, the private Christian school in Michigan from which she graduated.
Last month hundreds of Calvin College graduates signed a letter objecting to DeVos' nomination.
While many of us were inspired by our time at Calvin College to make education a professional commitment, Mrs. DeVos was not. She has never worked in any educational institution as an administrator, nor as an educator. If the position of the Secretary of Education requires the individual to have an intimate knowledge of the tools used by educators, which we believe it does, Mrs. DeVos does not qualify.
The Senate has not yet scheduled the final vote on DeVos' confirmation.
Jefferson Morley is AlterNet's Washington correspondent. 
IMAGE: Betsy DeVos testifies before the Senate Health, Education and Labor Committee confirmation hearing to be next Secretary of Education on Capitol Hill in Washington, U.S., January 17, 2017. REUTERS/Yuri Gripas