House Select Committee Interviews Coup Conspirator Donald Trump Jr.
@next2godwin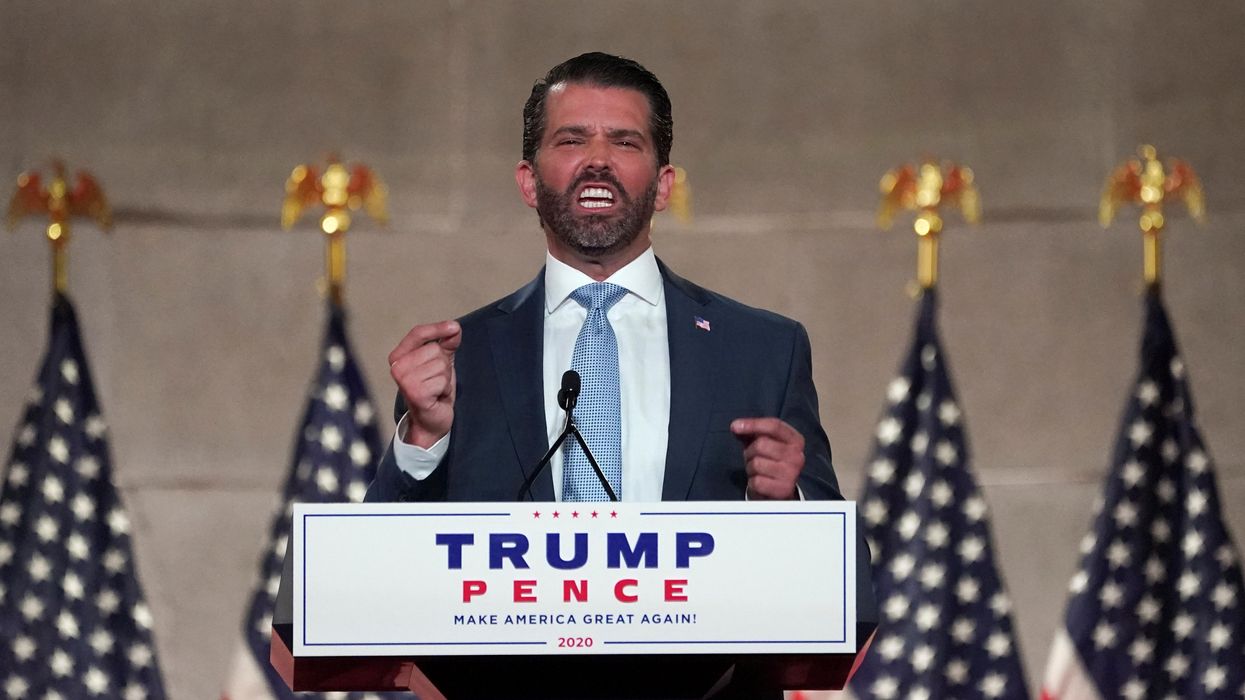 Donald Trump Jr., former President Trump's eldest son, voluntarily appeared before the House Select Committee, a bipartisan congressional panel investigating the sordid January 6 attack on the U.S. Capitol, according to multiple news outlets.
The meeting happened virtually and lasted a few hours, and Trump Jr. answered every question without pleading the Fifth Amendment right against self-incrimination. Sources told CNN that interaction between congressional investigators and the former president's son was "cordial.".
The interview marks the select committee's investigative foray into Trump's inner circle of family members and top political advisers. Trump Jr. is the second of Trump's adult children to testify before the select committee. Ivanka Trump submitted to an 8-hour-long interview with the committee in early April, and her husband and former senior Trump adviser, Jared Kushner, spoke to the select committee for 6 hours and provided, according to Rep. Zoe Lofgren (D-CA), "useful" testimony.
Last week, the select committee chair, Bennie Thompson, told reporters that Trump Jr. was on the panel's deposition wishlist, which isn't a surprise because the former president's oldest son was a top figure in his father's 2020 reelection campaign.
Trump Jr. was also one of the most high-profile disseminators of election fraud conspiracies at the center of his father's doomed reelection bid. He was present at the "Stop the Steal" rally at the Eclipse on January 6 with his fiancee, Kimberly Guilfoyle, and other members of his family, where his father gave a speech that, investigators believe, incited a pro-Trump mob to attack the Capitol during the congressional certification of Joe Biden's victory.
"These guys better fight for Trump. Because if they're not, guess what? I'm going to be in your backyard in a couple of months!" Trump Jr. told a crowd of Trump supporters at the January 6 rally, threatening Republican lawmakers thinking of voting to acknowledge Biden's landslide victory.
Guilfoyle also spoke at the rally in support of Trump's baseless conspiracies of widespread election fraud, a publicity stunt that garnered the interest of the January 6 congressional investigators. The select committee said it had evidence that Guilfoyle boasted of her role in fundraising for the rally, and that she had told others who Trump would allow to speak at the rally, per CBS News.
Months earlier, Guilfoyle volunteered to testify to the select committee, but her lawyers abruptly ended the interview, which was being done remotely, over a disagreement over ground rules. The select committee later issued a subpoena to Guilfoyle, compelling her to testify for over nine hours.
Last month, CNN published reams of messages between Trump allies before and after the Capitol riot, and among them was a text message Trump Jr. sent to Mark Meadows, then-White House chief of staff, two days after election day; "It's very simple. We have multiple paths. We control them all," Trump Jr. told Meadows, referring to a shocking inner-circle effort to declare then-President Trump the victor of the 2020 elections he lost.
In a series of text messages released by the select committee itself, Trump Jr. sang a different tune after the crowd at the January 6 rally stormed the Capitol. "We need an Oval address. He has to lead now. It has gone too far and gotten out of hand," Trump Jr. wrote to Meadows.
Trump Jr. is one of 1000 witnesses the select committee has deposed as it seeks to wrap up its far-reaching investigations into one of the worst Capitol attacks in over 200 years.
However, some Trump Administration staff members have refused interviews, including several top Trump allies: Don Scavino, Meadows, Peter Navarro, and Steve Bannon. Congress has held all four in contempt for refusing to comply with congressional subpoenas. The Justice Department has already charged Bannon, who, along with the others, claimed to be following Trump's orders to claim executive privilege.