The Big Lie, Wrapped In More Lies -- And Finally Stripped Bare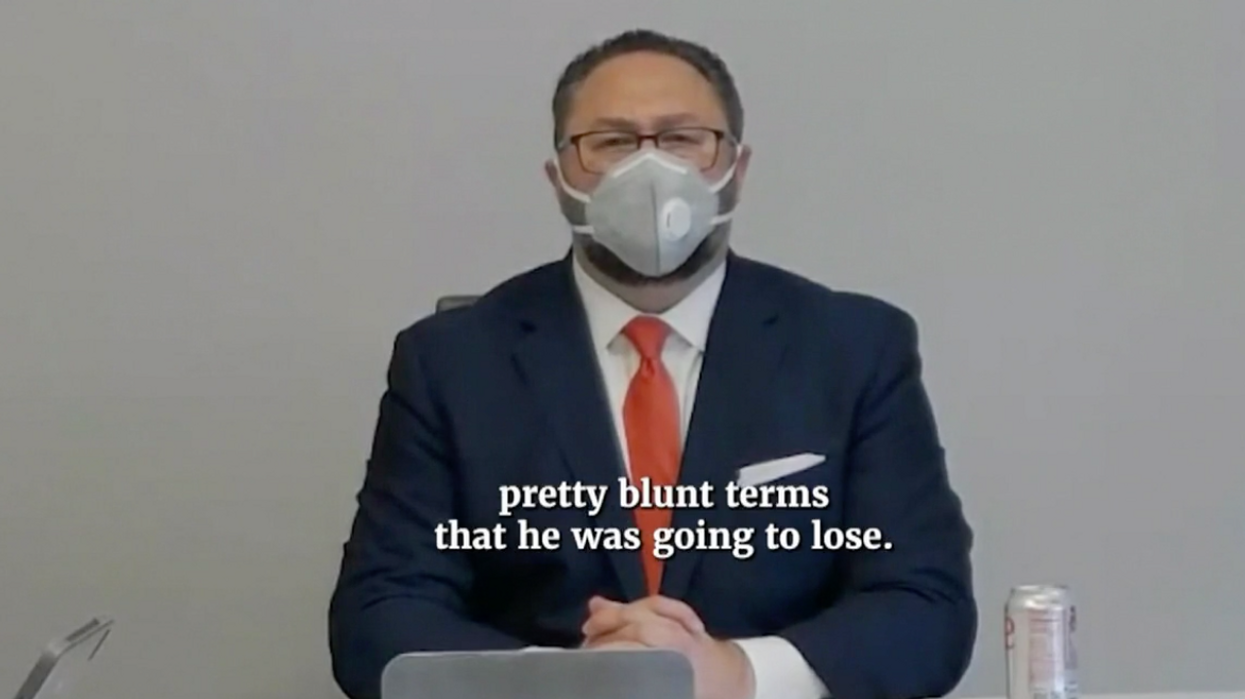 Screenshot of House Select Committee videotape
Now Americans know for certain what many suspected since Election Day 2020, which is that Donald Trump, his enablers in the Congress, his publicists on Fox News and his co-conspirators in the White House were in on the Big Lie from the very beginning. All of them understood all along that Trump's insistent claim about election fraud was false and intended solely to deceive their followers.
Both the original deception and its protective wrapping were ripped away by the House Select Committee's revelatory hearing on June 9.
It is now undeniable that Trump and his gang were aware from the first week of November 2020 that he had lost the election to Joe Biden. Trump aide Jason Miller testified to the select committee that the campaign's own data expert had informed the then-president he "was going to lose," based on an internal assessment of the reported "county-by-county, state by state results."
According to Miller, Trump rejected this incontrovertible judgment because he wanted to fight the outcome in court. But his campaign swiftly lost every case brought to contest the election on both the state and federal levels, in courts overseen by judges of both parties, culminating in the summary dismissal of its claims by the Supreme Court, with a conservative majority that included three of his appointees.
Trump and his cronies knew from the start that their legal claims were entirely meritless. So did the lawyers representing him, including Sidney Powell and Rudy Giuliani, both of whom have suffered court disciplinary action for their conscious lies.
Everybody around Trump, and their brothers and sisters and cousins, knew that he and they were lying about the election, even as they stoked outrage among his gullible true believers. But they continued to promote the Big Lie — and all the subsidiary lies — as the fateful date of January 6 approached.
Attorney General William Barr testified that he told Trump on three separate occasions that the claims of fraud were absolutely baseless. "I made it clear I did not agree with the idea of saying the election was stolen and putting out this stuff, which I told the president was bullshit."
Yet instead of accepting the blunt assessment of the nation's highest law enforcement official, who had defended him during the Russia investigation, even misleading the public about the Mueller report, Trump threw Barr out of the Oval Office. He then attempted to appoint an eager flunky, Jeffrey Clark, as acting attorney general in order to foist a conscious lie on the states by misusing the authority of the Justice Department.
On December 28, 2020, Clark had drafted a letter to Georgia officials falsely asserting that the department had found voting irregularities that affected election results in several states. This was itself a conscious lie. What stopped Clark's appointment was a threat by Acting Attorney General Jeffrey Rosen and other top attorneys in the Justice Department and the White House to resign en masse, a potentially ruinous scandal.
The pattern was clear as the hearing proceeded, with Ivanka Trump testifying that she believed Barr (confirming a New York Times report that neither she nor her husband Jared Kushner credited Trump's "fraud" nonsense). But nobody around Trump saw any evidence to support the Big Lie, including the president himself.
Neither did the professional liars at Fox News, who gulled their audience into believing claims that they knew were ridiculous. At the hearing, Rep. Liz Cheney displayed an ominous text from Fox host Sean Hannity to White House press secretary Kayleigh McEnany: "Key now, no more crazy people, no more stolen election talk. Yes, impeachment and 25th amendment are real. Many people will quit." In other words, Hannity knew that the Big Lie was a lie, even as he and his network mendaciously promoted it.
Conscious of its own guilt and involvement, Fox refused to televise the hearings, devoting its airtime to conspiracy theories. The same consciousness of guilt also seems to have seized a number of Republican members of Congress, whose futile efforts to obtain pardons from Trump during his final days in office were also disclosed by Cheney.
The only people who honestly swallowed the Big Lie were Trump's followers, thousands of whom assaulted the Capitol on that "wild" day of January 6. Now many of those unfortunate fools — the same crowd who invested their faith in fascist nonsense about coronavirus vaccines and Hollywood pedophiles — will go to prison because they believed in their golden calf, Donald Trump, who knew he was lying to them and leading them to the slaughter.
To find out more about Joe Conason and read features by other Creators Syndicate writers and cartoonists, visit the Creators Syndicate website at www.creators.com.