Ex-Trump Aide Navarro Indicted For Contempt Of Congress
@Brandi_Buchman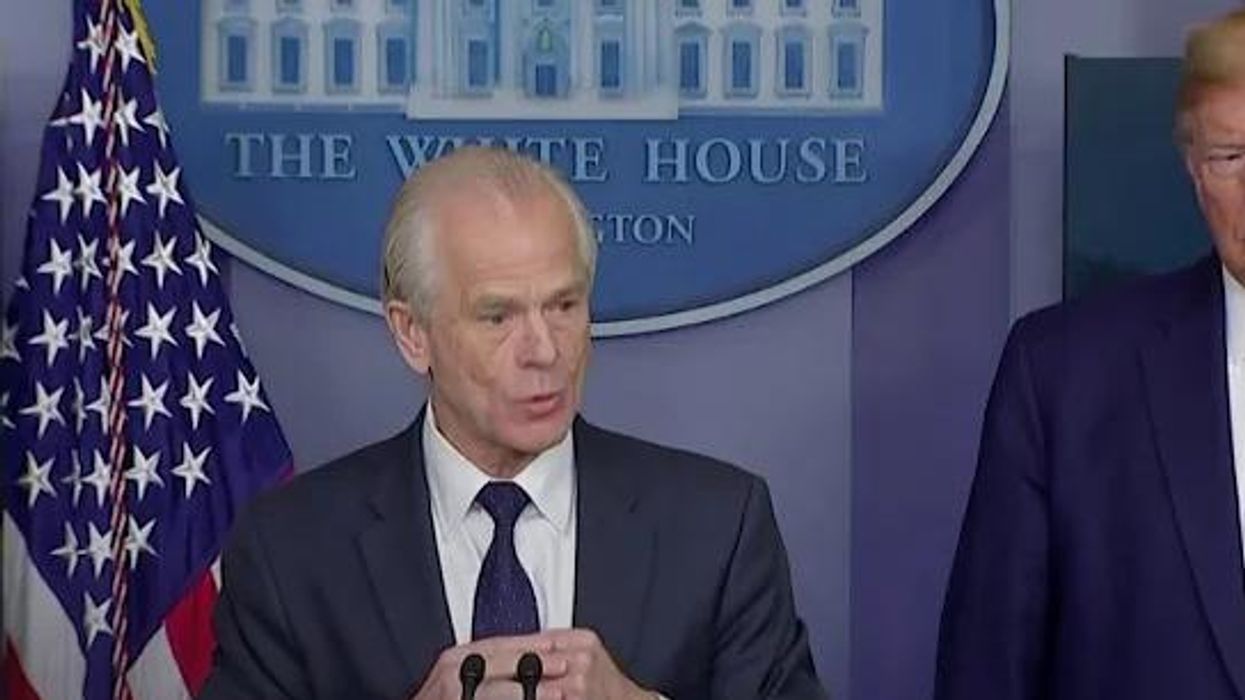 YouTube Screenshot
A federal grand jury has indicted Peter Navarro, former President Donald Trump's onetime trade adviser, after his failure to cooperate with a subpoena issued to him by the House Select Committee last February.
Navarro hit the press junket hard to shill his memoirs months before the subpoena rolled in and in that book, Navarro discussed a strategy he cooked up with Trump's onetime adviser Steve Bannon to stop or delay the certification of Electoral College votes by Congress on January 6, 2021.
They called it the 'Green Bay Sweep,' and according to Navarro, its aim was not to "overturn" the election but rather, the plan was to have such a sweeping number of challenges to the certification launched by Trump's Republican allies in the House and Senate that it would "put the certification of the election on ice for at least another several weeks," he wrote in his book, In Trump Time.
Navarro faces two charges in the indictment: one count for failure to produce records to the committee as demanded in the subpoena and another count for failure to appear for testimony.
Incidentally, his indictment is similar to the one that was brought against Bannon—his fellow 'Green Bay Sweep' strategist—in November. Bannon's trial is expected to begin this summer. As for Navarro, he made his first appearance in a federal court in Washington, D.C., on Friday at 2:30 P.M. ET.
NBC News reported that Navarro was taken into custody on Friday. Court records have also indicated that prosecutors sought to seal Navarro's indictment until he was arrested. They were concerned that he might flee or engage in witness tampering. Navarro's case will go before U.S. District Judge Amit Mehta, the same judge presiding over the seditious conspiracy trial involving a number of Oath Keepers including ringleader Elmer Stewart Rhodes.
@NBCNews: Navarro now in custody.

— Michael Beschloss (@BeschlossDC) June 3, 2022
Navarro told reporters earlier this week that he received a grand jury subpoena tied to January 6. He clarified that it was separate from the subpoena first sent by the committee. The 72-year-old vehemently argued that executive privilege invoked by Trump barred him from testifying. But there is no evidence to date that Trump asserted privilege over Navarro. The committee has indicated Trump did not invoke privilege over Navarro.
The grand jury subpoena notably zeroed in on the 45th president by name, ultimately asking Navarro for "all documents relating to the subpoena dated February 9, 2022, that you received from the House Select Committee to investigate the January 6, 2021 attack on the U.S. Capitol, including but not limited to any communications with former President Trump and/or his counsel or representatives."
The former trade adviser has been a vocal critic of the committee's work and has referred to investigators as "domestic terrorists" running "a partisan witch hunt."
He had multiple opportunities to cooperate with the House Select Committee. He was allowed to ask for more time to produce records so long as he could explain why. And if there were privilege issues, per the committee, Navarro could have created a list explaining which documents he would want to be shielded and why.
Instead, according to the seven-page indictment, Navarro opted to ignore the probe, resting on specious executive privilege claims instead.
"My hands are tied," Navarro allegedly wrote in an email to the committee this spring.
Navarro Indictment by Daily Kos on Scribd
Navarro Indictment by Daily Kos
This back and forth went on for a matter of days, with the committee informing Navarro they could limit questions to his public remarks but his deposition, then scheduled for March 2, was mandatory under the subpoena.
He never showed.
Per the DOJ, each count carries a max sentence of up to one year in jail plus a fine of up to $100,000.
Reprinted with permission from Daily Kos.