Donald Trump Issues An Apology… For Something.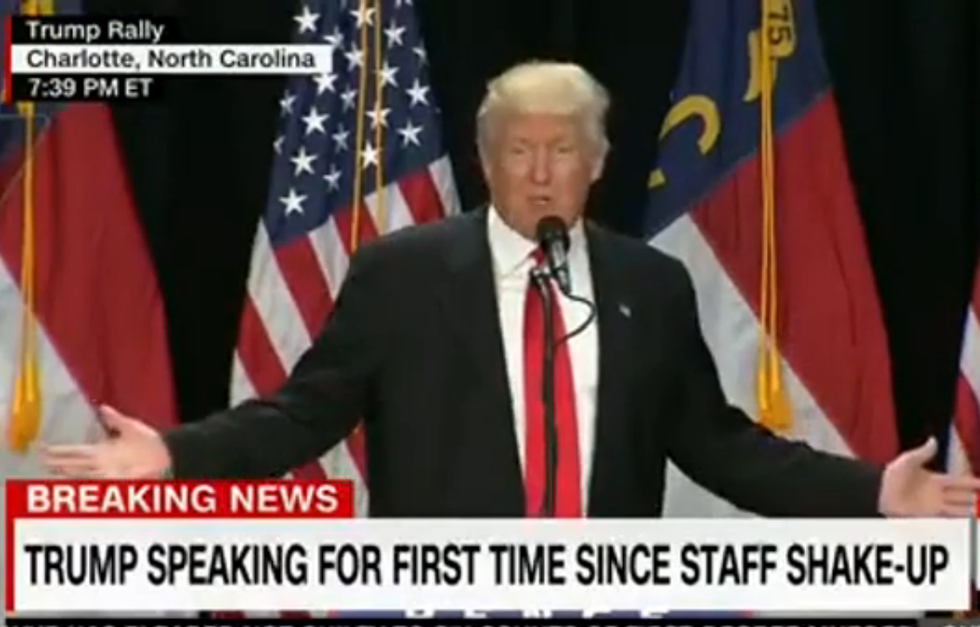 In an unexpected about-face from his prior comments of "I am who I am," Donald Trump has issued something of an apology, saying he has experienced "regret" for not always saying the right thing.
"Sometimes, in the heat of debate and speaking on a multitude of issues, you don't choose the right words or you say the wrong thing," Trump said to a crowd on Thursday night in Charlotte, N.C. "I have done that, and I regret it, particularly where it may have caused personal pain. Too much is at stake for us to be consumed with these issues."
That was it — after a year of consistent and targeted attacks on entire religions, war heroes, a disabled reporter, and people of Mexican heritage in the United States including a federal judge.
The Trump campaign has experienced a historically bad month for a presidential candidate, as his declining poll numbers show. After attacking Khizr Khan and his wife, drawing the ire of military families nationwide, Trump suggested "Second Amendment people" might be able to "do" something about Hillary Clinton and then called President Obama and Clinton the "co-founders" of ISIS.
Even more interestingly, rather than show any remorse for his actions up to this point, Trump instead chose to appoint the chief of a known racist, anti-immigrant, anti-Muslim, hate-mongering website to be the new "CEO" of his campaign.
Trump's campaign manager, Kellyanne Conway, told Good Morning America Friday that the words were Trump's alone. Others have expressed skepticism that that is the case.
The Clinton campaign has already responded to Trump's non-apology in a statement, through Christina Reynolds, deputy communications director:
Donald Trump literally started his campaign by insulting people. He has continued to do so through each of the 428 days from then until now, without shame or regret. We learned tonight that his speechwriter and teleprompter knows he has much for which he should apologize. But that apology tonight is simply a well-written phrase until he tells us which of his many offensive, bullying and divisive comments he regrets — and changes his tune altogether.
Trump also tried to reframe his rhetoric over the past several weeks specifically referencing children of color, saying he has "no patience for injustice," and asking the audience in a suburb of Milwaukee to continue being able to be "dreamers."
Trump's about-face is certainly too little, too late for the GOP nominee, and with a man like Stephen Bannon at the helm, it's unlikely that Trump's "regret" will last for more than a mere moment.
Watch the video, via CNN, below:
Screenshot via CNN