Donors Line Up Behind Kasich Super PAC Planning Trump Attack
@reuters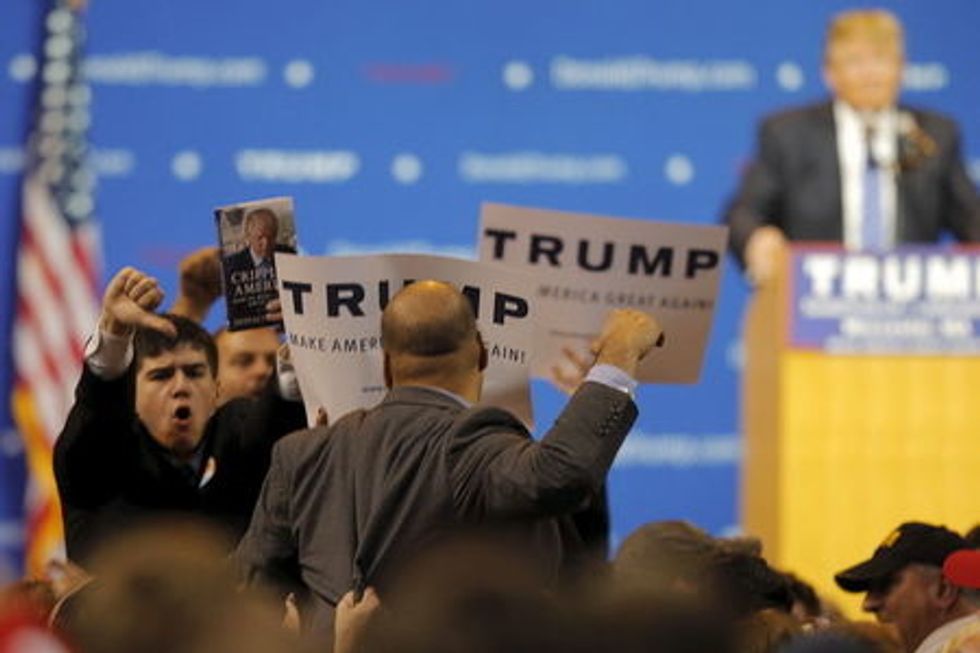 By Emily Flitter
NEW YORK (Reuters) – Nearly a dozen big Republican donors backing different presidential candidates are coming together to help fund an advertising campaign attacking front-runner Donald Trump, who faced sharp criticism from rivals this week for his inflammatory comments about Muslims.
Matt David, spokesman for the group planning the attack, a Super PAC called New Day for America, which is supporting Ohio Governor John Kasich's presidential bid, said 10 new donors had pledged money in the two days since Politico reported Thursday evening the group's plans to attack Trump in New Hampshire.
David said the majority of those donors have warned that they are supporting candidates other than Kasich, including former Florida Governor Jeb Bush or Florida Senator Marco Rubio, who are both seen as establishment choices for the November 2016 election. A spokeswoman for Trump did not immediately respond to a request for comment. Trump is leading in polls of Republican primary voters both nationwide and in key early primary states like Iowa and New Hampshire, and his numbers have risen despite negative news about his business record and backlash to his contentious statements.
Over the course of his campaign, he has sparred with popular figures like Fox News anchor Megyn Kelly and put forth controversial proposals such as a plan to build a wall along the U.S. border with Mexico and get the Mexican government to pay for it.
But his remarks on Muslims last week following the attacks by Islamic State militants in Paris that killed 130 people seemed to be giving his opponents new resolve.
In interviews with Yahoo and NBC News on Thursday, Trump said he supported the idea of requiring all Muslims in the United States to register in a special database. His comments drew widespread criticism and particularly sharp rebukes from Kasich and Bush.
California donor Jeff Le Sage pledged money to the group on Friday, but declined to say how much he was giving.
"I am 100 percent behind Jeb Bush and I'm supporting his effort but I'm also contributing to New Day for America because the educated people in this country, those who believe in hope, not hate, need to say enough is enough and stand up to Donald Trump," said Le Sage, the only donor who agreed to speak for this story.
On ABC's "This Week" on Sunday, Trump was asked if he was "unequivocally" ruling out a database to track all Muslims, to which he replied "No, not at all."
But then he suggested the database would focus more on Syrian refugees than all Muslim Americans.
$2.5 MILLION IN ADS
David said his group plans to use ads on TV and radio as well as direct mailings to New Hampshire voters to show them what a Trump presidency would look like, depicting details like the complicated, expensive bureaucratic operations behind efforts to deport millions of illegal immigrants and get all Muslims in the United States to register in a database.
A California-based firm, Strategic Perception, is creating the campaign and has not yet released any of the material.
David said New Day for America's plans to spend $2.5 million on anti-Trump ads in New Hampshire meant the group's message would achieve something near "saturation" in the state.
It has already received "hundreds of thousands of dollars" from the new donors, and pledges over the past two days add up to more than $1 million, according to David.
He said in addition to the Trump attack ads, New Day for America would continue to spend money trying to promote Kasich, whose support in the polls is in the single digits.
But that doesn't seem to be bothering the new donors. Le Sage, the founder of Envisage Equity, a private equity firm in Southern California, said he did not give any specific instructions to the group on how to spend his donation.
"I have a belief that they're going to use it for the right purpose," he said.
For more on the 2016 U.S. presidential race and to learn about the undecided voters who determine elections, visit the Reuters website. (http://www.reuters.com/election2016/the-undecided/).
(Editing by Mary Milliken)