Dr. Oz Thanks 'True Friend' Hannity For Advising His Campaign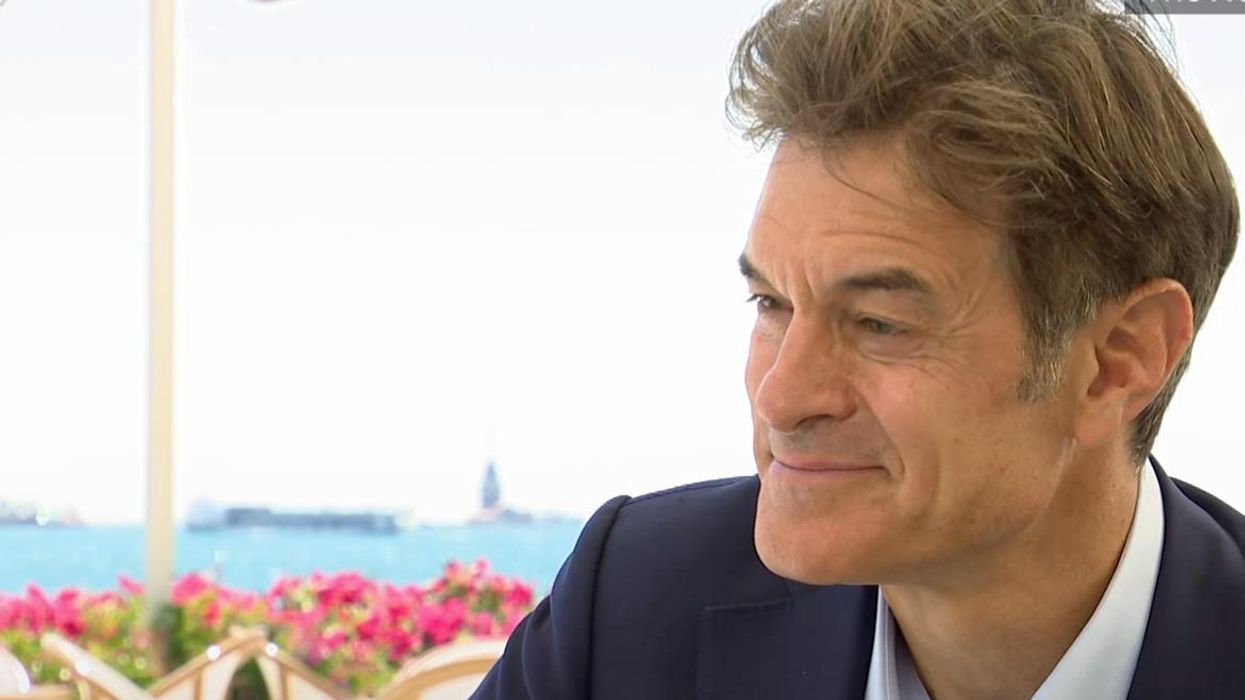 Youtube Screenshot
Senate candidate Mehmet Oz thanked Fox News host Sean Hannity for advising him "behind the scenes," helping to bring him to the cusp of a potential victory in Tuesday night's primary in Pennsylvania — a revelation that further illustrates Hannity's position as a Republican operative who leverages his media presence for political influence.

The Republican primary race could potentially go to a recount, with Oz currently ahead of former hedge fund manager Dave McCormick by a slender margin. The winner will face Democratic nominee Lt. Gov. John Fetterman, who won his primary by a landslide. During a speech on Tuesday night, Oz first thanked his wife, his children, and his campaign staff and then called out two key political figures who endorsed him and advised him throughout the campaign: former President Donald Trump and Hannity.
MEHMET OZ (U.S SENATE CANDIDATE): And I want to thank some other individuals who are actually unbelievably close friends, made a big difference in my life, are always there at every moment. Let's start with 45, President Trump. President Trump, after he endorsed me, continued to lean in to this race in Pennsylvania. He knows all the subtleties of it. He was willing to participate with tele-town halls, which he advised that I do, it was a brilliant idea. He participated in a massive rally out in Westmoreland County. God bless you, sir, for putting so much effort into this race. I will make you proud.
I want to thank Sean Hannity. Sean is like a brother to me. When Sean punches through something, he really punches through it. He understands exactly how to make a difference, and he's been doing that this entire campaign — much of it behind the scenes, giving me advice on late night conversations — again, the kinds of things that true friends do for each other.

Hannity previously had an eerily similar role during the Trump campaign and administration, serving as the "shadow" chief of staff to the then-president and often holding late-night phone conversations in which he functioned as a sounding board for Trump's policies.
Hannity also endorsed Oz's Senate campaign, helping Oz launch his candidacy with a nearly ten-minute interview on his prime-time Fox show in late November. Hannity also reportedly lobbied Trump to endorse Oz, which may have made the difference if indeed Oz's currently thin lead holds up through the vote count.
Hannity also used both his TV show and his radio show last week to attack the campaign of insurgent candidate Kathy Barnette, telling his audience that Barnette should not win in the primary due to her history of anti-Muslim and anti-LGBTQ statements. (Hannity did not acknowledge his own history of spewing similar bigotry.)
During one such segment trashing Barnette, Hannity reiterated his endorsement of Oz, saying he would "always tell you how I feel," before interviewing Oz to continue attacking Barnette. But, while Hannity might acknowledge his candidate preference, he did not reveal that he had been advising Oz behind the scenes, nor admit his role in securing Trump's endorsement for the candidate.
Oz's revelation Tuesday night should also be placed in further context of how Hannity uses his Fox platform to spread misinforming Republican campaign talking points.
Previously released text messages between Hannity and then-White House chief of staff Mark Meadows revealed that Hannity took direct instructions on coordinating get-out-the-vote messaging on Election Day in 2020, and Hannity later described himself as being "at war with" the network's purported news figures such as then-Fox News Sunday host Chris Wallace over the network's declaration that Joe Biden had won the election. (The network undermined its own decision desk's election call nearly 600 times in just nine days after that call was made.)
The texts have also shown the extent to which Hannity wears two faces along with his two hats. On the one hand, he publicly claimed the attackers who stormed the Capitol on January 6, 2021, were left-wing infiltrators. On the other hand, he urged Meadows during the attack to ask Trump to call off his supporters, and afterward, he worked on damage control with the White House.
Whether Oz even wins or loses in the final result is almost beside the point. Hannity's role in elevating his candidacy and orchestrating another instance of the Trump-Fox feedback loop provides yet another example of Fox's evolution from its earlier role as a propaganda outlet on behalf of the Republican Party to a major engine of the party itself.
Reprinted with permission from Media Matters.