Why Dr. Seuss Would Have Despised His Right-Wing 'Defenders'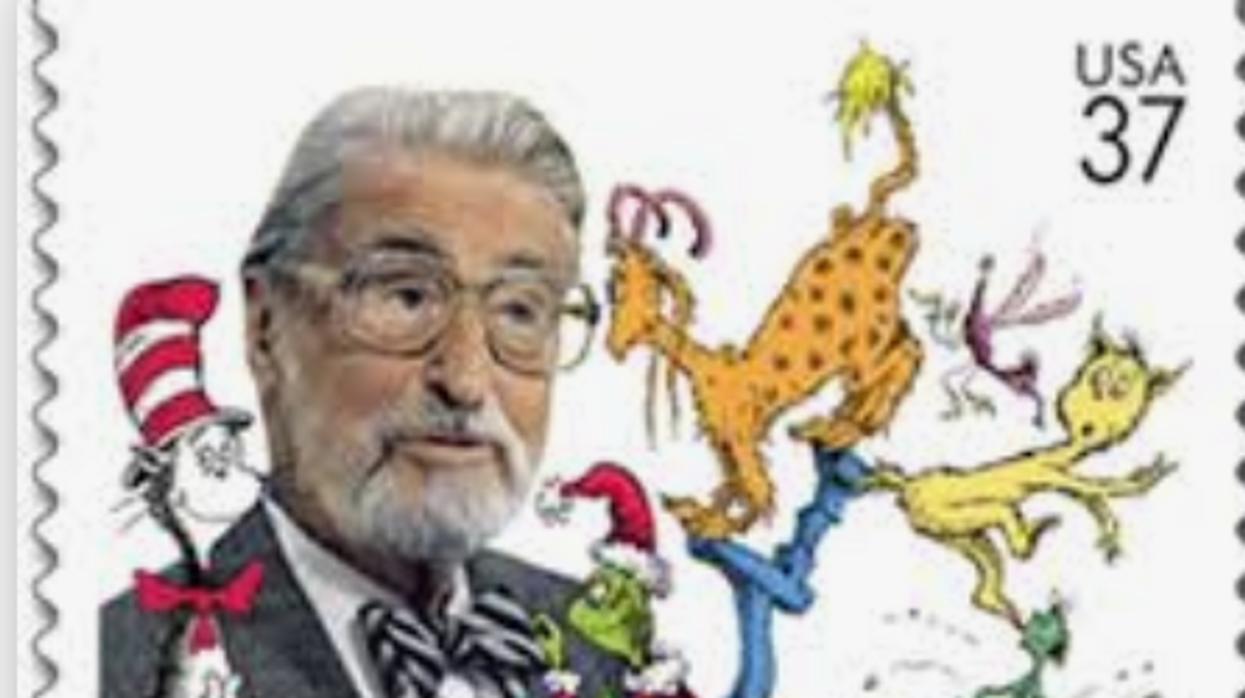 US Postal Service image
It is hard to imagine anything more exhausting than the constant indignation of so-called conservatives, who somehow sustain a state of rigid, barking anger over the direction of American culture. To them, every advance for human rights represents the imminent end of civilization, and every small effort to assuage historical injuries signals the twilight of liberty.
These crank crusades always have multiple objectives, both political and commercial. On the political side, the Republicans are desperate to distract us from the roaring successes of President Joe Biden's administration, whose program of vaccine production and distribution and pandemic relief legislation are about to rescue the nation from former President Donald Trump's lingering disasters. And on the commercial side, there is nothing like a cultural jihad to separate fools from their money.
The propaganda phrase of the moment is "cancel culture," a terrifying phenomenon manifested just this week in the supposed liquidation of Dr. Seuss. If you believe what you hear on Fox News Channel, the late author of dozens of classic books beloved by children and adults alike — and many other works of art in film and cartooning — is on the verge of being censored, erased, and vilified. Who is doing these terrible things? According to Fox and various other right-wing outlets, this assault is the work of "them," a suitably vague category that encompasses liberals, tech companies, Democrats, and probably Joe Biden himself.
Of course, if you believe what you hear on Fox News, then you are, by definition, a dupe.
The actual event that provoked all the outrage over Dr. Seuss has nothing to do with Biden, Democrats or any other favorite Fox villains. The Seuss estate, which oversees the 60 books and other properties he left to posterity, decided to pull a half-dozen of them because their content includes dated and offensive stereotypes.
When you remember that his first book was published more than 80 years ago, that dissonance seems almost inevitable. The estate's decision, a sensible response to changing standards, was plainly designed to protect both the Seuss brand and the memory of Theodor Seuss Geisel as a liberal humanist. It is the opposite of "canceling" Dr. Seuss. And anyone who wants to read the old titles can still find them.
The Seuss non-scandal is a fine example of misdirection and distraction, and a powerful indication that Republicans really have nothing to say for themselves. This time, the consequences are harmless, mainly the further enrichment of the Seuss estate as gullible Americans flood Amazon with orders for his books, which they evidently fear are about to be torched by "the radical left."
The irony is that Dr. Seuss was himself a lifelong Democrat whose advocacy of liberal causes dated back to the New Deal, when he drew scores of blistering cartoons for the left-leaning daily New York newspaper PM, usually on the subject of Republican perfidy. He despised Hitler, Mussolini, Charles Lindbergh, and the original "America First" movement; he deplored racism and anti-Semitism; and he served patriotically in the war against fascism. He would have low regard for the Trumpists who are now misusing his good name.
While Dr. Seuss avoided the kind of moralizing that repels young readers, his stories and poems often grappled with contemporary issues, from authoritarianism (Yertle the Turtle) and racial equality (The Sneetches) to environmental degradation (The Lorax) and even materialism (How the Grinch Stole Christmas!).
What his books were really about is learning, everything from vocabulary words to personal and societal integrity. He wasn't afraid of change or changing his mind, which is why it seems likely that, were he alive today, he'd want to revise or withdraw offensive content he created so long ago. After World War II, he came to regret his own racially charged contributions to anti-Japanese propaganda, which is said to be why he dedicated Horton Hears A Who! — an allegory about the U.S. occupation of Japan — to a Japanese friend.
In short, the right-wing pundits and personalities leaping to "defend" Dr. Seuss now could learn a lot from reading him. Being who they are, they probably won't.
But you and your kids still can.
To find out more about Joe Conason and read features by other Creators Syndicate writers and cartoonists, visit the Creators Syndicate website at www.creators.com.