Eastman's Latest Legal Move Exposes Fox Hosts' 'Dual Role' In Coup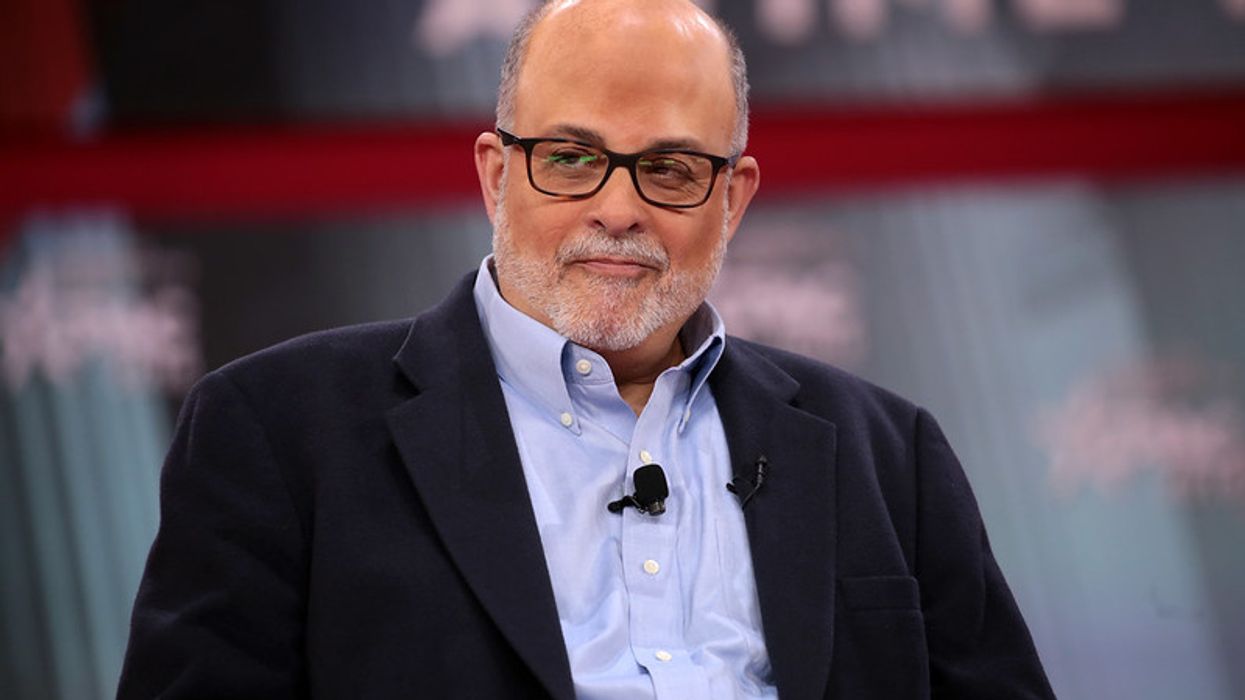 Politicoreported Friday that John Eastman, the disgraced ex-law professor who formulated many of former President Donald Trump's efforts to overturn the 2020 election results, was also apparently in communication with Fox News host Mark Levin. The story gets even more interesting from there, revealing the shell game that right-wing media personalities engage in while doubling as political operatives.
A legal filing by Eastman's attorneys reveals that, among the messages Eastman is still attempting to conceal from the House January 6 committee are 12 pieces of correspondence with an individual matching Levin's description as "a radio talk show host, is also an attorney, former long-time President (and current board chairman) of a public interest law firm, and also a former fellow at The Claremont Institute." Other details, including a sloppy attempt to redact an email address, also connect to Levin, who did not respond to Politico's requests for comment.
Eastman's contention, however, is that he was not communicating with Mark Levin the media personality, which would forfeit attorney-client privilege on those communications. Instead, he was speaking with Mark Levin the attorney, and formulating legal strategies regarding the election.
The "Dual Role"
In their legal filing, Eastman's attorneys argue that he should not have to turn over certain communications with right-wing media figures, even as other communications with those same people have been submitted. This question turns on a body of case law involving lawyers who serve in a "dual role."
This area of law normally involves people who both are attorneys and have personal business interests, in which case a court must determine in which capacity they were acting and whether those communications or actions in question retain the legal privileges of secrecy.
The brief acknowledges that Eastman could find no previous instance in law having to do with media figures who were also attorneys, but it argues to extend this doctrine accordingly.
"Many members of the modern 'media' have multiple roles," the filing argues, contending that some of Eastman's communications with Levin in fact "involved work product communications with attorneys who also wear media 'hats.'"
Eastman's Legal And Media "Hats" Clash
In the case of Eastman, however, his work as an attorney in conservative causes and his public media presence have been so closely intertwined as to demonstrate that any such ethical separations quite simply do not exist in the right-wing media and political ecosystem.
Most notably, Eastman first came to Trump's attention via an appearance on Levin's Fox show back in May 2019, in which Eastman argued that Trump had the power as president to fire people who were investigating him. "The notion that the president can't determine the course of an investigation is the most basic violation of separation of powers," Eastman argued — even including an investigation involving the president himself.
The New York Timesreported last year that Trump had never met Eastman before watching this episode. "Within two months, Mr. Eastman was sitting in the Oval Office for an hourlong meeting," the Times reported.
In addition, Eastman's new filing notes that he has had different sets of communications with an "opinion editor at Newsweek," who is also affiliated with different conservative legal organizations. That description matchesNewsweek editor Josh Hammer, who published Eastman's disastrous op-ed in 2020 asserting that then-vice presidential candidate Kamala Harris was not a U.S. citizen and thus ineligible to run for office, even though she was in fact born in California. In this instance, clearly, the Venn diagram of the conservative legal and media worlds was simply a perfect circle.
And while Eastman was advising Trump on his theories of reversing the election results, he also advanced those ideas on former Trump adviser Steve Bannon's show.
Levin Pushes Far-Right Legal Theories
While apparently acting under the privileges of an attorney corresponding with Eastman on their efforts to overturn the election, Levin also used his media platform with Fox News to publicly advocate for the same pseudo-legalistic theories. For example, he and Fox News contributor Ken Starr advocated the weekend after the election for state legislatures to overturn their election results and instead appoint pro-Trump slates to the Electoral College.
During an appearance on the December 10, 2020, edition of Hannity, Levin also advocated for the bizarre lawsuit in which Texas Attorney General Ken Paxton asked the U.S. Supreme Court to overturn the election results in four swing states.