Egyptian Leader Says He Won't 'Interfere' In Verdicts Against Journalists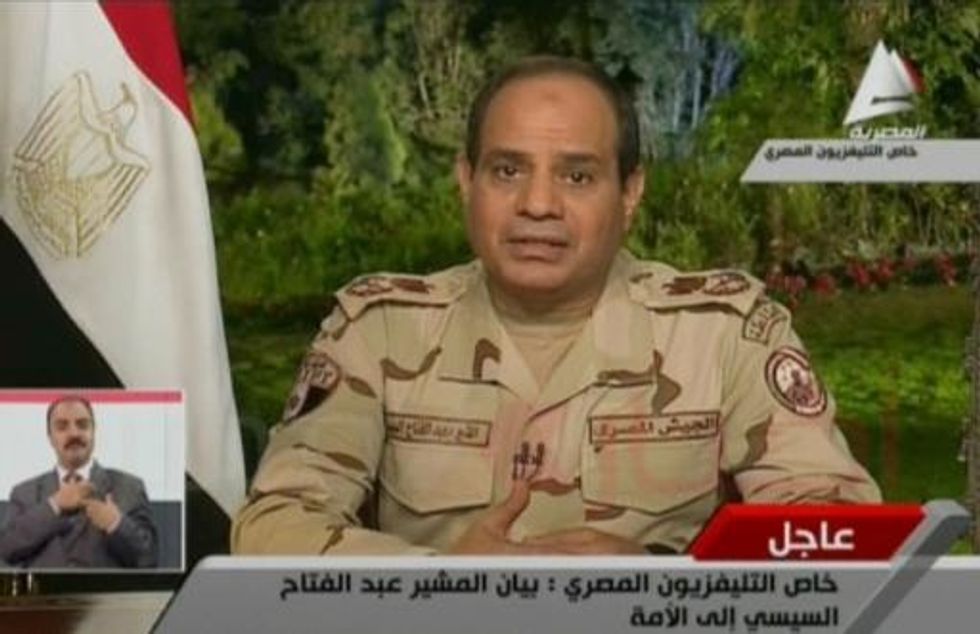 By Laura King, Los Angeles Times
CAIRO — Striking a defiant tone amid a cascade of international criticism, President Abdel Fattah Sisi declared Tuesday that he would not intercede in the case of three journalists from the broadcaster Al Jazeera, who were sentenced a day earlier to lengthy prison terms.
The sentencing of the three men to seven years in jail on terror-related charges, with an additional three-year term handed down to one of them for allegedly possessing ammunition, triggered denunciations by rights groups and calls for Sisi to step in. Western governments, including the Obama administration, condemned the court proceedings as unfair and the verdict as gravely harsh.
Rights groups and other observers maintain that Egyptian authorities' claim that the three aided the Muslim Brotherhood — an Islamist movement banned as a terror group — was motivated by Egypt's anger at Qatar, which owns and operates Al Jazeera. The Persian Gulf emirate has been a vocal backer of ousted Islamist president Mohamed Morsi, who was deposed last summer in a military coup after nationwide protests demanding he step down.
The three journalists — Egyptian-Canadian Mohamed Fahmy, Australian Peter Greste, and Egyptian Baher Mohamed, all with long resumes of work at well-regarded international outlets — have been held since December. Colleagues around the world have sought to keep the case in the public eye with online protest campaigns calling for their release.
The journalists' families and others had expressed hopes that Sisi might commute the sentences or pardon them outright. But the former military man appeared to dash those hopes in a televised address at a military graduation ceremony, in which he insisted — as Egyptian officials have done with regard to other extreme rulings, such as mass death sentences — that the independence of the courts must be respected.
"There has been a lot of talk over the verdicts issued yesterday," the President told his audience. He said he had spoken with the Justice Minister and "I told him one thing: We won't interfere in judiciary matters, because the Egyptian judiciary is independent and lofty."
Sisi's remarks echoed the Foreign Ministry guidance given to Egypt's diplomats around the world for discussions with governments objecting to the verdict. A number of envoys had already been summoned by the governments in question, including Britain, Australia, and the Netherlands. Two Britons and a Dutch national received 10-year jail terms in absentia in the same case.
Monday's sentencing came only a day after U.S. Secretary of State John F. Kerry had visited Cairo and raised concerns about the case, while publicly promising the swift restoration of military aid suspended last year amid concern over the Cairo government's campaign to crush the Brotherhood.
Kerry himself is now being sharply criticized by supporters of the convicted journalists for an overly accommodating stance toward the Egyptian leadership, which has enacted a range of repressive measures in the past year. Sisi took office as president this month, but had been the main power since the toppling of Morsi.
Special correspondent Amro Hassan contributed to this report.
Image: Egyptian state television Al-Masriya
Interested in world news? Sign up for our daily newsletter!