Elizabeth Warren Decries Student Loan Debt, Calls On Government To Help Solve Problem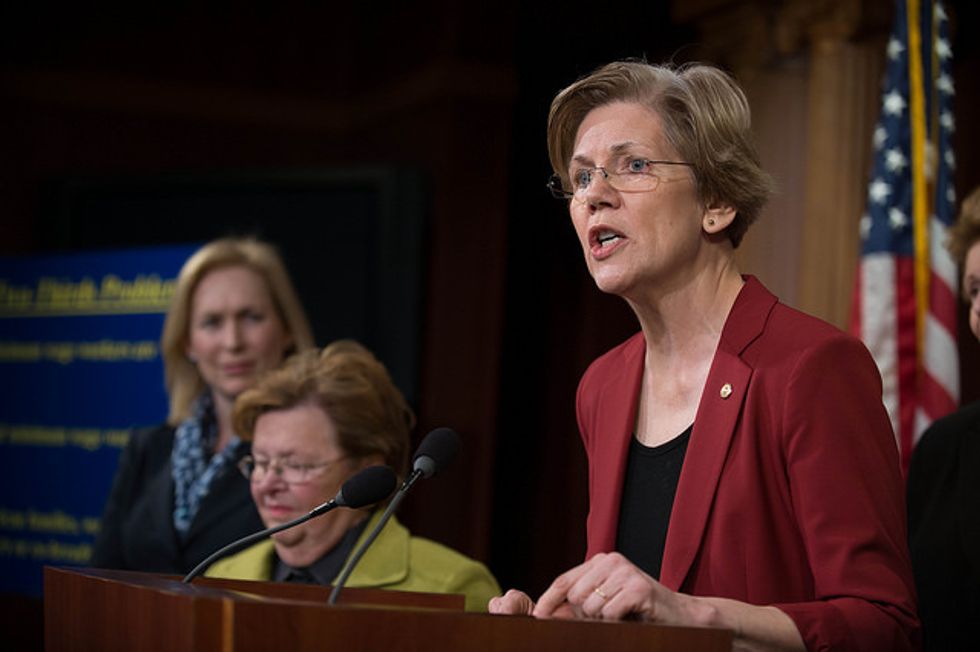 By Jim Brunner, The Seattle Times
SEATTLE—Calling the $1.2 trillion in student-loan debt owed by U.S. college graduates a drag on prosperity, U.S. Sen. Elizabeth Warren told a Seattle crowd Thursday the government should come to the rescue.
Speaking to nearly 1,700 people at U.S. Sen. Patty Murray's annual Golden Tennis Shoe Awards fundraiser at the Washington State Convention Center, Warren touted her bill that would allow borrowers to refinance old student loans.
Warren, D-Mass., has emerged as a hero in the progressive wing of the Democratic Party as a champion for consumer rights, and is frequently mentioned as a potential 2016 presidential candidate, despite her repeated denials.
She made no mention of the presidential race in her Seattle appearance, focusing instead on calls to rein in student debt, raise the minimum wage and end the gender pay gap.
College-loan debt is a growing crisis for America, Warren warned, noting the balance on student loans has grown by 70 percent between 2004 and 2012.
"This is a trajectory that we just can't keep up with," she said. "Everywhere I go I meet people who work hard, who played by the rules, who got an education only to be crushed by student-loan debt."
Even worse, Warren said, is that the federal government is reaping billions of dollars in profits off the interest on student loans.
Warren's proposal, the Bank on Students Emergency Loan Refinancing Act, co-sponsored by Murray and other Senate Democrats, would allow qualified borrowers to refinance outstanding student-loan debt at today's lower interest rates. That would save hundreds or thousands of dollars a year for borrowers with loans at old interest rates of 7 percent or higher, she said.
The legislation would be funded by enacting the so-called "Buffett rule," which would raise taxes on millionaires.
Warren's prescriptions drew loud applause from the crowd of Democrats at Murray's annual fundraising event, which raised an estimated $325,000 for Murray's 2016 re-election campaign.
It was the largest crowd ever for Murray's annual Golden Tennis Shoe event, named for the disparaging comment from a male state lawmaker she has never named, which Murray says propelled her to run for office decades ago.
"When I first got involved in politics, I was told I couldn't make a difference because I was just 'a mom in tennis shoes,'" Murray said.
Murray says she took that as a challenge, and was elected to the school board, then the state Senate before winning election to the U.S. Senate in 1992. Now in her fourth term, Murray has ascended to become one of the most powerful Democrats in Congress.
Murray awarded her annual Golden Tennis Shoe awards to three people who "put others first—and ask nothing in return."
One went to Fitsum Abraha, who came to the U.S. from the Sudan at age 10 and grew up in Seattle's Yesler Terrace housing project. Abraha graduated from the University of Washington with a business degree and returned to serve the community where he grew up. Abraha is now a senior property manager for Yesler Terrace.
Another award went to Maddy Brockert, who became a domestic-violence- prevention advocate after her own mother was murdered by her mother's boyfriend when Brockert was a sophomore at Sammamish High School. During her senior year Brockert spoke to almost 3,000 students about domestic abuse, all while working 30-plus hours a week, Murray said.
The final award went to Denise Costanten, who launched Brigadoon Service Dogs, a Bellingham organization training dogs as companions for military veterans suffering from post-traumatic stress disorder.
Costanten recently expanded her program to include inmates at Cedar Creek Corrections Center, a minimum-security prison, in the early stages of dog training. Those inmates, Murray said, have reported being "kinder and less angry" because of their work with the dogs.
Murray joked she wanted to "take that dog back to the Senate with us."
 Photo: Senate Democrats via Flickr
Want more political news? Sign up for our free email newsletter!