Emails Confirm Pentagon Effort To Keep USS John McCain 'Out Of Sight'
@alexvhenderson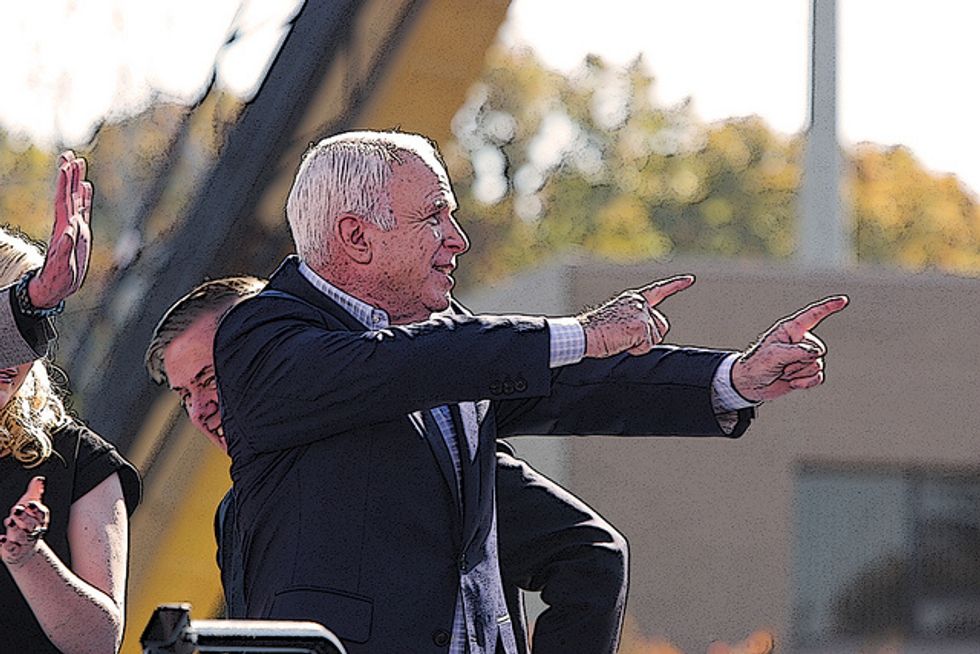 Earlier this week, Republican activist Meghan McCain reacted angrily after learning about the Wall Street Journal's report that some people in the White House wanted to keep the USS John McCain out of sight during President Donald Trump's visit to Japan, where he met with Prime Minster Shinzo Abe. And CNBC's Amanda Macias is reporting that two sources have confirmed that a government e-mail shows coordinated White House efforts to keep the warship out of view.
In the e-mail, posted by Macias on Twitter, one of the directives is that the "USS John McCain needs to be out of sight."
There was considerable animosity between Trump and Sen. McCain, who was 81 when he died of brain cancer on August 25, 2018. Trump deeply resented the Vietnam veteran and former POW for helping to derail the GOP's American Health Care Act, which would have repealed the Affordable Care Act of 2010, a.k.a. Obamacare — and he in turn lambasted Trump vehemently after his summit with Russian President Vladimir Putin in Helsinki, Finland in July 2018.
Two sources confirm to @CNBC that this is the email showing coordinated efforts to put the USS John McCain "out of sight."

The Pentagon maintains that Acting Secretary of Defense Pat Shanahan was unaware of such plans. (H/T @RyanRuggiero) pic.twitter.com/adaZKtp1oE

— Amanda Macias (@amanda_m_macias) May 30, 2019
Journalists have been reporting that given Trump's disdain for the late Arizona senator, White House staffers wanted to hide the USS John McCain in order to avoid offending the president. The Pentagon, however, has responded that Acting Secretary of Defense Pat Shanahan was unaware of any plans to hide the warship, and Trump has said that he never ordered anyone to move it — although he said that whoever might have done that was "well-meaning."
I was not informed about anything having to do with the Navy Ship USS John S. McCain during my recent visit to Japan. Nevertheless, @FLOTUS and I loved being with our great Military Men and Women – what a spectacular job they do!

— Donald J. Trump (@realDonaldTrump) May 30, 2019
Thursday on ABC's "The View," which she co-hosts, Meghan McCain expressed her anger over the debacle — asserting, "It's impossible to go through the grief process when my father, who's been dead ten months, is constantly in the news cycle because the president is so obsessed with the fact that he's never going to be a great man like he was."
Trump is a child who will always be deeply threatened by the greatness of my dads incredible life. There is a lot of criticism of how much I speak about my dad, but nine months since he passed, Trump won't let him RIP. So I have to stand up for him.

It makes my grief unbearable. https://t.co/gUbFAla1VE

— Meghan McCain (@MeghanMcCain) May 30, 2019
His daughter went on to say, "The president's actions have consequences. And when you repeatedly are attacking my father and war heroes, it creates a culture in the military where people are clearly fearful to show my father's name in one way or another."