Endorse This: Ted Cruz's Islamophobic Foreign Policy Advisor Is Worried About Electromagnetic Pulses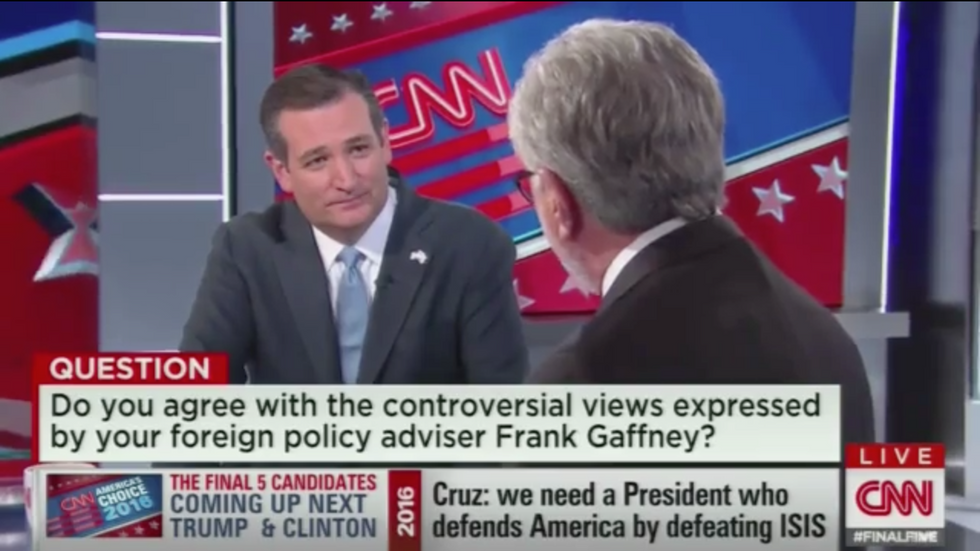 The terrible attacks in Brussels early this morning underscore just how important an even-handed approach to foreign policy is. If the U.S. were to be attacked under similar circumstances — as we have been — it's crucial that our leaders don't respond in a way that rewards the terrorists: namely, by falling into crazed conspiracy theories and religious scapegoating.
That's why Ted Cruz's response yesterday to a question from Wolf Blitzer about his advisor, Frank Gaffney, is so troubling.
I wrote about Gaffney a few days ago, when Cruz first revealed that he was a foreign policy advisor. In short, Gaffney is at the root of some incredible fear-mongering about Islam and terrorism, and imagining him in the ear of Ted Cruz — who, let's face it, probably shares most of his beliefs anyway — is terrifying.
When confronted with Gaffney's theories — that Saddam Hussein was connected to the Oklahoma City bombings, that the Muslim Brotherhood has infiltrated the darkest corners of American government — Cruz refused to disavow his advisor, insisting instead that Blitzer was playing "gotcha" journalism. Remember, that's the phrase Sarah Palin invented when she wouldn't admit that she didn't read newspapers.
Then, Cruz pivots: Gaffney's too busy for conspiracy theories, apparently, because his schedule is all booked "leading the effort" looking into the dangers of an "electromagnetic pulse." That is, a nuclear bomb detonated over major U.S. cities that would fry the electrical grid and kill millions.
I'll try to list every problem in Cruz's response, but we don't have all day.
First, in order for an EMP to be used against the U.S., whoever was using it would have to have access to both ballistic missiles — most likely, intercontinental ballistic missiles — and nuclear weapons. They're the same as nuclear weapons, in this regard. And we've spent decades keeping tabs on and accounting for the rest of the world's nuclear capabilities.
Cruz is right on one point: plenty of people talk about the danger of EMPs. They're just mostly survivalists and conspiracy theorists. Speculation about EMPs spiked during the debate over the Iran deal, but using them to emphasize the threat of nuclear attack has been around for a long time. Plenty of public figures have preceded Cruz's unreasonable obsession, mostly to make President Obama look weak and ignorant: Mike Huckabee, Rick Santorum, Glenn Beck, and others.
In fact, it was none other than Frank Gaffney who alerted Beck to the dangers of an EMP. He immediately followed, at the time, with a warning: "Listen to what the Iranians are telling you: Not only that they think that taking us out is achievable, but also, 2012 is the year that Mahdi will return."
"Mahdi," or Muhammad ibn Hasan al-Mahdī, is an apocalyptic figure whose return alongside Jesus, according to many Muslims' beliefs, will signal the end times.
Remember: Just like he is on electromagnetic attack, Gaffney is an expert on Islam.
And actually: We do plan for attacks such as an EMP attack — thousands of people in our national defense apparatus make careers thinking about possible ways the United States and its crucial infrastructure could be attacked. You never hear about EMP attacks on their own because that would mean we were under nuclear attack as well. EMP attacks make the specter of nuclear war even more terrifying, but if such a nuclear attack were to happen, the electromagnetic affects might be a secondary concern to, I don't know, global nuclear winter.
In short: Cruz ducked a question about his conspiratorially racist foreign policy advisor by pointing out that advisor is spending all of his time worrying about hypothetical threats that, in all reality, he would be better off shelving to continue his investigations into the Muslim Brotherhood. Blabbering about EMPs isn't a acceptable response to your foreign policy advisor's McCarthyism. It's not even a viable foreign policy response. At best, it's a good way to sell gold on Fox late a night.
Video: Crooks and Liars.