Endorse This: Florida Man Won't Condemn Trump's Muslim-Hatred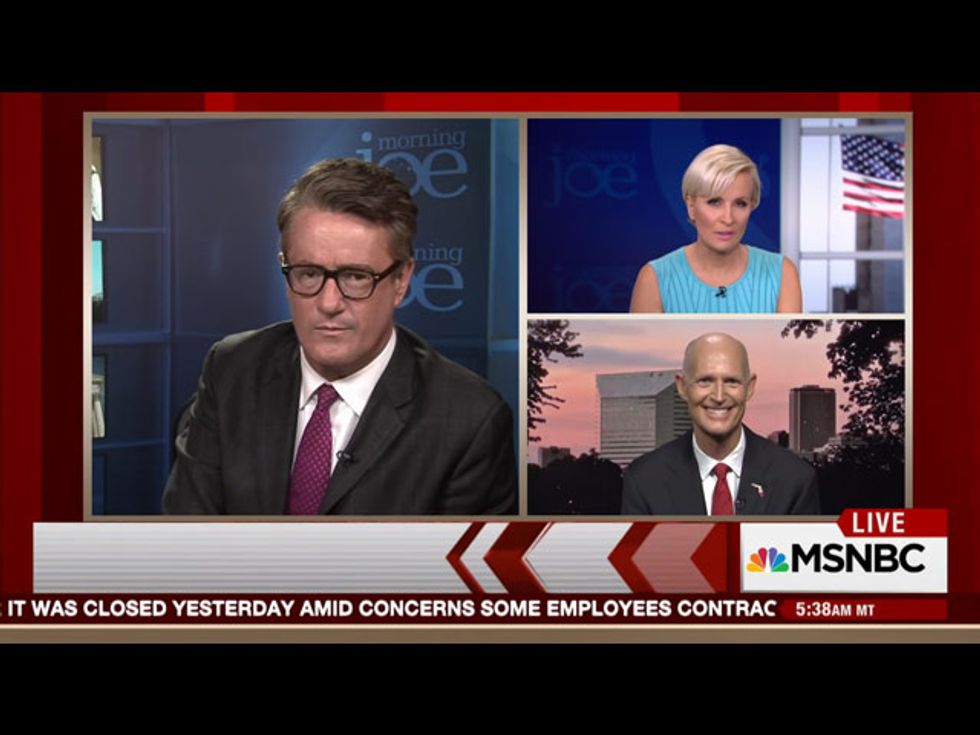 What's the best/funniest/most ridiculous video you've seen today? Tweet @nationalmemo with the hashtag #EndorseThis and we may use it in our next newsletter!
In the latest example of Donald Trump's outlandish comments becoming more and more mainstream for Republicans, Florida Gov. Rick Scott appeared Thursday on Morning Joe to talk about the race. Joe Scarborough asked Scott whether he would disagree with The Donald's latest statement that "Islam hates us."
Scott — who is quite peculiarly not endorsing any candidate, even though his home state's own Marco Rubio is running — very awkwardly avoided answering the question. And this went on and on, until he actually got politely kicked off the show.
"Well as you know, in Florida we're the best melting pot int he world, we love everybody coming to our state," Scott responded — and then explained why he doesn't want some people to actually come to Florida: "After the Paris bombings, I did ask the federal government to not allow any more Syrian refugees to come into Florida until we vetted them. I'm still concerned that the federal government is not vetting them — that's what my concern is."
Quick note: Yes, the federal government thoroughly vets refugees.
Joe wasn't having it, and asked again: Does Rick Scott believe, like Trump does, that Muslims hate America — including many citizens of Florida?
Scott's answer: "Joe, what I can tell you in our state is we have a lot of Muslims that live in our state—"
"Wrap it," Mika Brzezinski could be heard telling the production crew.
Scott continued: "—we've got a lot of Latin Americans that live in our state. We all get along. We love moving into our state, and coming here as tourists. We're a great melting pot. That's what I can tell you about our state. Donald Trump, he can talk about the things that he wants to talk about. Marco Rubio can, Ted Cruz, John Kasich…"
"Rick, Rick — Rick, Rick, Rick, Rick," an exasperated Mike finally said. "I know you and Joe are friends, and this is kind of awkward. But can you answer the question — or should we scoot?
Scott laughed uncomfortably, and then dodged again: "Well I can tell you that I'm glad everybody's in Florida, we're doing here, the debate's gonna be fun tonight, I hope they talk about jobs, its' the most important issue.
"Gov. Rick Scott, thanks for being on," Mika said. "We will move on now, thanks."
Video viaMorning Joe/MSNBC.
Get More to Endorse Delivered to Your Inbox