#EndorseThis: Colbert Revenge Burn On Trump Is Epic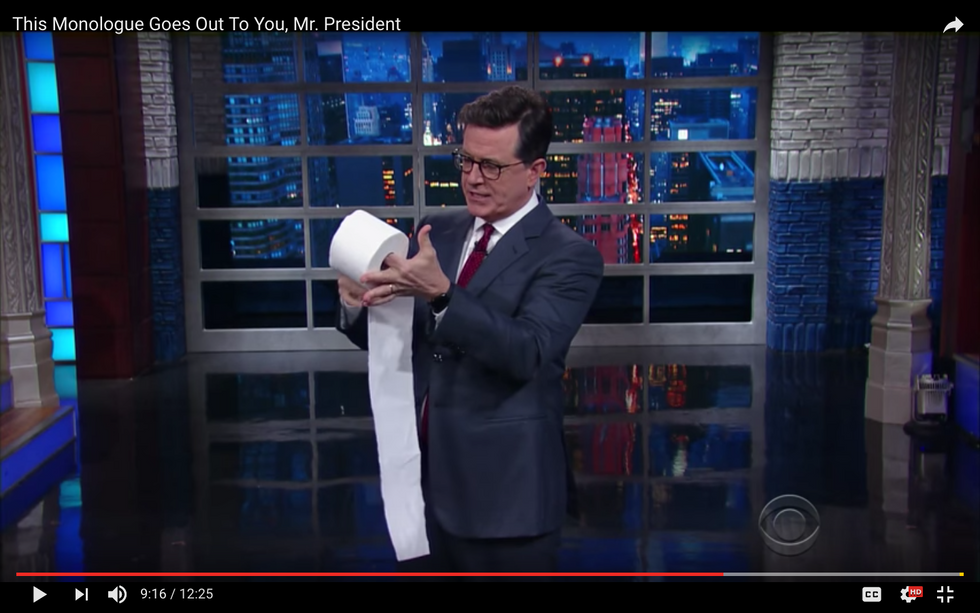 As America marked a milestone in our Trump ordeal, the president sat for disastrous interviews that provided fresh embarrassment to him, his supporters, and the country that is enduring him — and plenty of fresh material for his late-night nemesis Stephen Colbert.
While speaking with a pair of Reuters correspondents about North Korea and China, Trump abruptly pulled out colored maps showing counties he had won in November 2016. He had a copy for each of them — and, Colbert quips, he probably colored them himself.
"The red is obviously us," burbled Trump. "It's pretty good, right?"
The president's Oval Office interview with CBS's John Dickerson was not so good — especially when the Face the Nation anchor pressed Trump on whether he stands by his bogus "wiretap" claims against President Obama. "I don't stand by anything!" barked the president, ending the interview abruptly moments later, when he plopped himself down at his desk to sulk.
Watching his friend Dickerson dissed by Trump — who began their interview with a smirking gibe at "Deface The Nation" — Colbert takes serious umbrage. Dickerson is too dignified to trade snaps with Trump. "But I'm no John Dickerson…When you insult one member of the CBS family, you insult us all."
What follows is a fusillade of burns and obscenities never before heard on network television to describe a president of the United States. Like so much that involves Trump, it is a low point for the country. But it's a high point for comedy.