#EndorseThis: Jimmy Kimmel Morphs Into Crude Trump Supporter In Front Of Kids, And Somehow It Works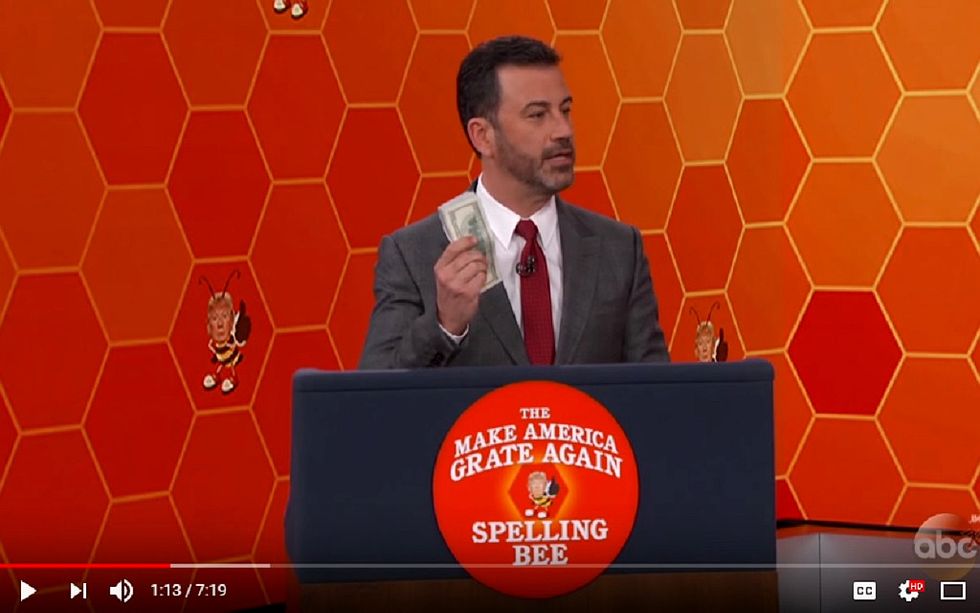 Lost in the wake of so many wonderful on-air rants has been the voice of Jimmy Kimmel, who is making a case for himself as one of the best political sketch-comics in Hollywood.
Today's clip must have sounded like the world's worst idea in the writers' room. Kimmel greets a trio of kids, game-show style, and hosts a Trump-tastic spelling bee in which the winner gets cold, hard cash, and the runners-up are lew-zers. Or isn't it "losers?" The bee is based on Trump's Twitter account and its 1st-grade English, so the kids must spell words wrong in order to get them right.
Due to the brains and honesty of children, things don't exactly go according to plan. Strangest of all is Jimmy as a Trump supporter, complete with a "nobody gets a hug" attitude and Ivanka Trump's made-in-China gear in the store room.
Laughter helps the soul "heel." Click and test your memory of 45's gaffes.