#EndorseThis: Sessions Parody Is A Samantha Bee Classic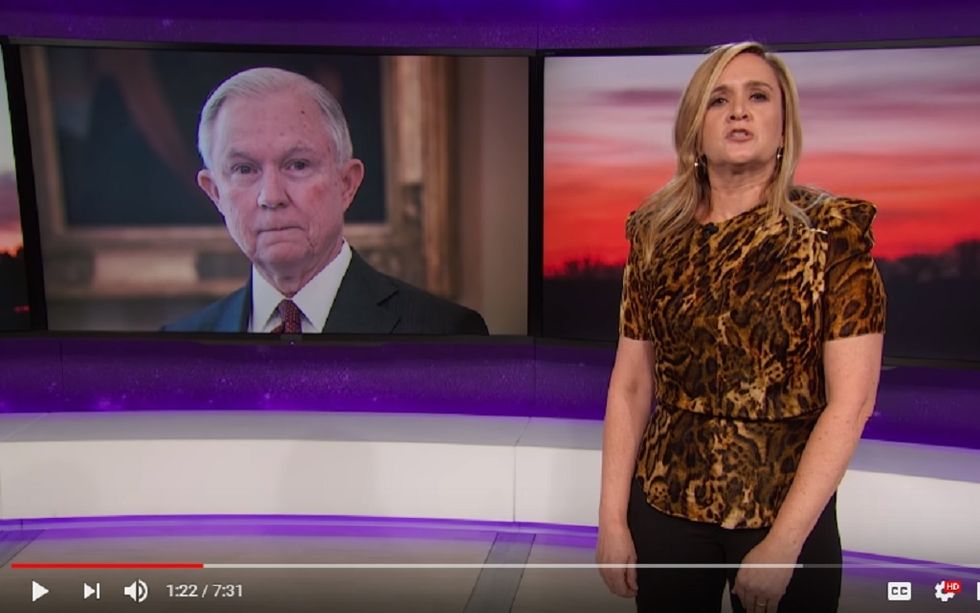 The journalist's instinct is to cover today's clip with an extremely serious tone. Mute the video and Samantha Bee's biting monologue becomes an all-too-real show of horrors. The host of Full Frontal is hard-hitting between the lines as usual, touching on human rights and animal rights abuses during a full take-down of the Trump administration's brutal immigration policy.
Civil-rights movements need more than facts, figures and editorial, though. Inspiration helps too. Samantha's brief yet memorable parody of chief border-enforcer Jeff Sessions casts the Alabama dandy as a spooky cannibal-next-door. Suffice to say it's also one of the funniest bits seen on a talk show for the past several weeks. Yes, it's edgy to include laugh-out-loud moments in a monologue about 1500 missing kids. But in a similar fashion to Groucho Marx singing about the government in Duck Soup, the distaff comic's anger blazes through her surface comedy. Watching Bee's withering look as she stands up to Sessions' shtick is heartening to Democrats everywhere.
Update: #EndorseThis badly underestimated the impact of Bee's slap at Ivanka Trump in the same segment, partially because TBS bleeps out her bluest language. As you probably know by now, conservative heads exploded! The original video has been wiped from YouTube, but click play below to hear the controversial Ivanka quotes and the text of Bee's apology if you haven't already.
Samantha Bee got vulgar while dissing Ivanka Trump over her father's immigration policies. pic.twitter.com/g5GCn1hvsc

— HuffPost (@HuffPost) May 31, 2018