#EndorseThis: Seth Meyers Takes A Closer Look At Flynn Immunity Bid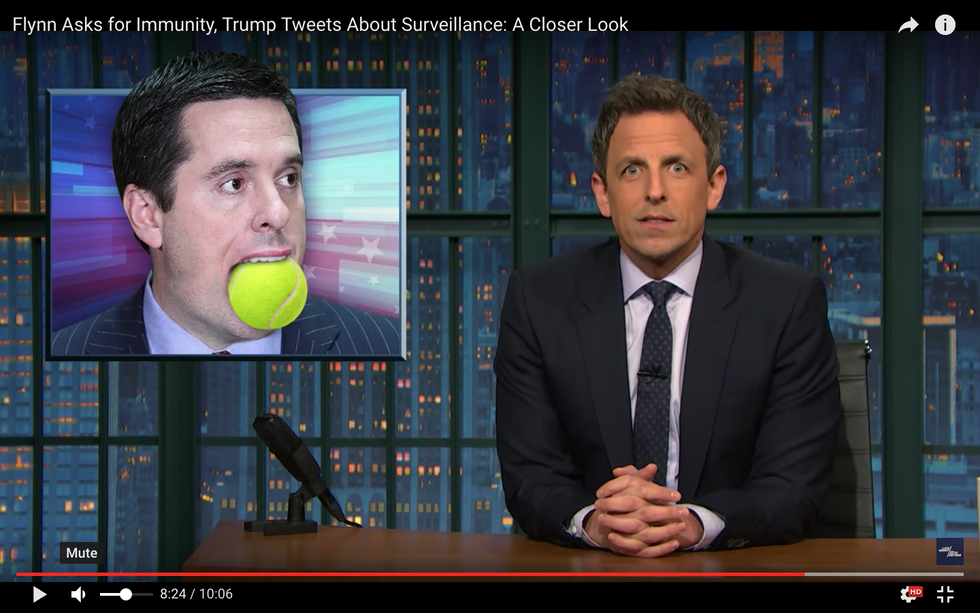 "I wish somebody would tell us straight up, what does it mean when you're given immunity?" says Seth Meyers innocently as he opens a discussion of disgraced former National Security Adviser Michael Flynn's failed attempt to win exemption from prosecution by offering testimony about the Trump campaign's Russian contacts.
Naturally, he turns to Flynn himself, who spoke up forthrightly on this very topic last year. "When you're given immunity," the Trump adviser barked, "that means that you've probably committed a crime…" To which Donald Trump himself added, in demagogic rally style, "If you're not guilty of a crime, what do you need immunity for?"
Not quite fair, but fair enough in this instance. And funny.
As Meyers points out, Trump could clear up some suspicions about his ties to Russia by finally releasing his own tax returns. But reporters who asked Sean Spicer about the president's 2016 returns — which don't fall under that phony "I'm being audited" — got an audaciously absurd response.
Meanwhile, America has learned that House Intelligence Committee chair Rep. Devin Nunes (R-CA) gleaned his classified information about the "unmasking" of Trump associates during NSA surveillance of foreign nationals from a secret source at…the White House. The next day, Nunes brought that information back to the White House, which in Meyers' estimation makes him the political equivalent of "a golden retriever."