#EndorseThis: Teacher Tells Gun Nut Where To Stick The Weapon He Wants To Give Her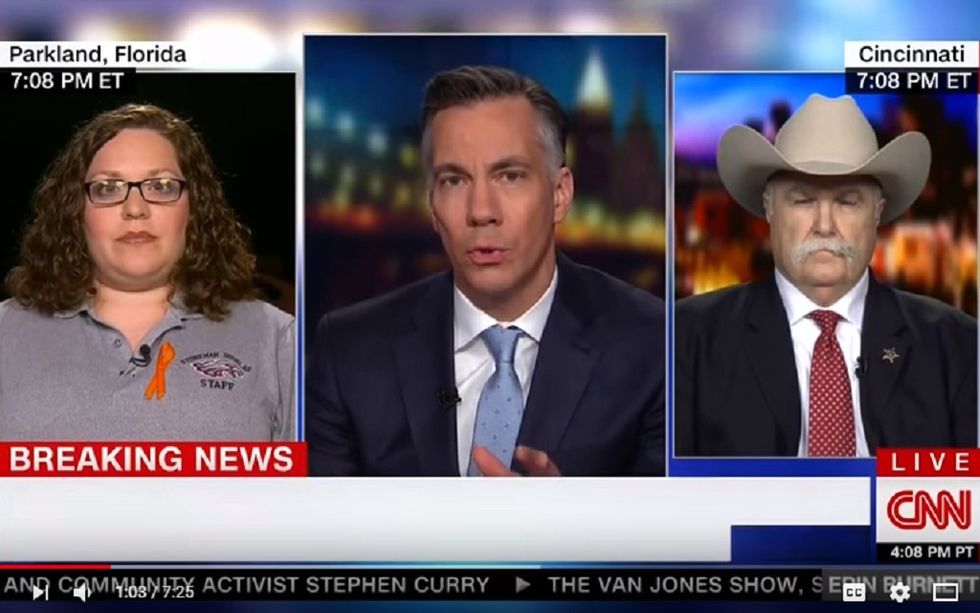 In the debate over whether to arm schoolteachers with firearms, one simple question isn't being asked often enough. How do teachers feel about it? According to one pedagogue who witnessed the Parkland horror first-hand, faculty members would rather be part of a real solution than add more gunfire to a growing epidemic.
Faced with the "let's arm teachers" slogan during a CNN debate, Douglas High instructor Sarah Lerner tells NRA-fanatic Sheriff Richard Jones of Butler County just where to stick his weapons. "How is (a locked-up firearm) going to help keep me safe? (A school shooter) is going to shoot me before I can access my gun," she points out.
Then it gets testy. Arguing through grief and frustration, Lerner traps the Sheriff with plain logic and forces Jones to admit his proposed "solution" amounts to absolutely nothing.
Nice mustache. Nice hat. Terrible idea. Two out of three ain't good.