#EndorseThis: Trevor Noah Pans Trump As The Dotard God Smiled On Over North Korea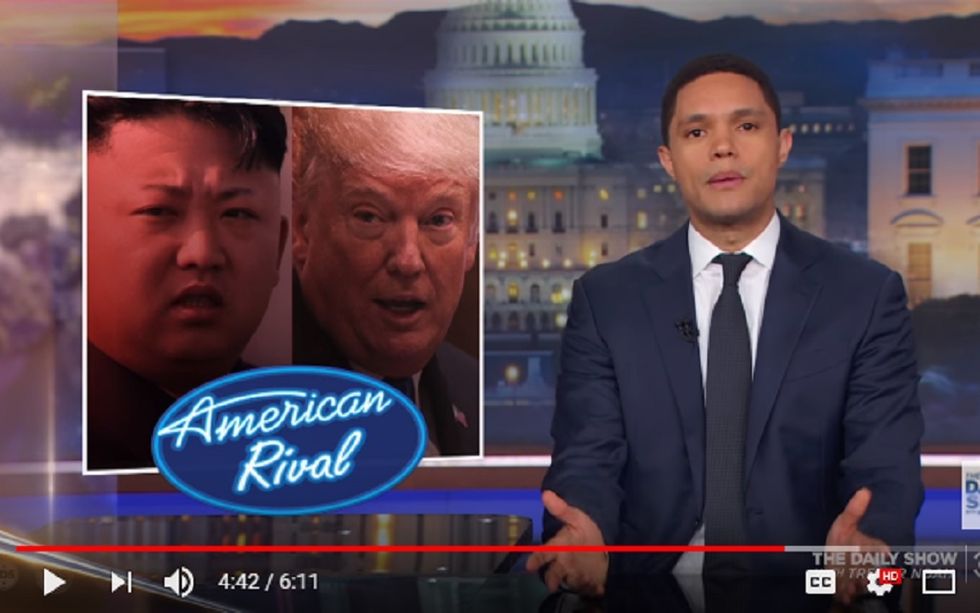 Trevor Noah has left his religious views ambiguous in memoirs written to-date. But we can speculate that if Noah has an image of God, it's a vision of a tolerant and peaceful spirit. The comic may also believe, firmly, that God has a sense of humor.
The Daily Show's satirical genius starts slowly as usual in today's clip, needling President Trump for giving a special-election endorsement speech in Pennsylvania that was really just a celebration of himself. But Noah hits a hilarious sweet spot upon turning to Trump and North Korea.
In a cosmic joke, President Shithole has bumbled into a situation where his naivety could somehow save the planet from Kim Jong-un. If the meeting of authoritarian demagogues from DPRK and D.C. actually achieves peace, would atheists be forced to convert, having seen the miraculous hand of God at work? Let's face it…there may not be another good explanation.
Don't worry about the Trump-Kim meeting having any permanent impact on foreign affairs, though. As Noah points out at 6:00, the leader of the free world will forget to bring a writing utensil.