#EndorseThis: Trevor Noah Pardons Kim Kardashian-West For Meeting Trump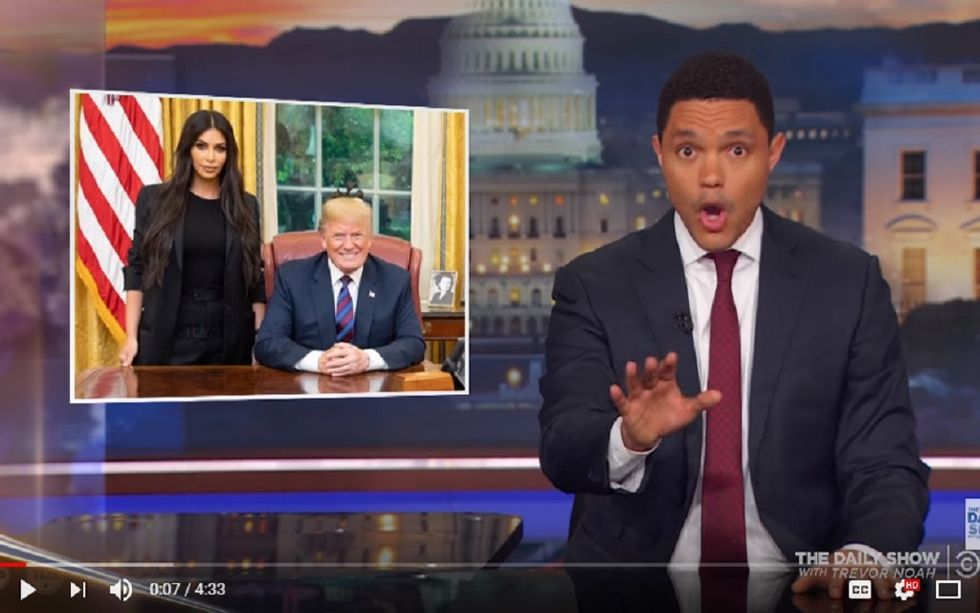 Kim Kardashian-West is the second person from the same famous marriage to take heat for getting chummy with President Trump. Like Hillary Clinton's argument against speaking to Iran, many liberals feel that meeting with Trump normalizes him. Add Kim's status as a worldwide mega-superstar and the potential for controversy jumps off the charts.
To his credit, comedian Trevor Noah is not worried about the tabloid aspects of the Kim (Kardashian) and Trump story. Instead, he's focused on the substance. Unfortunately, when the onion is peeled away, it appears that Kim's efforts to move 45 were met with not only rejection, but a slap. Kardashian-West pleaded with the Orange One to pardon great-grandmother Alice Marie-Johnson, who has served decades on a non-violent drug offense. But Trump woke up the next day and pardoned conservative arse-clown Dinesh D'Souza, then indicated that Martha Stewart could be next in line instead of Marie-Johnson. (It's a bad thing.)
Trump deserves every bit of Trevor's punishment here. But in case you are wondering, yes, the Daily Show comic unleashes his patented Kim Kardashian impression at the 2:25 mark, while defending Kim from an on-air attack from CNN's Jim Acosta.
Press play, and learn to ca'o-exessst.