Even Giuliani Can't Justify Trump's Paranoid Theories
@EricBoehlert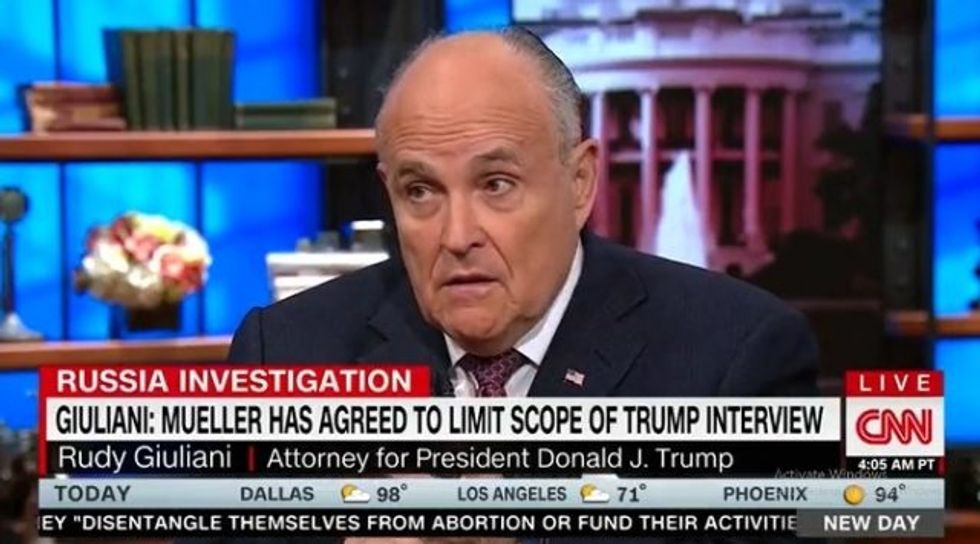 Reprinted with permission from Shareblue.com
Moments after Trump glommed onto the latest Fox News distraction and once again claimed his campaign had been spied on by President Barack Obama's Department of Justice, Trump lawyer Rudy Giuliani conceded they have zero proof to support the right-wing swamp claim.
"First of all, I don't know for sure, and neither does the president, if there was" an Obama spy, Giuliani told CNN's Chris Cuomo Friday morning.
Pressed about who has told the White House that a spy existed, Giuliani's vague response was "people." He later added they've been told the spy story by people "off the record" and that "you don't know if they're right or not."
But hey, other than that, the conspiracy seems solid!
Trump and Giuliani remain committed to trying to undermine special counsel Robert Mueller's investigation by suggesting there was a rogue faction within the straight-laced FBI to derail both Trump's campaign and then his presidency.
Trump's been trying to get this "Deep State" coup conspiracy theory off the ground for more than a year. But no matter how many times Fox News repeats it, proponents have not presented any facts to support the wild claim.
Trump, of course, has a long history of trying to smear President Obama. Trump's political rise was based on his offensive, yearslong campaign of claiming President Obama wasn't born in America.
After taking office, one of the first signature lies of Trump's term was his outlandish, completely unfounded allegation that President Obama had ordered Trump Tower be wiretapped during the 2016 campaign.
Giuliani actually brought up the wiretap during Friday's interview.
"For a long time we were told there was some kind of infiltration [of the campaign]. At one time the president thought it was a wiretap."
When Cuomo reminded Giuliani there's never been any proof of a Trump Tower wiretap, even though Trump last year announced it as fact, Giuliani said, "I think he thought that."
So, Trump thought there was a wiretap, which is why he made the completely baseless and offensive claim against the former president of the United States.
And today, Trump thinks there was an Obama spy trying to take him down — a claim even Trump's own lapdog can't back up.