How Trump's New Federal Commission Could Be Used To Suppress Legal Voters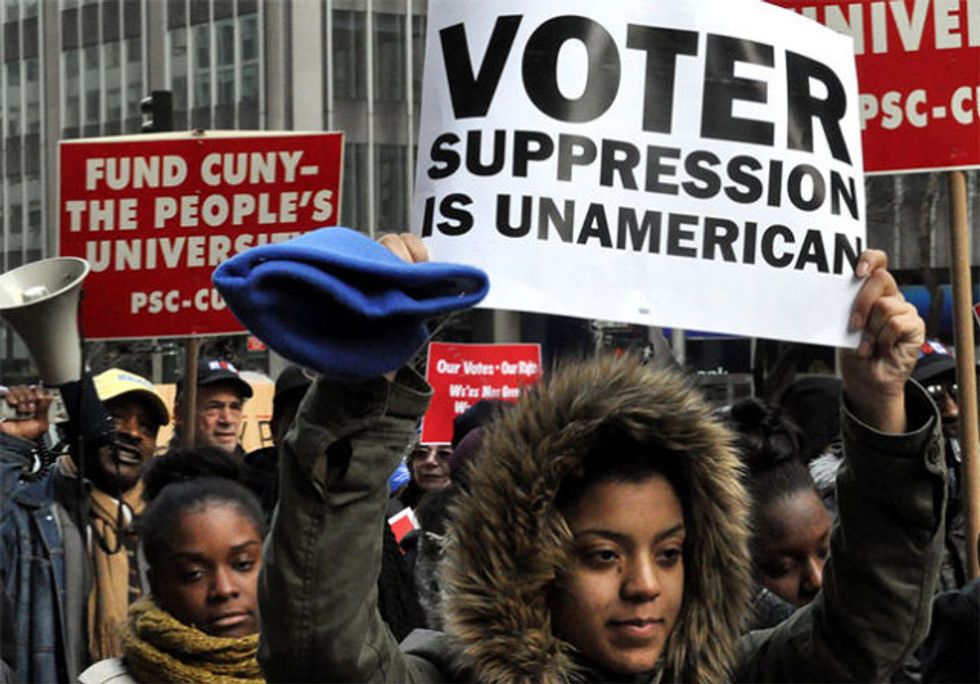 Reprinted with permission from MediaMatters.
President Donald Trump's new commission on "election integrity" is drawing complaints from experts who continue to point out that no evidence exists for Trump's ongoing claims of widespread voter fraud.
For years, conservative media have been overhyping evidence-free allegations of systemic voter fraud in the U.S., often as a pretense to argue for restrictive voter ID laws and other policies that inevitably suppress voting.
Following his surprising Electoral College win, Trump sought to explain away his popular vote loss by claiming he would have gotten the majority of votes had "millions" of illegal votes not been tallied for Clinton, a conspiracy theory that had been popularized by Alex Jones' Infowars website.
This week, Trump signed an executive order forming a "Presidential Commission on Election Integrity," in part to examine "improper voting, fraudulent voter registrations, and fraudulent voting," as well as voter suppression. The vice chair of the commission is Kansas Secretary of State Kris Kobach, who has repeatedly been criticized for his crusade over the issue.
While the move was predictably cheered by the usual suspects in conservative media outlets, experts on the issue are sounding the alarm, saying the commission is a solution in search of a problem and that it could be used to suppress legal votes.
"In general I think the commission is unnecessary," University of Kentucky College of Law professor Joshua Douglas said via email. "We already know there is not much fraud in the system, and certainly not to the level that Trump has suggested. And having Mike Pence and Kris Kobach lead it means it will have no credibility whatsoever."
He added, "Trump will no doubt try to use this commission to support further voter suppression measures. Instead we should be focusing on ways to make it easier, not harder, to vote."
Lorraine Minnite, a Rutgers University professor and author of the 2010 book The Myth of Voter Fraud, said, "I think they want to try to create whatever kind of record they think they can create for a justification to propose amendments to tighten up and require nationwide what Kansas requires with proof of citizenship. And who knows what else they would dream up to make it hard to vote."
She continued, "It is a pattern we have seen more flagrantly over the past 15 years to promote the idea that voter fraud is rampant in America. There are always some problems with a federal election, but there is just no evidence that voter fraud is rampant."
Bill Schneider, a former CNN senior political analyst and current professor of public policy at George Mason University, said there "is just no evidence" to support claims of widespread voter fraud.
"What's happening here is that Trump has an obsession," Schneider said. "He can't get over the fact that Hillary Clinton won a plurality. He wants to destroy that notion and establish the fact that he is the legitimate winner. He is taking every step he can to try to demonstrate that notion."
Michael McDonald, director of the U.S. Election Project at the University of Florida — who has been involved in the ACLU's legal action against Kobach – offered skepticism of the commission's work.
"I'm skeptical given Trump's recent statements, his firing of Comey," McDonald said. "The integrity of this commission itself will be suspect because it likely won't have the ability to look independently, or to look at Trump's claims that there were 3 to 5 million illegal votes."
The American Civil Liberties Union, which has filed several legal challenges in Kansas targeting Kobach's efforts to limit voting rights and prosecute alleged fraudulent voters, said it has filed a Freedom of Information Act request "seeking information that the Trump administration is using as the basis for its voter fraud claims."
"President Trump is attempting to spread his own fake news about election integrity," Dale Ho, director of the ACLU's Voting Rights Project, said in a statement about the commission. "Such claims have been widely debunked, but he is still trying to push his false reality on the American public. It is telling that the president's choice to co-lead the commission is none other than Kris Kobach, one of the worst offenders of voter suppression in the nation today. If the Trump administration really cares about election integrity, it will divulge its supposed evidence before embarking on this commission boondoggle."