Georgia Indictment: Trump Led Criminal Conspiracy To Overturn 2020 Election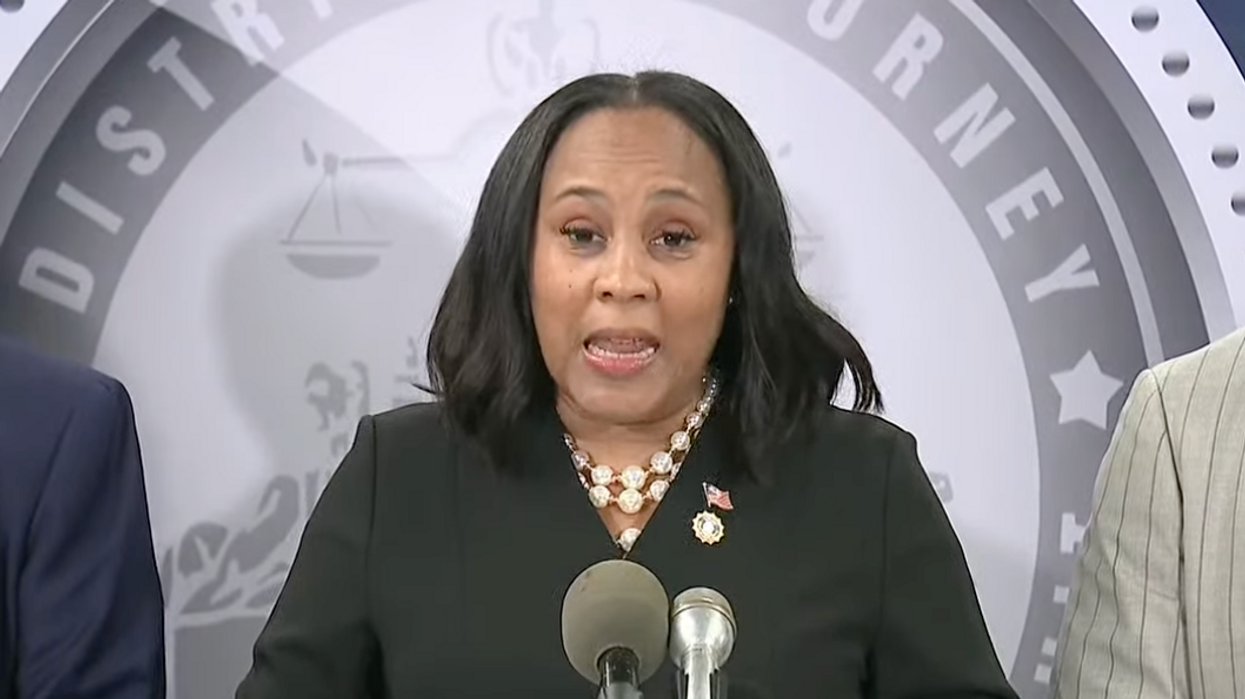 A 41-felony count 98-page indictment that names Donald Trump, Mark Meadows, Rudy Giuliani, John Eastman, Jenna Ellis, Kenneth Chesebro, Jeffrey Clark, Sidney Powell, and eleven others was handed up by a Georgia grand jury and unsealed Monday night. There are a total of 19 named defendants.
The indictment effectively alleges Donald Trump sat atop a criminal organization that included his chief of staff and several of his attorneys who engaged in racketeering in an attempt to overturn the 2020 presidential election, according to a summary reported by MSNBC.
Trump is facing a total of 13 felony charges, as is Giuliani. Eastman is facing nine charges. Powell is facing seven charges. Meadows, Clark, and Ellis are facing two charges, according to a copy of the indictment.
"Defendant Donald John Trump lost the United States presidential election held on November 3, 2020," the introduction to the indictment reads. "One of the states he lost was Georgia. Trump and the other Defendants charged in this Indictment refused to accept that Trump lost, and they knowingly and willfully joined a conspiracy to unlawfully change the outcome of the election in favor of Trump. That conspiracy contained a common plan and purpose to commit two or more acts of racketeering activity in Fulton County, Georgia, elsewhere in the State of Georgia, and in other states."
It continues, stating, "the Defendants, as well as others not named as defendants, unlawfully conspired and endeavored to conduct and participate in a criminal enterprise in Fulton County, Georgia, and elsewhere."
The indictment alleges the group of indicted defendants "constituted a criminal organization whose members and associates engaged in various related criminal activities including, but not limited to, false statements and writings, impersonating a public officer, forgery, filing false documents, influencing witnesses, computer theft, computer trespass, computer invasion of privacy, conspiracy to defraud the state, acts involving theft, and perjury."
According to The New York Times, "The indictment laid out eight ways the 'enterprise' obstructed the election: by lying to the Georgia state legislature, by lying to state officials, by creating fake pro-Trump electors, by harassing election workers, by soliciting Justice Department officials, by soliciting Vice President Mike Pence, by breaching voting machines and by engaging in a cover up."
There are an additional "30 unindicted co-conspirators," according to former top DOJ official Harry Litman.
Former Acting Solicitor General Neal Katyal posted a small portion of the indictment and wrote, "Trump is not only indicted, his name is mentioned 193 times in the indictment, and the charges go out of the way to show Trump directly violated the law."
Trump has also been indicted by a grand jury in Washington. D.C., for his alleged attempts to overturn the election. He has been indicted by a grand jury in Miami for removing classified and other documents from the White House, refusing to return them, and obstruction of justice. Trump also faces an indictment in New York for falsification of business records in the case surrounding his alleged hush money payoffs to a porn star.