Far Right Promotes 'False Flag' Conspiracy Claim On Mass Shootings
@justinhorowitz_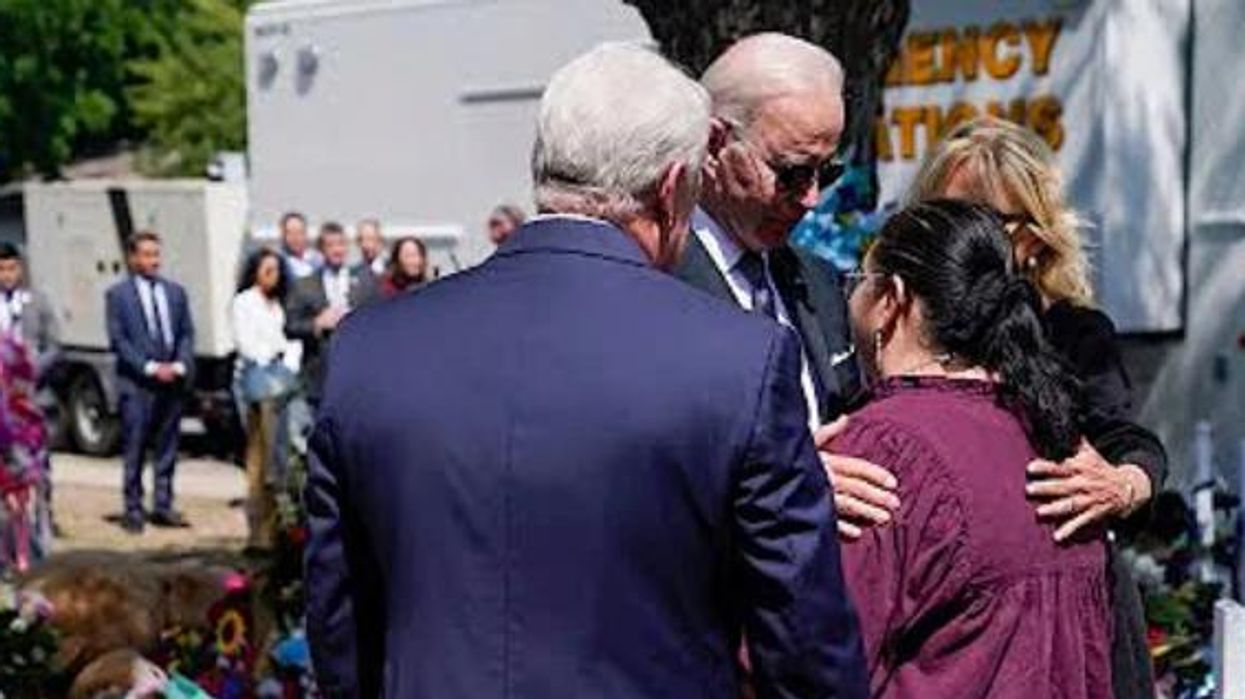 YouTube Screenshot
Fringe right-wing media figures are pushing baseless conspiracy theories that the recent deadly mass shootings in Buffalo, New York, and Uvalde, Texas, were "false flag" operations orchestrated by the United States government to take away civil rights from American citizens.
Buffalo
The mass shooting at a supermarket in Buffalo, New York, left 10 Black people dead. The suspect in the mass shooting allegedly wrote a hateful manifesto that repeatedly cited the fascist "great replacement" conspiracy theory as a motive for violence against Black people. The great replacement theory has become a staple of Tucker Carlson and Fox News' coverage of minority groups and immigration.
Shortly after the shooting in Buffalo, Arizona Republican state Sen. Wendy Rogers posted on the white nationalist-affiliated social media site Gab that the shooting was conducted by federal agents, rather than an 18-year-old racist.
Rogers' comments were only the start of a flurry of false flag conspiracy theories that followed these shootings:
On the May 16 edition of Alex Jones' show on Infowars, Jones claimed the Buffalo grocery store shooting was a staged event. Jones attempted to link the Buffalo shooting to the Unabomber, pushing the conspiracy theory that "The unabomber worked for the CIA," and asserted that he knows "how the globalists operate and I know who they wind up and I know what they do."
Militia-linked radio host and right-wing extremist Pete Santilli claimed during his May 27 radio show that the CIA and FBI radicalized, hypnotized, and indoctrinated the shooter through his computer screen via "mind control" and "screen flicker technology" to commit the shooting. Santilli proclaimed that the shooter "was copying and pasting" his racist manifesto "from the CIA and the FBI" and that "they helped him do it over a two year period."
White nationalist and Holocaust denier Nick Fuentes posted a video to his streaming website after the Buffalo shooting with the title "False Flag Confirmed: Buffalo Shooter Groomed to Kill by FBI Agent."
During the video, Fuentes asserted that the mass shooting was "done by or permitted to go on by law enforcement."
Former Infowars host, QAnon conspiracy theorist, and failed congressional candidate DeAnna Lorraine suggested that the Buffalo shooting "could just be all just a false flag to target the white guy."
Lorraine also declared that the shooting was "yet another false flag" to target white conservatives who live stream events and wear tactical gear. (The Buffalo shooter live-streamed the tragedy on Twitch and wore tactical gear.)
QAnon influencer RedPill78 argued that the shooting "is very emblematic of attacks that we've seen in the past where federal agents are involved and they urge these people on to commit an attack or to do something that is outside the boundaries of the law that is then going to be used to try to take away more of our rights."
RedPill78 continued, claiming, "These people, in my opinion, would not be dead if it wasn't for the FBI convincing this disturbed young man to go out and commit this heinous act."
Uvalde
On May 24, another mass shooting at an elementary school in Uvalde, Texas, ended with 19 children and two teachers dead. The constantly changing narratives and information from the Uvalde police about the timeline of the shooting have sparked criticism and indignation, feeding into conspiracy theories about the event.
During the May 25 edition of Infowars' The Alex Jones Show, Jones agreed with a caller who suggested that the Uvalde shooting was a false flag event. Jones said that the timing of the attack was "very suspicious" and that "everybody should be able to question this because there's been so many false flags, so many provocateured operations."
Fuentes suggested that the elementary school shooting was a false flag operation because "40 police officers showed up on the scene of the mass shooting while it was in progress" and "waited outside the school for 40 minutes for the shooting to be finished."
Fuentes proclaimed that the police waited for the shooting to end before entering the classroom in order to push a "gun control agenda."
QAnon conspiracy theorist, antisemite, and failed congressional candidate Lauren Witzke suggested that the Uvalde mass shooting was a false flag operation intended to "change the public narrative" around Texas' politics because "Hispanics are starting to lean more conservative and these people are crazy, midterms are coming up."
On May 27, QAnon influencer Jordan Sather proclaimed that it looks like the event was "orchestrated."
Why This Matters
Right-wing media has a long history of claiming that acts of violence are false flags orchestrated by the federal government and outside forces. Conspiracy theorists often suggest that fabricated attacks are a tool the opposition uses to drive their own political agenda and shape the narrative around a certain topic.
Extremists also use these "false flag" tragedies and events to distract from their culpability in problems like the proliferation of white supremacy or the gun control impasse, and to push their audiences further from reality. Some right-wing media figures have a history of using lies and conspiracy theories about these tragic events to attack and harass mass shooting survivors and their families. Survivors from both the Parkland and Sandy Hook shootings became victims again when conspiracy theorists spread debunked claims about these traumatic incidents.
Reprinted with permission from Media Matters.