Fiorina: Mother Worried About 'Aborted Babies' Shouldn't Have To Vaccinate Kids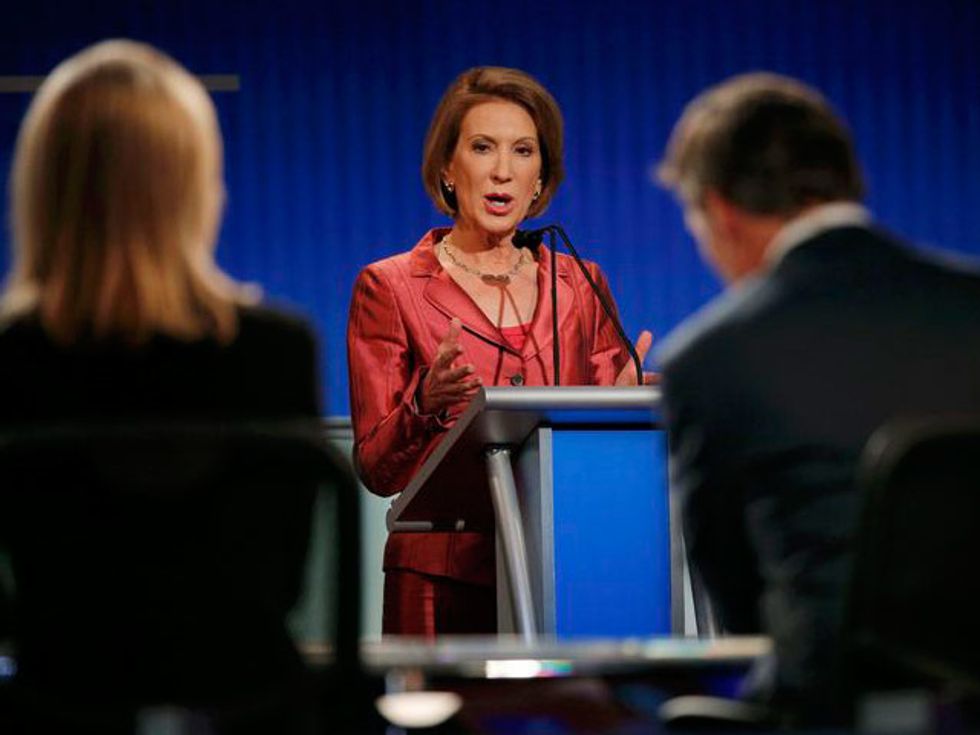 Carly Fiorina might be kicking up a feud with Donald Trump, but it turns out the two both have something in common: They could become the candidates of choice for the deranged anti-vaccine movement.
The Washington Post reports on Fiorina's appearance at a town hall meeting with voters in Iowa:
Fiorina's comment came in response to a question from a mother of five children who said that because of her religious beliefs, she will not allow her children to receive any vaccines that were created using cells from "aborted babies." Fiorina told the woman that parents must be allowed to make such decisions.

"We must protect religious liberty and someone's ability to practice their religion," said Fiorina, receiving a round of applause. "We must devote energy and resources to doing so. Period."
Fiorina also recounted the story of her daughter, who refused to have her own young daughter vaccinated for HPV, a sexually transmitted disease that can lead to cervical cancer. "And she got bullied. She got bullied by a school nurse saying: 'Do you know what your daughter is doing?'" The daughter responded: "Yes. I do, actually."
Afterwards, Fiorina sought to clarify her position to reporters, affirming that schools really can require vaccines for certain diseases: "When you have highly communicable diseases where we have a vaccine that's proven, like measles or mumps, then I think a parent can make that choice — but then I think a school district is well within their rights to say: 'I'm sorry, your child cannot then attend public school.' So a parent has to make that trade-off."
Also, as Time reports, Fiorina also criticized her old home state of California for recently passing legislation to eliminate religious liberty exemptions for children being vaccinated. "California is wrong on most everything, honestly. I'm not at all surprised that they made that mistake as well," she said.
It should be noted that this is not Fiorina's first time wading into the vaccine-libertarian bog. This past February, as BuzzFeed reported, she voiced a similar skepticism about vaccinating children for HPV — or even for measles — and she touted her own past sicknesses: "I think vaccinating for measles makes a lot of sense. But that's me. I do think parents have to make those choices. I mean, I got measles as a kid. We used to all get measles… I got chickenpox, I got measles, I got mumps."
There is in fact a bit of truth to the claim from the woman at the rally, that vaccines are created using cells from "aborted babies." To be more exact, many modern vaccines are cultured in one of two lines of replicating cells, which have been maintained for 50 years. The origins of those cells were two fetuses that were electively aborted in the early 1960s.
By now, of course, the original fetal cells were used up a very long time ago, while the cell lines continue. But this does raise a question: For someone who believes abortion is so evil and that no benefit should be derived from it whatsoever, what would it matter when the fetal cell line began?
And going back to Fiorina's point about schools requiring a measles vaccination: The measles vaccine is indeed one of those vaccines that has a basis in fetal-derived cells.
Republican presidential candidate and former Hewlett-Packard CEO Carly Fiorina responds to a question at a Fox-sponsored forum for lower-polling candidates held before the first official Republican presidential candidates debate of the 2016 U.S. presidential campaign in Cleveland, Ohio, August 6, 2015. (REUTERS/Brian Snyder)