The First Of Many: Sen. Mark Kirk 'Un-Endorses' Donald Trump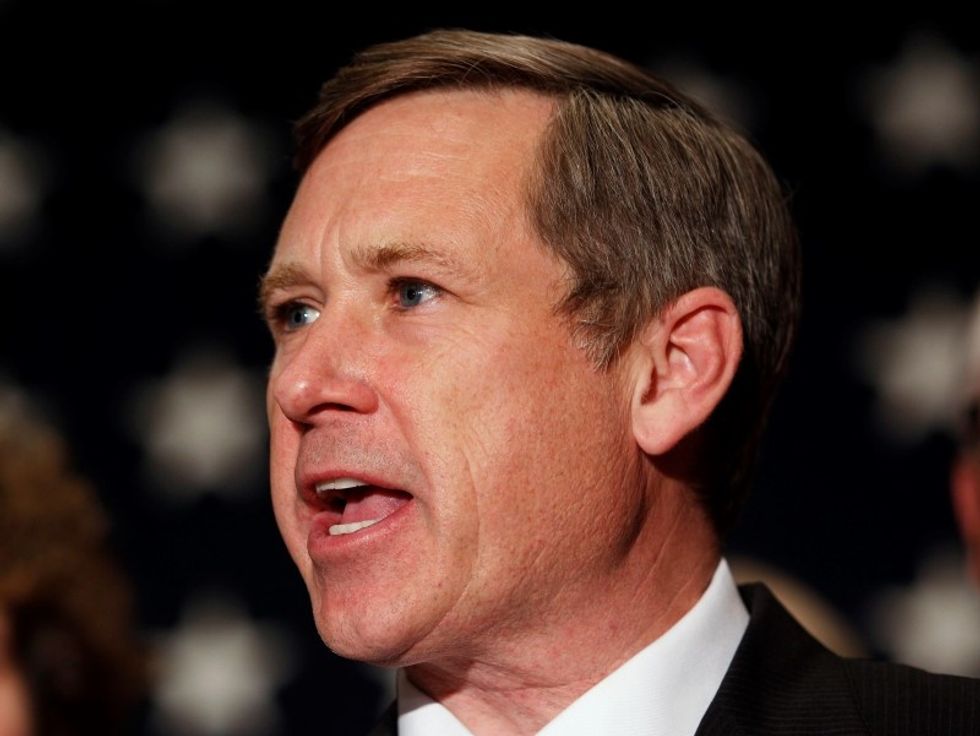 The Associated Press' congressional correspondent Erica Werner tweeted Tuesday afternoon that Senator Mark Kirk, in the middle of a fierce re-election fight in Illinois against congresswoman Tammy Duckworth.
First un-endorsement — Sen. Mark Kirk. "I cannot and will not support my party's nominee for President."

— Erica Werner (@ericawerner) June 7, 2016
On his own Twitter page, Kirk confirmed that he would not be supporting Trump, who as the GOP's presidential nominee is the leader of the Republican Party:
Given my military experience, Donald Trump does not have the temperament to command our military or our nuclear arsenal.

— Mark Kirk (@MarkKirk) June 7, 2016
Yesterday, Duckworth blasted Kirk for his refusal to distance himself from Trump after the presumptive nominee's racist attacks against federal judge Gonzalo Curiel, who is presiding over two class action lawsuits by former students at Trump University.
"Trump's statements are outrageous. They are un-American and they are dangerous. They betray the weaknesses of a man who is fundamentally unsuited for the office of the presidency," Duckworth told about 200 people, according to the Chicago Tribune.
A month ago, Kirk said that Trump's candidacy would be "a net benefit" for his Senate re-election, referencing the large numbers of Republican primary voters he was bringing out to polls. He said at that time that he would endorse the Republican nominee for president, but that he was confident voters would be able to separate his candidacy from Trump's
"These days I'm probably the best-positioned Republican to weather the institution of Trumpism because I have been voting pro-gay rights and against the gun lobby and solidly pro-choice," Kirk said in the CNN interview at the time.
Read Kirk's full statement to the press on his un-endorsement below:
"I have spent my life building bridges and tearing down barriers–not building walls. That's why I find Donald Trump's belief that an American-born judge of Mexican descent is incapable of fairly presiding over his case is not only dead wrong, it is un-American.

"As the Presidential campaign progressed, I was hoping the rhetoric would tone down and reflect a campaign that was inclusive, thoughtful and principled. While I oppose the Democratic nominee, Donald Trump's latest statements, in context with past attacks on Hispanics, women and the disabled like me, make it certain that I cannot and will not support my party's nominee for President regardless of the political impact on my candidacy or the Republican Party.

"It is absolutely essential that we are guided by a commander-in-chief with a responsible and proper temperament, discretion and judgment. Our President must be fit to command the most powerful military the world has ever seen, including an arsenal of thousands of nuclear weapons. After much consideration, I have concluded that Donald Trump has not demonstrated the temperament necessary to assume the greatest office in the world."
Photo: Republican U.S. Senate candidate Mark Kirk of Illinois speaks to supporters after beating Democratic nominee Alexi Giannoulias for the Senate seat formally held by U.S. President Barack Obama, at an election night rally in Wheeling, Illinois November 2, 2010. REUTERS/Jeff Haynes